Grand jury declines to indict man in fatal shooting of off-duty Texas firefighter
Ernesto Gillen claimed self-defense in the shooting of Laredo Firefighter Guadalupe David De Luna
---
By Laura French
LAREDO, Texas — A grand jury has decided not to indict a man accused of fatally shooting an off-duty Texas firefighter.
The jury returned a decision of "no bill" on the murder charge presented by the district attorney, meaning they did not believe there was sufficient evidence to indict Ernesto Gillen, 43, on that charge in the death of Laredo Firefighter Guadalupe David De Luna, 42, who was fatally shot in April, according to the Laredo Morning Times.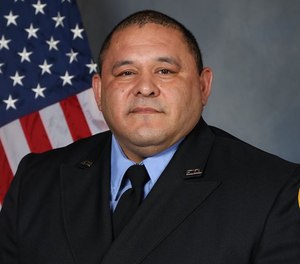 According to police, Gillen, a U.S. Customs and Border Protection officer on "non-duty status" at the time of the shooting, shot De Luna with his duty sidearm at the home of De Luna's wife. De Luna's wife told police they were separated and De Luna had forced himself into her apartment, and that Gillen shot him during a physical struggle, according to court documents. 
Gillen told investigators De Luna attacked him and injured his arm, and that he shot De Luna in the torso after warning him to stay back in fear that the other man would knock him unconscious and take his weapon, according to an affidavit. 
The grand jury considered witness testimony and evidence before returning the decision not to indict Gillen on the murder charge.