Off-duty Ore. FF-paramedic rescues woman from burning house
Bend Firefighter-Paramedic Jared Hopper ran into the house after a neighbor said the resident was disabled and couldn't get out
---
By Laura French
BEND, Ore. — An off-duty Oregon firefighter-paramedic rescued a woman from a house fire on Friday. 
Bend Firefighter-Paramedic Jared Hopper was driving to a job site for his construction business when he saw smoke coming from a house and stopped, according to the Bend Bulletin. When he approached the scene a neighbor told him there was a disabled woman inside the house who couldn't get out.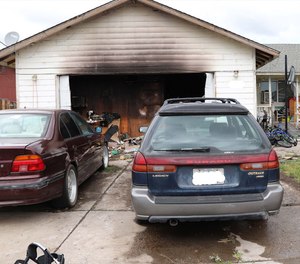 Hopper ran into the house, which was filling with smoke, and located the woman, who had a broken foot and needed a wheelchair. He lifted the woman out of her bed and put her into the wheelchair, taking her out of the house and across the street to safety. 
Crook County Fire & Rescue personnel later responded to extinguish the blaze, which was isolated to the garage. Hopper said the neighbor who had flagged him down deserved credit for being the first to call 911 and for closing all the doors to the garage, which prevented the blaze from spreading further.