Quick Take: What does Trump's opioid emergency declaration mean?
Following on White House special commission recommendations, Trump announces a national public health emergency for the opioid emergency
---
By Andrea Fox, Efficient Gov Senior Editor
Speaking from the White House East Room, First Lady Melania Trump talked about her work understanding children afflicted with drug addiction and its effects on families. President Donald Trump then announced a National Public Health Emergency declaration, "Combating the National Drug Demand and Opioid Crisis."
It's the opioid emergency announcement states, cities, first responders and public health have been waiting for.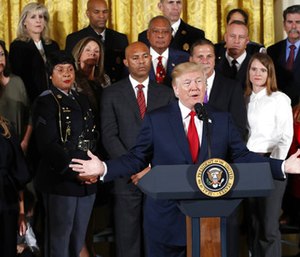 Trump called the opioid crisis a national shame, and a human tragedy, where 90 percent of the problem "comes from South of the border," which a border wall will help with, he said. Beyond that, the United States will work with other countries and take "the fight to places that create this poison."
Key Takeaways from Trump's Opioid Emergency Announcement:
A National Public Health Emergency must be renewed every 90 days.
The final report from the White House Commission on Opioid Addiction will be delivered next week.
The declaration does not unlock new funding, and there is $57,000 left in the public health emergency fund, according to The Hill.
According to Trump, Opioid Emergency Declaration Actions will Include:
A new policy to unlock treatment and states' abilities to treat the afflicted
The Centers for Disease Control will be addressing opioid prescriptions with training
Fentanyl will be banned and sought out from carrier package delivery
The U.S. Department of Justice is indicting fentanyl distributors
Fentanyl exports to the United States will be discussed in Trump's upcoming visit to China
The National Institutes of Health will develop non-addictive alternatives to prescription opioid painkillers
More first responders will be equipped with lifesaving overdose antidotes, like naloxone
U.S. Health & Human Services will update prescription pain medication guidelines
Increased support for proven solutions, like drug courts, will help the addicted recover and re-enter society
The creation of drug prevention and awareness campaigns targeting youth and youth drug use
Learn more about the opioid epidemic:
About the author
Andrea Fox is Editor of Gov1.com and Senior Editor at Praetorian Digital. She is based in Massachusetts.