Alaska FD to reduce OT by decreasing night shift crews
The decision by Anchorage Fire Chief Doug Schrage drew criticism from the local fire union leaders who raised concerns about public safety
---
Tess Williams
Anchorage Daily News, Alaska
ANCHORAGE, Alaska — The Anchorage Fire Department plans to reduce overtime costs by having fewer teams of first responders working during night shifts beginning next month to avoid exceeding the budget, city officials said Thursday.
The closures will happen when the department has the lowest volume of calls to minimize impacts, Chief Doug Schrage told reporters Thursday. Anchorage Mayor Dave Bronson had previously asked department heads to look for ways to cut costs.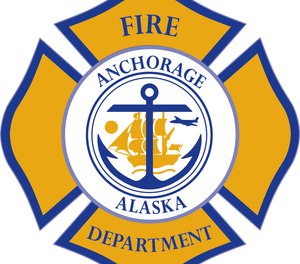 But the move drew criticism from the firefighters union and some Anchorage Assembly members, who raised concerns about cutting back on the capabilities of the city's first responders at a time when COVID-19 cases and hospitalizations are spiking and hospitals in the city are extremely strained for capacity.
In a statement Thursday, Bronson said the department's plan was an example of "stewardship with the people's tax dollars."
The fire department has $3.5 million budgeted for overtime this year, and Schrage said the department has already spent $3.2 million on overtime in 2021. He expects the department will exhaust remaining funds by the end of the month.
The department often exceeds the overtime budget, but has asked for additional funding in recent years from the administration or Assembly, said Assistant Fire Chief Alex Boyd. Bronson's administration has asked the department to meet its budget this year, he said.
"We haven't been told we can't ask for anything, we haven't been told anything of that nature. We've just been asked that under the financial challenges that are facing the city, that we all need to step in a little bit and do our best to solve these problems, and that's what we're stepping up to do," Boyd said.
Boyd said the plan is not without risk, but that officials do not believe the risk is dramatic to public safety.
The plan is expected to save the department between $70,000 and $125,000 this year, according to a statement from the mayor's office.
To avoid exceeding overtime budgets in the past, the department has used rolling closures, where a station or companies would close on a rotating basis, Schrage said.
The closures could leave isolated portions of town without service and cause longer response times to reach emergencies in those areas, Boyd said.
It's been a number of years since the department resorted to those closures, he said.
The new plan will avoid closing any stations and will essentially cut down on backup units available in more highly staffed areas of town during times when calls are less frequent, Boyd said.
A majority of department responses occur during normal daytime hours, between 9 a.m. and 9 p.m., Schrage said. The department will be fully staffed during the day but will close roughly one or two companies on the night shift beginning in October.
Firefighters work in teams, called companies, and are assigned to specific equipment, like a fire engine or ambulance, Schrage said. Many of the municipality's 13 fire stations have multiple pieces of equipment and therefore multiple teams.
"There will be a piece of equipment staffed with personnel 24 hours a day, seven days a week in every fire house," he said. "So we may close an engine and leave a truck in service at that station or vice versa. We may take one of our ambulances out of service and leave the engine in service. We will maintain the capability to provide an immediate response to all areas of town."
If it requires overtime to fill a company, the department may leave it empty during a night shift instead of calling in personnel to work additional hours.
There will be no changes to staffing in geographically isolated areas, like Eagle River, where it would take a considerable amount of time for another unit to respond to an emergency.
Schrage said he believes that overtime has been utilized more during the pandemic because of staff shortages caused by firefighters falling ill or needing to isolate when they have come into close contact with someone who tested positive for COVID-19.
On Thursday, Schrage said nine firefighters were currently on leave after testing positive for the virus.
Nick Glorioso, the vice president of Anchorage Firefighters Union, Local 1264, said closing companies will jeopardize public safety during a time when crews are responding to record numbers of calls and transporting scores of patients to the hospital as COVID-19 surges.
Hospitals throughout the state reported operating at or near capacity this week, and Alaska's largest hospital — Providence Alaska Medical Center in Anchorage — announced Tuesday that an influx of COVID-19 patients combined with staff shortages has forced providers to prioritize care for patients most likely to recover. Anchorage saw its highest daily total of new COVID-19 cases this week.
Glorioso said the new overtime policy could not come at a worse time.
"Right now, the community is breaking records for sick people needing to go to the hospital and it's our organization, our men and women who are taking these folks to the hospital," Glorioso said.
Midtown Assembly members Meg Zaletel and Felix Rivera echoed Glorioso's concern for public safety in a statement Thursday.
"The risk versus reward of these types of policies is extremely concerning," Rivera said in the statement. "Given the fact that our biggest hospital is rationing care, this gamble doesn't make sense. There must be a better way and I urge the administration to collaborate with the Assembly to keep our residents safe in the middle of a global pandemic."
Corey Allen Young, a spokesman for the mayor's office, said the administration is confident in the fire department's abilities and said the plan does not jeopardize public safety.
"This will not mean stations will be shut down, there will be services and the city of Anchorage will have their needs met," he said.
Bronson was elected to be fiscally conservative with taxpayer money, Young said.
___
(c)2021 the Alaska Dispatch News (Anchorage, Alaska)
McClatchy-Tribune News Service