Firefighters donate patches to girl battling cancer
Mileena Painter, 12, was diagnosed with Acute Lymphoblastic Leukemia and is collecting firefighter patches from around the world for a school project
---
By Michaela Broyles
The Sun News
MYRTLE BEACH, S.C. — After getting word of an Alabama girl battling cancer, the Myrtle Beach Fire Department decided to donate its entire collection of firefighter patches to help her cause.
Mileena Painter, 12, of St. Clair County, was diagnosed with Acute Lymphoblastic Leukemia this past August and is collecting firefighter patches from around the world for a school project while she is home bound, news station WBRC reports.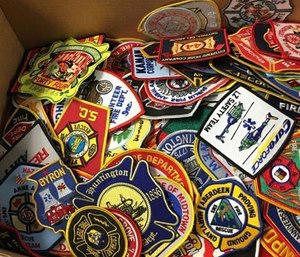 "She can't go to traditional school with her classmates," Mileena's mother Rachelle Painter told WBRC. "So she wanted to do a different type of project and since dad is a firefighter and mom is a paramedic she thought this would be kind of fun."
Mileena explained how good it makes her feel when she receives the patches, along with letters and cards with positive thoughts and prayers on them.
"When they say they are fighting with me, it makes me feel good and it makes me not want to cry," she said.
Lt. Jonathan Evans with MBFD said the department is donating hundreds of patches to Mileena that have been collected over the course of nearly 20 years.
"We had a bunch of patches we just had sitting around and thought it was a better thing to do with them than anything," Evans said. "It's something that she's passionate about and is collecting, so we'd love to donate them to her so that she can get some benefit and joy out of them."
Anyone who would like to send firefighter patches, letters or cards to Mileena, can mail them to P.O. Box 7 Riverside, Al 35135.
"We are happy to be apart of her cause and we hope she gets a lot of response from around the country," Evans added.
Copyright 2018 The Sun News