Iowa firefighter back to full active duty after January silo explosion
Clinton Firefighter Adam Cain was left with a bruised brain, two fractures in his back, a dislocated left elbow, a broken radius and ulna in his right arm and a majority of his ribs broken
---
By Matthew Enright
Quad City Times, Davenport, Iowa
CLINTON, Iowa — After the explosion in Clinton that claimed the life of one firefighter and severely wounded another, the life of firefighter Adam Cain was in doubt.
Cain was left with a bruised brain, two fractures in his back, a dislocated left elbow, a broken radius and ulna in his right arm and a majority of his ribs broken.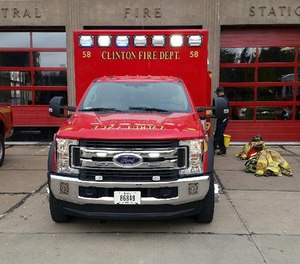 The explosion Jan. 5 at Archer Daniels Midland Co. in Clinton killed Lt. Eric Hosette and left Cain in the hospital in critical condition and intensive care for two weeks.
But now, only six months after the explosion that nearly killed him and over a month since returning to the department for light duty, Cain has returned to full active duty at the Clinton Fire Department.
Battalion Chief Frederick Roling is grateful.
"It's nice to get Adam back; it's a blessing we found him that day," Roling said. "He was kind of in a bad way that day, and through the hospital and everything else his recovery time is about half of what he thought it was going to be."
Cain says he's never been the type of person to sit around and wait for something to happen.
"If I can try to do something about it, I'm going to do something about it. I wasn't going to just lay in bed and say 'Woe is me' until I got better," he said. "So maybe today I was going to do a flight of steps or something when I got out of the hospital. Anything to get myself better, so I think my mindset came kind of early and kind of drove me through the whole recovery process."
Not able to recall anything after the explosion, Cain says the fire call that day went like any other until he woke up a week later in the hospital.
After he woke up, Cain says he wanted to get out of the hospital as soon as possible.
"Nobody wants to be cooped up in a hospital, especially someone like myself who typically stays pretty active, even outside of work," he said.
His lungs were giving the doctors the most trouble in the hospital while he was unconscious.
After his release, Cain went to his parents' house and relied on his family and girlfriend to do "pretty much everything." Spending a month and a half there, Cain started to ease back into his own house and do things on his own. Through that time, he was going to multiple physical therapy appointments a week and many doctor visits.
Cain began healing. He started to condition himself, lifting weights in addition to physical and occupational therapy.
"Just anything I could do to speed my recovery and get back to work," he said.
His lungs worried doctors in the hospital. His elbow was the problem in recovery. It dislocated multiple times until a doctor put in an external fixator and screws to try to hold his left elbow in place.
"Even now, there's a lack of range of motion just because it sat locked up for a while," Cain said.
In May, Cain's hard work recovering paid off and he returned to light duty in the department. While he had an appointment with his surgeon July 6 to assess his physical capabilities, both he and his surgeon felt Cain was ready to come back sooner. His appointment was moved up to June 18, and that same day he passed a performance test to show he was physically ready to return.
Roling says they weren't expecting Cain to be back so soon.
"One thing about Adam is he loves his job. He's always wanted to be a fireman since day one, and once he got that call to be a fireman he's been gung-ho, totally positive," he said.
Physically, Cain says his back still bothers him a little, but not enough to keep him off the firetruck.
Losing Lt. Hosette, Cain said, was the toughest thing.
"You always see it in the news and 'Oh, it's never going to happen to us in small-town Clinton, it's never going to happen,' and then you wake up in the hospital and get told that, yeah, it happened to you guys," Cain said. "You lost a brother, Kelly lost a good husband, Addie lost a good dad. The whole community hurts."
Cain stays in touch with the fallen firefighter's family.
"Addie's a little sweetheart, and every time I see her she runs up to me and gives me a hug, and all the guys in the department have been stepping up," he said. "Addie lost a dad on Jan. 5, but she gained 40 other ones on the department. We're all looking out for her."
Support from the community has been "unreal," Cain said. "I've said it once and I'll say it a thousand times, I couldn't physically thank every single person that has done any little thing for me. It's unreal."
He even gets stopped by strangers in the grocery store.
"I'm just very grateful for the community I grew up in and worked in," said Cain, who had just returned from an emergency ambulance call. The patient, Cain said, also thanked him for his service.
More than 130 motorcycles rode in a fundraiser for Cain and Hosette, raising thousands for the families.
"It was scary for him at the get-go and for us at the club. I mean, I'm a former firefighter myself. I was a volunteer firefighter for over 10 years," said Gary Zillyete, president of the Immortal Nights Motorcycle Club. Cain actually showed up to the ride and rode his motorbike along. "We're proud of him for the hard work to get to this point to get back to full duty, and we just wish him safety as he goes out and protects those of us that need him day in and day out."
In addition to community support, Cain is thankful for the support from the department. During his recovery, Cain was invited to eat dinner with the firehouse, which helped him mentally get back in the game. That support gave him peace of mind, he said.
Roling also praised the community support, from the almost 30 dozen doughnuts that showed up that day to the Coca-Cola semi that pulled up. "We normally cook meals here," the battalion chief said, "and we hadn't cooked a meal in two weeks because everybody just kept bringing something in."
Food wasn't the only way the community showed support. The Immortal Knights PSMC-Iowa held its first annual First Responders Tribute in Clinton on June 22. Clinton also had a "red light" campaign where people bought red light bulbs and the city shone red for Cain. Originally intended to last until Cain got out of the hospital, Roling said he believes people thought he'd be in the hospital longer.
Even though Cain is back to work, you can still see some red bulbs shining in Clinton.
———
©2019 Quad City Times, Davenport, Iowa
McClatchy-Tribune News Service