Making it Memorable: Increasing retention on firefighter training
New approaches, focusing on emotions, recent events and adding a social element can increase retention of firefighter training
---
Firefighter training and education is one of the most important tools to enhance firefighter safety and avoid injury or line of duty deaths, but only if the firefighters have the ability to recall their training under stress, exhaustion and distraction. Research shows as much as 80 percent of training material can be forgotten just one week after training; after one month, less than 10 percent of the learned subject is retained.
According to firefighter training specialist Jordon Petersen, the key to enhancing knowledge retention is to adopt research-based educational techniques while making training more enjoyable and relatable. Petersen will be sharing his strategies with attendees at the International Association of Fire Chief's Fire-Rescue International conference.
Petersen serves as a battalion chief with the Murray City (Utah) Fire Department, and as program manager for the Utah Fire and Rescue Academy. He has served as a firefighter, paramedic, captain, USAR Rescue Squad boss, hazmat specialist and training specialist. His classes combine the intricacies of fire service culture and the often misunderstood dynamics of mental health and firefighter education.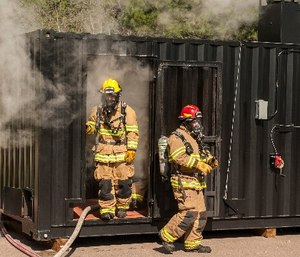 Peterson is an FRI veteran, having presented in the past on health and wellness topics. His session, "Making it Memorable: Increasing Retention on Firefighter Training," will be part of the Officer Development Program at this year's event.
Research-based firefighter training techniques
Petersen noted one of the challenges in firefighter training is it can often be sporadic in nature. "We say, 'let's get together at 10:00 and learn this or that,'" he said. The approach that fire departments have taken towards firefighter training for the past 20 or 30 years deserves an update. "Education has come so far – whether it's early education or adult education – so many new techniques are being used to enhance retention," he noted. Progressive, research-based best practices can be studied and applied to the fire service to increase training retention.
One of the techniques Petersen will cover couples experiences and emotions with learning. "We recognize that one of the best times for an individual to learn is after an incident has occurred," he explained.  So after his department experiences a fire within their jurisdiction, they examine the event, looking at the tactics that were in place and how they could have been improved.
"What we do in that moment is we take something that is a lived experience, something that people are strongly attached to, and then we put education upon that and the people naturally remember it really well because we couple it with that experience," he added.
Making training enjoyable also increases retention, said Petersen, who encourages trainers to look at different platforms, like YouTube, which can make tactics come alive for firefighters. "We make certain that our training is not just something we do because we have to, but we structure it well," he said. Adding a competitive or social component can add to the experience and the retention.
Keeping today's firefighters at the forefront of response readiness
Retention is crucial in firefighter training, when lives are on the line, especially given the evolving role of today's firefighter. "A firefighter isn't just a firefighter anymore," Petersen said. "We specialize in medical services, we specialize in hazmat, even terrorism response. We've taken on so many duties, that to be able to retain the information that we originally had is so important, because we rarely have the opportunity to go back and relearn things like we used to when we were just firefighters."
Petersen told FireRescue1 his hope is that attendees will be able to look at their training programs and how they approach training, and apply very simple tactics to improve them 10-fold after attending his session. "The IACF's Fire Rescue International conference has long been a source for some of the most progressive and innovative approaches to enhancing service and safety," he noted. "This course keeps with that tradition by presenting best-practice educational approaches to learning and development designed to keep our firefighters at the forefront of response readiness."