Md. volunteer fire director aims to improve FD recruitment
Shane Darwick plans to launch a high school internship program to boost recruits for the Frederick County Division of Volunteer Fire & Rescue Services
---
Mary Grace Keller
The Frederick News-Post, Md.
FREDERICK, Md. — The day Shane Darwick walked into his stepbrother's fire station in Prince George's County decades ago, the then 16-year-old knew he'd found his calling.
"I just felt an overwhelming desire to be involved with it," he said.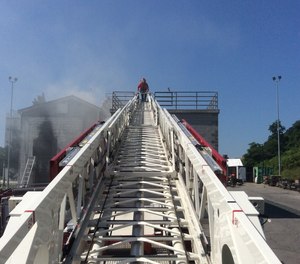 Last week, Darwick recounted the tour of that station in Upper Marlboro from the seat of his new office as director/deputy chief of the Frederick County Division of Volunteer Fire & Rescue Services.
"I'm humbled to be in this position right now," Darwick said in an interview. "To achieve this rank or position in my career is something that I never thought I'd see."
Frederick County Executive Jan Gardner, with the County Council's approval, announced his appointment June 29.
There are about 2,000 volunteers on the rolls of 25 volunteer fire companies in the county.
Darwick has served as assistant chief of the volunteer division for the past two years and has nearly 50 years of experience in the industry. He succeeds retired Director Kevin Fox, whose leadership Darwick lauded.
Darwick found his first fire and rescue job in Washington, D.C., after moving to the area from Florida and volunteering in Prince George's County. He spent 35 years with Montgomery County Fire Rescue Service and reached the rank of battalion chief. He also served as the training center manager for the Carroll County Volunteer Emergency Services Association.
Equipped with that experience and a strong desire to provide more training opportunities, Darwick is preparing to launch a high school internship program this fall in Frederick County.
From 12 to 3 p.m. Monday through Friday, up to 25 high school seniors age 16 and older will come out to the public safety training facility for training in various settings. They'll gain two credits toward high school graduation, up to 12 credits at Frederick Community College and obtain national certification, according to Darwick. Students will have the chance to learn about hazardous materials, emergency medical response, firefighting skills, vehicle rescue and more. Classes will coincide with the Frederick County Public Schools calendar.
The program will take place over nine months, compared to the years it can take a person volunteering nights and weekends to get the training they need to get out in the field, according to Darwick.
"I've run this program in Montgomery and Carroll," he said. "I took the best out of both programs and brought them to Frederick County."
He's hopeful the internship program will improve retention and recruitment — one of his goals heading into the director position. Darwick acknowledged many volunteers go on to get paid jobs in fire and rescue, but he's found that a good chunk of those who completed the high school programs in Carroll and Montgomery counties and left for paid careers later came back to volunteer in some capacity — about 40 percent.
While the new director is especially excited about the high school internship program, he's also focused on tackling other areas of volunteer service. Darwick hopes to expand training opportunities in general, attract diverse recruits, improve the cost effectiveness of training, make the volunteer database more user friendly and raise awareness of health risks.
Frederick County Division of Fire and Rescue Services Chief Tom Coe will be one of the leaders Darwick works alongside.
"Chief Darwick brings decades of fire service experience from several different combination fire/rescue departments across the state of Maryland," Coe wrote in an email. "Over his last two years of service as the Assistant Chief of Volunteer Fire and Rescue Services, Shane has built an outstanding rapport with our volunteer responders. I look forward to working with Chief Darwick in his new role and know that he will serve the volunteer responders and the citizens of Frederick County well."
Though Darwick said there is no "typical day" in this job, some of his usual duties may include attending county government meetings, visiting fire stations, listening to the concerns of volunteers and even running calls.
"I will see volunteers on the scene, pat 'em on the back ... have a cup of coffee with you, but I'll be on the hose line with you too," Darwick said. "I'm a firefighter."
___
(c)2021 The Frederick News-Post (Frederick, Md.)
McClatchy-Tribune News Service