Md. nurse falls 100 feet into river trying to help at crash scene
Firefighters devised a rope system to haul her up from the water
---
FREDERICK COUNTY, Md. — A nurse trying to help victims of a motor vehicle accident fell at least 100 feet into the Monocacy River Wednesday morning, after attempting to cross from one side of the highway to the other.
She was on her way to help two people, police said, who had been in an accident involving a dump truck and a tractor trailer. The nurse may have believed there was a median in between both sides of the interstate as she tried to leap over the jersey wall.
Both drivers were injured and taken to a trauma center, though their current condition is unknown.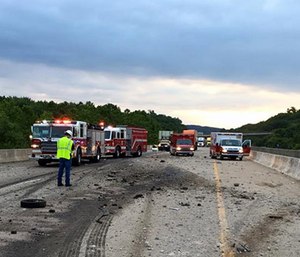 The nurse was reached by members of New Market Volunteer Fire Department, who initially tried to rescue her by boat before the water became too shallow to proceed.
According to the department's Facebook post, crew members devised a "slope evacuation rope system" to haul the patient up.
NBC 4 News reports the nurse was airlifted from the scene in a medevac helicopter.