Off-duty firefighter saves neighbors from house fire
When a fire broke out next door, Indiana Firefighter Gregory Bare rescued two people minutes before on-duty firefighters arrived to extinguish the blaze
---
Laura Lane The Herald-Times
Herald-Times, Bloomington, Ind.
BLOOMINGTON, Ind. — Bloomington firefighter Gregory Bare was home getting ready for bed just after midnight Wednesday when he noticed his neighbor's house was on fire.
He called 911, ran next door and rescued two people before on-duty firefighters arrived two minutes later to extinguish the blaze. The fire destroyed the front porch, but the house at 1101 S. Washington St. was spared.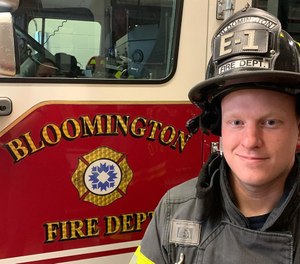 "He ran over to find his neighbor struggling to get out of her window," Bloomington Fire Chief Jason Moore wrote in a news release. "Removing the screen and helping her escape, Bare learned that an additional resident remained inside. With the front of the home burning, Bare entered through the rear where there was no smoke or fire, woke up the sleeping housemate, and escorted him out of the home to safety."
Bare helped fellow firefighters connect the water supply line to a nearby hydrant and made sure the occupants of the house were safe and the fire put out. The fire has been ruled accidental, but Moore wouldn't say what caused it.
"We are proud of our firefighters and the job they do every day," Moore said. "The off-duty actions of firefighter Bare go beyond normal expectations and highlight the professionalism, courage, and excellence we strive for at the Bloomington Fire Department."
He said that while off-duty firefighters are not legally bound to assist when they encounter a fire, they are encouraged to take "appropriate and calculated risk" whether on duty or not.
Bare has been a Bloomington firefighter since February 2017. "I am just glad I was there," he said.
Moore said city firefighters have saved nine residents from fires since 2017.
Fire Prevention Officer Tom Figolah said a smoke alarm awoke the woman Bare helped out the window. The fire department reminds residents not to tamper with smoke alarms, to check them monthly by pressing the test button and to change the battery twice a year, before the low-battery warning sounds. Moore said smoke alarms should be installed on every level of a house, including the basement, inside every bedroom and outside each sleeping area.
———
©2019 the Herald-Times (Bloomington, Ind.)
McClatchy-Tribune News Service