Report: Additional Chicago ambulances not decreasing response times
Paramedic Field Chief Patrick Fitzmaurice said the added ambulances were a "Band-Aid on a wound that needed a tourniquet"
---
By News Staff
CHICAGO — The Chicago Fire Department's addition of five new ambulances to their fleet has not helped to decrease long response times, according to a report.
An eight-month analysis of Office of Emergency Management and Communications Data shows that the new rigs have only improved the average response time from seven minutes and 22 seconds to seven minutes and 18 seconds, according to CBS Chicago.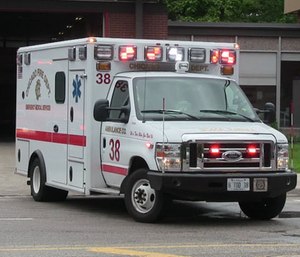 The state standard time is six minutes. Furthermore, Chicago ranks last in the number of ambulances per 1,000 people when compared to other big cities.
The fire department said the OEMC data is unreliable, as well as the data from the Inspector General and data used by the paramedic union.
"This is an egregious shell game at this point in time; everybody else is wrong, they're right, but they can't explain why they're right," Chicago Inspector General Joe Ferguson said. "It's reckless. It's irresponsible. It's spin. It's a shell game."
CFD Paramedic Field Chief Patrick Fitzmaurice said that while the fleet was increased to 80 ambulances, "a hundred was the number" that was needed.
"It was putting a Band-Aid on a wound that needed a tourniquet," he said. "That [time] is great if you're running a race in the Olympics, I guess," Fitzmaurice said. "That's insignificant as far as we go."
Further analysis shows that most of the ambulances make 10 runs a day, but the busiest can respond to up to 18 calls a day.
"The other day when all the ice was falling you had ambulances flying in to downtown from all over the city," Fitzmaurice said. "That could be life or death."
Fire department officials say they plan to issue their own response time report in the next couple of months.
Fitzmaurice laughed when told that the department claimed the OEMC data was unreliable.
"Of course they do, of course they do," he said. "That's their job, to point you in a different direction."