Calif. council unanimously increases budget to give raises to FFs
Santee legislators increased pay to keep its firefighters from going to other FDs
---
By Lauren J. Mapp
The San Diego Union-Tribune
SANTEE, Calif. — Santee has approved increase in pay for its firefighters in an effort to retain more firefighters by making their salary more comparable to those of other local fire districts throughout San Diego County.
In a unanimous vote Wednesday night, the Santee City Council approved pay increases for the Santee Firefighters Association, as well as city staff eligible for cost of living adjustments. The latter group includes general employees, the city clerk, city manager and elected officials.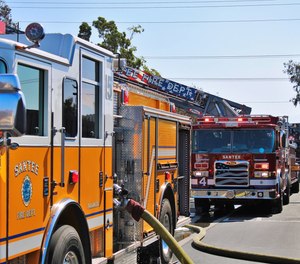 In total, the impact of the firefighter and city staff pay changes will increase the 2024 fiscal year budget by $966,830, raising the total operating budget to $57.3 million.
The city hopes it can prevent more of its fire department staff from leaving for other local departments offering higher pay, said Councilmember Rob McNelis, who referred to it as a "pay parity adjustment."
"We went classification by classification to try and make sure that we were paying them at the same level that they're getting in other places around the county so we're not losing them to other cities around the county as we have in the past," he said during the council meeting.
A representative from Santee Fire said Friday that the department does not track turnover rates internally, and a spokesperson for the city didn't respond to an interview request as of Friday afternoon.
The Santee Firefighters Association has a total of 50 members, which includes 27 firefighter paramedics in addition to its fire engineers and fire captains, city staff reported Wednesday.
Per the new contract, all fire department staff under the union will retroactively receive a 4 percent cost of living adjustment effective July 6, 2023, and a 6 percent pay increase on Jan. 1, 2024. Another pay increase of 4 percent is scheduled to take effect for all fire staff tiers on July 1, 2024. Fire engineers will also receive a 1.25 percent pay increase starting Jan. 1, 2024.
Approval of the salary increases follow a negotiation between the city and the firefighters labor union, with both groups agreeing to a two-year term.
---

Read more:
Recruitment and retention: Pay, benefits, training top firefighter wish lists
Firefighters speak up about how fire departments can better manage the staffing crisis to reduce stress levels
---
On Wednesday, the city council also approved a $92,500 budget to cover the cost of building a new Santee government website.
The council also reminded the public that it will launch its new online permitting software system to apply for and renew building permits and business licenses on Tuesday.
Community members who do not have access to a computer or the internet at home may still fill out the online paperwork in the office using a city tablet or computer, City Manager Marlene D. Best said during Wednesday's council meeting.
©2023 The San Diego Union-Tribune.
Visit sandiegouniontribune.com.
Distributed by Tribune Content Agency, LLC.
McClatchy-Tribune News Service