Firefighter reunites with woman he saved 33 years ago
Retired firefighter Dan Sullivan recalls having to search for the baby by feeling the floor with his hands due to heavy smoke
---
Joe DiFazio
The Patriot Ledger, Quincy, Mass.
QUINCY, Mass. — It was a very early Saturday morning in November 1986, when Dan Sullivan said he arrived on the scene of his first fire as a new Quincy firefighter. And it was a bad one.
The blaze was a two-alarm fire at a single family home in North Quincy at 28 Milton Road. When firefighters arrived, a mother and her newborn daughter were trapped inside the house. Without hesitation, Sullivan and other Quincy firefighters raced into the burning building to rescue them. Sullivan carried 3-week-old Paige Lentini out of the home while smoke poured out of the dwelling. Sullivan and Lentini reunited last week, nearly 33 years after he saved her life, to celebrate his retirement.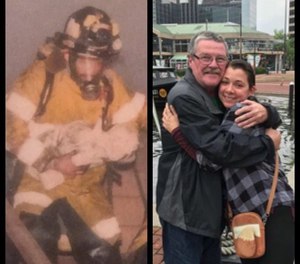 "It was amazing ... it was an unbelievable experience to get to talk to her about it," Sullivan said. "It felt great talking to her, I've never had a feeling that before in my life."
Sullivan said they had met in passing twice in the past three decades, but never had a chance to talk about the rescue.
"She was very interested in talking about the fire," Sullivan said. "She wanted to know everything."
The reunion lunch happened in Baltimore, where Lentini lives. Some of Sullivan's firefighter friends brought him to Maryland to celebrate his April retirement and catch the Boston Red Sox playing the Baltimore Orioles. Another retired Quincy firefighter, Kenneth Lippens who is close with Lentini arranged the lunch.
For their heroic actions that morning in 1986, Sullivan and three other Quincy firefighters, Paul Daley, Timothy Petinelli and John Martell, all received the Roll of Merit, the Quincy Fire Department's highest honor.
By the time Sullivan had arrived on scene flames on the first floor filled the second floor with smoke and heat. The four firefighters had to battle through it to get to Paige and Dianna Lentini, who were on the second floor. The firefighters carried both to safety.
In a 1986 letter commending the firefighters, then Quincy Fire Chief Carl Valenti said he was "extremely proud" of the firefighters.
"There is no question that the quick actions of these firefighters saved the lives of both mother and daughter," Valenti wrote. "Two or three minutes delay would have prevented the rescue."
Sullivan credited great training and an "amazing" fire department.
"There were people trapped inside so they sent us right into the building," Sullivan said Sunday.
Sullivan had to search for the baby by feeling the floor with his hands, the Patriot Ledger reported in 1986. Once at the hospital Paige Lentini was called a "miracle baby," by doctors and nurses. She was born eight weeks prematurely with respiratory problems and had only left the now-defunct Quincy City Hospital four days before the fire. The blaze landed her back at the hospital, but she was unharmed.
Sullivan, whose 65th birthday spurred his mandated his retirement, said the lunch was a great way to start the next phase of his life.
"It was time to go," Sullivan said, admitting to a couple aches and pains. "But, I'm going to miss the guys. It's like a second family."
———
©2019 The Patriot Ledger, Quincy, Mass.
McClatchy-Tribune News Service