Search & rescue: From forcible entry to finding life (eBook)
Download the eBook to learn the story of one crew's dramatic rescue of several children, a back-to-basics look at VEIS, and a training officer's guide to primary search training
---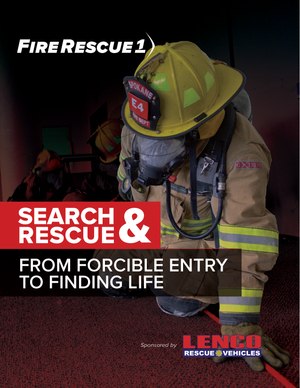 Search and rescue operations form a backbone of fire service training and fireground operations, with crews assigned to this task responsible for finding possible victims and returning them to safety. To be successful in this complex assignment, firefighters must know how to effectively force entry, isolate search rooms from the rest of the structure, and use practiced techniques to search for life. 
Download a free copy of the eBook by filling out the form below. 
This eBook features the real-life story of one crew's dramatic rescue of several children, a back-to-basics look at VEIS, and a training officer's guide to primary search training. 
I encourage you to read and share this eBook with your members, considering the role of each member of the team, what they will face at these incidents – and whether they are prepared. 
The time to train is now. 
Fill out the form below to download a copy of the FireRescue1 eBook, "Search and rescue: From forcible entry to finding life".
DOWNLOAD SEARCH AND RESCUE: FROM FORCIBLE ENTRY TO FINDING LIFE eBOOK