Former fire dept. PIO claims deputy chief sexually harassed her in lawsuit
Ashley Blakely alleges that Deputy Chief John Patterson pursued her in "a very direct and inappropriate way"
---
By Nick Morgan
Mail Tribune
JACKSON COUTY, Ore. — A woman who has performed hundreds of on-camera interviews and appeared on billboards representing Jackson County Fire District 3 has filed a civil-rights complaint with the state claiming that local officials took away her spokesperson duties as retaliation for complaining of sexual harassment and taking a medical leave earlier this year.
Ashley Blakely alleges that a deputy chief who was her direct supervisor pursued her in "a very direct and inappropriate way," and sexually harassed and intimidated her for several months in 2015. The deputy chief then began a pattern of micromanaging and disciplinary actions after she complained to the board, according to the Oct. 1 complaint filed with the Oregon Bureau of Labor and Industries.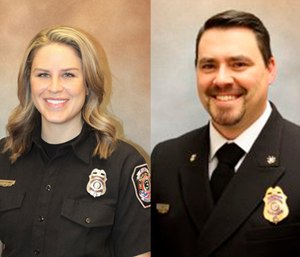 Blakely, who has worked as a fire and life safety specialist since April 2015, claims workplace stress caused by her immediate supervisor led to a three-month leave of absence for anxiety and depression early last summer. When she returned to work, her supervisors largely stripped her of her role as a media liaison for the fire department, costing her an estimated $5,000 in lost overtime, according to the complaint.
Blakely alleges more than a dozen incidents of sexual harassment involving her immediate supervisor, Deputy Chief John Patterson.
The complaint claims that the harassment began in 2015 when Blakely, then known as Ashley Lara, told her boss she was going through a divorce. Between the summer and fall of that year, Patterson allegedly told her he "wanted to push her head into a pillow and pull her hair," called her a "dirty b--," and slid his hand down her back and rubbed her shoulders. Patterson also confessed to Blakely that he liked her as "more than a friend" and that he was "more than a supervisor" and invited her to feel his jeans and examine his belt buckle, the complaint alleges.
"Blakely asked at one point if she could get a ride with him to a wildfire, and he responded with a smirk, 'Oh yeah, I'll give you a ride,'" Blakely's complaint alleges.
Bureau of Labor and Industries legislative and communications director Christine Lewis described Blakely's complaint as open and under investigation.
Update: Fire District 3 Chief Robert Horton issued the following statement Thursday afternoon:
"The men and women of Fire District 3 provide excellent service to this community with pride and distinction. As an organization, we investigation allegations of misconduct thoroughly and to resolution. It is not uncommon in an organization for employees to have disagreement on resolutions and we have processes to deal with such disagreements. We support and comply with the processes that are in place for our employees. Fire District 3 has received a complaint filed with BOLI and is compliant with their investigation. It is the policy of the Fire District that we do not comment publicly on personnel matters. This is an open and ongoing investigation."
Blakely's complaint claims that Patterson dramatically changed how he behaved with her by fall 2015, after she disclosed that she had started a relationship with Division Chief David Blakely, to whom she's now married. Ashley Blakely was known as Ashley Lara until June 2017.
"This changes things between us," Patterson allegedly said.
Blakely alleges Patterson began micromanaging her and refused to speak with her when addressing others.
Blakely complained to the district managers in October and November 2015, she says, and the fire district removed Patterson as her direct supervisor for a period lasting 10 months. A disciplinary action Patterson had written against her was withdrawn from her file, according to the complaint.
In August 2016, Blakely was moved back under Patterson's authority, and Blakely claim of retaliation resumed.
In December 2017, Patterson issued a memo accusing Blakely of untruthful behavior and making misrepresentations that could be interpreted as self-serving because she apparently left Patterson out of the loop in appointing a staff assistant to run a CPR Anytime training event in Blakely's absence.
"I found a number of conflicting stories and inconsistent versions while reviewing the comments and claims made," Patterson writes in the memo dated Dec. 7, 2017, concluding with a key point in bold, "Getting to the actual truth was difficult due to conflicting accounts. Be wary of misrepresentations, they can be interpreted as self-serving. Follow the chain of command."
Blakely states that she believed the written document was a precursor to added disciplinary action, causing her to become "extremely anxious and depressed by the stress she was experiencing at work." Blakely was granted a 12-week leave of absence this year from late April to the middle of July.
When she returned July 16, she found her duties as media liaison had been "taken off her plate." The district told a union representative that the reallocation of her time was so Blakely could focus on fire safety inspections, but said she would still be expected to perform public information officer duties in the event of major fire events.
"The very next day, there was a major four-alarm fire in Jackson County (the Peninger fire), and Blakely was not called upon to perform PIO duties," Blakely's complaint states.
Blakely states that the department told her it would return the media relations duties at a later date, but as of October the agency had not yet done so.
Blakely most recently served as PIO Sept. 13, at the scene of a two-alarm apartment fire.
Copyright 2018 Mail Tribune
McClatchy-Tribune News Service