FF-medic recalls off-duty response to shooting that killed Fla. trooper
Riviera Beach Firefighter-Paramedic DaWayne Watson came upon the shooting of Florida Highway Patrol Trooper Joseph Bullock while driving home
---
RIVIERA BEACH, Fla. — A Florida firefighter-paramedic was driving home after work late Wednesday night when he passed by a shooting that killed a state highway patrol trooper.
Riviera Beach Firefighter-Paramedic DaWayne Watson saw Florida Highway Patrol Trooper Joseph Bullock lying on the ground and turned around to try and help, according to the Palm Beach Post.
"I saw that he was … obviously the wounds were fatal," Watson told the Post. "By the time I was able to put hands on him, he'd already expired."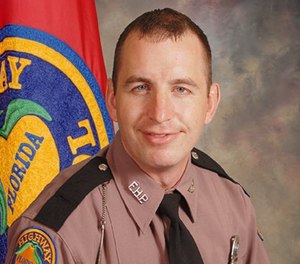 The shooting was still ongoing when Watson, who is also Riviera Beach Fire Department's public information officer, arrived at the scene. He said he was between 10 and 20 yards away when more gunshots were fired.
Watson directed bystanders to take cover. He also saw an off-duty Riviera Beach police officer, who works in the same building as him, at the scene. Officials said the off-duty officer shot and killed the gunman who killed Bullock; neither the officer nor the gunman have been publicly named.
"He's a really good officer. He's been there for a long time," Watson told the Post. "He's done a lot of good things in the agency."
Though working as a paramedic trained him for the medical aspect of the situation, he said, it didn't prepare him to see a fellow public safety member down.
"Working where I work, I see a lot of traumatic things. That kind of helped," Watson continued. "But that's the first time I saw a law enforcement officer that was killed."