Social media landmines: Protecting firefighters from themselves
Even fire service content shared from private accounts can spread far beyond its intended audience
---
With countless social networking websites, associated links and forums at their fingertips, firefighters go online in search of fire-related news, stories and connections with like-minded "friends" and followers. However, even with the most stringent privacy settings, firefighters can easily forget just how public a "private" social media account really is.
"Going viral": When private posts go public
If you have spent any time in duty quarters, you know the fire service is not immune to the negative impacts of social networking. Firefighters' seemingly private social media posts can be exposed to the public by computer glitch, simple hack or misplaced intent.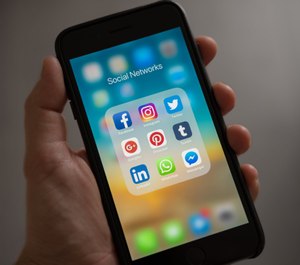 We have all seen on the news what can happen to firefighters' posts. What starts out as a joke between crewmembers or a personal video critique of an incident becomes fair game for the public and the media. Add victims and bystanders focusing on an emergency event and its environment, and you have a formula for bad behavior "going viral."
The consequences of social media sharing
Members of fire and emergency medical services who post confidential information about suspect fires, patients, response issues and inappropriate behavior may find themselves subject to legal action.
Section 230 of the Communications Decency Act provides broad, but not unlimited, immunity from liability to website hosts. However, laws pertaining to defamation and copyright infringement still apply to individuals who publish information on their social media sites.
Civilian cell phone videos display fire operations almost immediately. Evidence chains are compromised, and chief officers can be called out for any decision that did not appear to keep up with recorded events. Add to this the illusion of confidentiality on private accounts, coupled with the powerful emotions associated with the disclosure of information regarding personal relationships or opinions, and you have a recipe for disaster.
Harmful posts, whatever their initial intent, have the ability to negatively influence public opinion, destroy reputations, damage institutions and deter fire departments from making needed progress. Regardless of their origin, these posts can interfere with the central messaging of the fire service.
The problems of anonymity and attacks
There is no historical context for nameless utterances, regardless of communication platform. The anonymity of social media handles can make some people feel invisible and even emboldened to post disparaging, mean-spirited or destructive comments in a way they would not if they had to use their real names.
Additionally, the anonymity of social media can create scenarios in which commenters feel safe attacking the individual instead of the idea. Consider an article in which an author writes that they support the idea of changing to different style of fire helmet. Someone who disagrees might take to social media to attack the author, calling them disparaging names while hiding behind the anonymity of their social handle. And even if they don't hide behind a faux name, the online environment can still provide fertile ground for negativity in a way that simply may not occur if the two were talking face to face.
Internet command and control
In the fire service, when a pattern of abuse or violations of trust are encountered, regulatory control is warranted.
Fire departments should develop policies that cover its members' communication on social media, particularly related to the fire department. Departments can create guidelines and an approval process for such communications so as to protect its members and the department's reputation.
As members of the fire service, we are subject to a higher authority. Sharing ideas and opinions with a senior officer in committee or in a confidential critique, and while under the protection of a written policy/procedure document, is appropriate. Posting such information on social media is not.
You can have an opinion, but you have a duty to respect the job in terms of your responsibilities toward your public and your department.
Final thoughts
Inappropriate use of social media can lead to severe consequences, for the firefighters themselves, their department and their community, regardless of initial intent. Such material must be contained and controlled like any hazardous material – with respect for its potential and guidance and wisdom for its use.
Editor's Note: Did you learn a social media lesson the hard way? Share your story at editor@firerescue1.com.