Registration open for 2021 US Police & Fire Championships
The Olympic-style competition for public safety and first responders is scheduled to take place June 10 - 19 in San Diego
---
By Police1 Staff 
SAN DIEGO — The U.S. Police & Fire Championships is now open for registration, organizers announced on Wednesday. 
The Olympic-style competition is scheduled to take place on June 10 - 19 in San Diego. USPFC officials are optimistic that the events will be able to kick off in person.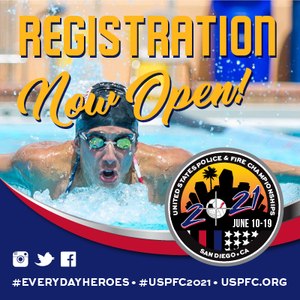 "USPFC is working with state and local officials to confirm venue availability and ensure appropriate policies and procedures are in place to meet the region's prescribed COVID protocols," according to a release. "Some competitions may not be offered in 2021 due to the restrictions that may still be in place for in-person events in June."
Public safety personnel and first responders will have the opportunity to compete in over 50 sports across 35 venues in San Diego County, according to organizers. 
"We are delighted we can once again welcome athletes representing the law enforcement and public safety communities to San Diego for USPFC," said Larry Collins, President, Board of Directors, California Police Athletic Federation, in a statement. "We know the pandemic has been incredibly taxing on the first responder community, which is why it is even more critical we can host USPFC 2021. Our athletes have been telling us how hungry they are to compete again and enjoy camaraderie through sport and wellness." 
To learn more about the events or register, click here.