Ind. city considers volunteer FF program due to shortage of full-time staff
The shortage has left two of the Hobart Fire Department's four fire stations unmanned or with minimum staffing at times
---
By Chas Reilly
The Times, Munster, Ind.
HOBART, Ind. — City leaders are working on a strategy to staff all fire stations, and it's possible a volunteer firefighter program could be established to help with emergency calls.
The Hobart Fire Department currently has 55 firefighters, including Fire Chief Randy Smith, Mayor Brian Snedecor said.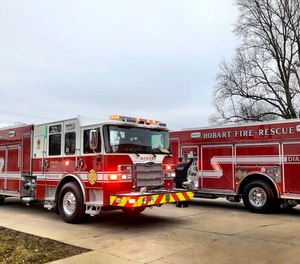 There have been about 11 to 12 people working per shift, and the department has had two of its four fire stations unmanned or with limited staffing at times because of a manpower shortage.
"I think we're all concerned about staffing. We've had some guys on sick leave, we've had some guys retire," Snedecor said.
He said the department can staff all stations with a minimum of 14 people per shift, and he believes that's a goal that soon can be reached.
A new firefighter was recently hired, and the department is authorized to hire another. City officials expect some firefighters to soon come off sick leave, and the department is entering a season when people don't typically take time off, Snedecor said.
Staffing minimum
"We may be able to maintain those 14 minimums on a fairly regularly basis without overtime," he said.
Smith said he is appreciative of Snedecor making a commitment of getting to that minimum staffing level.
"It's going to help improve those response times," Smith said.
Moving forward, the city eventually could see volunteer firefighters assist at fire scenes and with ambulance runs.
"The ability to continue to work the fire department on a purely full-time firefighter basis is becoming more difficult," Snedecor said.
Snedecor said the city is experiencing financial struggles because of property tax caps, COVID-19 and other issues. He also indicated the community of nearly 30,000 people doesn't have a heavy industrial tax base to help fund public safety.
He believes starting a volunteer program could be a good way to supplement the full-time service already in place.
"This could be something that could be beneficial to everybody," Snedecor said. "We want to make sure our firefighters feel comfortable when they respond, they feel safe."
Common practice
Operating a fire department with paid staff and volunteers is common in the Region, and several area departments use that approach.
In addition to assisting with fire and EMS calls, the volunteer force could serve "as a career development tool, where we can take younger people, develop their skills in firefighting by offering training," Smith said.
Although the positions wouldn't be paid, the volunteer firefighters would be required to participate in training and devote a certain amount of time each month to the department.
"In other words, riding as that fourth person on the engine or the third person on an ambulance to help out in emergency situations," Smith said.
Initial training would involve emergency medical responder and firefighter courses "before they would even be able to step foot" on the city's fire equipment, he said.
"It takes quite a bit of time to get that training done," Smith said of the 80-hour firefighter course.
He said the city will seek volunteer candidates who are highly motivated, physically fit and have high moral character.
"We're going to be very selective in the candidates that we bring on board," Smith said.
Program details
City officials continue to develop details for the volunteer program, but they won't rush the process.
"We're not looking at haphazardly putting something together," Smith said. "We're going to do it the right way."
Snedecor said a budget hasn't been set, but officials understand there will be costs to provide training, bunker gear and other necessities for volunteers.
Because of the training requirements before the volunteers could start, "we wouldn't need that bunker gear until next summer," Smith said.
Snedecor said Hobart instituted a police reserve program years ago, and there was some initial push-back when that volunteer program was introduced.
"There were concerns that it was going to take over the department at that time, but after we worked through that initial fear, we realized the value that it could bring to the workforce and save the city literally thousands upon thousands of dollars," Snedecor said.
He said he understands the community has concerns about firefighter staffing, and he's committed to finding solutions to that issue.
"We owe it to our residents to do our very best to give the staffing and the equipment to the best of our abilities," Snedecor said.
___
(c)2020 The Times (Munster, Ind.)
McClatchy-Tribune News Service