Case study: Radical fire station concept marks 20 years
Building a fire station inside a shopping mall may seem like an outlandish idea, but more than 20 years later it is a fixture in the community
---
This feature is part of our new Fire Chief Digital Edition, a quarterly supplement to FireChief.com that brings a sharpened focus to some of the most challenging topics facing fire chiefs and fire service leaders everywhere. To read all of the articles included in the Summer 2017 issue, click here.
By Robert Rielage, FireRescue1 Columnist
Twenty-one years ago, the Colerain Township (Ohio) Department of Fire-EMS opened its Northgate Station, a 5,000-square-foot "one stop public education store" within the Northgate Shopping Mall. After two decades of operation, the store is still very much alive and has become an outreach for the department's community risk reduction programs.
The idea behind the Northgate Station was chronicled in a May 1997 article that appeared in Fire Chief Magazine: "The mall is probably the only place where you'll eventually see every member of your community. Put that likelihood to good use by setting up a store that offers fire and life safety information."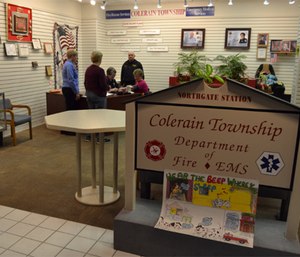 That was good advice then and good advice now. Since 1997, Northgate Station has evolved to include CPR classes, blood drives, the Citizens Fire Academy training, blood pressure screening and a Safe Haven location for children.
Conservatively, the Northgate Station has daily contact with 60 to 75 people from Colerain and the Greater Cincinnati area. The target audience for Northgate Station includes a multitude of ages and generations, and the station provides safety pamphlets in both English and Spanish.
Northgate Station, which has survived five changes in mall ownership, also provides a place for parents to take a break from shopping while their children play in the indoor, safety-themed playland.
The station is staffed by light-duty firefighters, part-time public educators and volunteers from the Colerain Citizens Fire Academy. It received the International Association of Fire Chiefs' 1998 Award for Excellence and the IAFC's 2000 Award for Excellence of the Decade.
The firefighters and educators are all trained EMTs or paramedics and are in constant radio contact with both fire and police dispatchers. They frequently provide first response to medical emergencies within the mall, making the Northgate Station a valued benefit to the mall's owners and offering a degree of comfort to visitors that is not available in other area malls.
What does it take to start your own successful Northgate Station? Here are five steps to establishing a community storefront.
1. Start small
See what works and what doesn't in your community. Blood pressure checks and smoke alarm installations are easy starting points. Contact your local chapter of the American Red Cross to see how your agencies can work together.
2. Think long-term
Consider this a long-term commitment on the part of your fire department and the mall or store owners. It requires a solid public-private partnership that is designed for the value and the benefit of both parties.
3. Recruit capable staffing
The fire department must commit to adequately staffing the store with a combination of trained personnel who can handle frequent questions and attend minor emergencies until the on-duty EMS staff arrives to provide prehospital care.
4. Establish hours of operation
Hours of operation need to be consistent. Whatever schedule you set up, make sure a qualified individual will be there to staff it.
5. Plan for mission flexibility
Shifting focus to meet changing community needs, such as providing information on new community paramedicine and smoke alarm installation programs, keeps the Northgate Station viable to the public. Plan to listen and adapt.
The Colerain Township Department of Fire-EMS is willing to provide guidance to any department wishing to try this form of community outreach. Contact me at Robert.Rielage@FireRescue1.com, and I will forward it to those who can help you establish the next successful Northgate Station.
About the author
Chief Robert R. Rielage, CFO, EFO, FIFireE, is the former Ohio fire marshal and has been a chief officer in several departments for more than 30 years. A graduate of the Kennedy School's Program for Senior Executives in State and Local Government at Harvard University, Rielage holds a master's degree in public administration from Norwich University and is a past-president of the Institution of Fire Engineers-USA Branch. Chief Rielage can be reached at Robert.Rielage@FireRescue1.com.