Casting a vision for your department's new fire station
Identify what's important to the community and the firefighters – and then communicate those priorities early and often
---
Many of us can easily remember the first time we visited a fire station. It was a mythical, magical place where heroes lived and worked. And for those of us now lucky enough to be living that dream, we must remember that the fire station is not just our "office" and our home for 24 hours, it is also a symbol to young and old alike of who we are as public servants.
Austin FD faces continuous construction
Like many departments nationwide, the Austin Fire Department has an aging infrastructure. In 2019, 43% of U.S. fire stations were at least 40 years old. In Austin, 50% of Austin stations are at least 40 years old.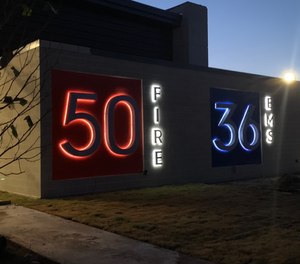 As the chief officer responsible for our construction projects, I am witnessing firsthand the enormous challenge facing the department. Entering 2021, 18 of our fire stations will be in one stage of construction or another over an 18-month period. We have never done this much construction at any one time.
With all the things that need to be considered, from temporary stations to funding codes, I was struck by one thing I considered to be the most important: How do I cast our vision to the people designing these stations, these buildings that will be the homes for our firefighters for the next 50 years? It's a daunting responsibility, to say the least.
How to identify your vision
What makes a fire station a home and not just a building? Is it the things inside the structure itself or something more important than that?
If you said the people, I would agree. But unlike buildings, people change over time. So when you're designing a fire station, you can't do it in a vacuum or solely focused on the specific firefighters who work there today; you have to think long-term about the generations of firefighters who will live and work in the space. Further, there are others who must be taken into account: the taxpayers, citizens and neighbors who pay for, visit and live near the station.
Before entering into any station renovation or new station construction, a department has to ask itself two questions: What's important to the community and what's important to the department? The answers are the foundation that these buildings will be built upon, much more than any concrete slab.
You need to start by asking the crews who will live there about their needs. Find out what makes that station more than just a house, but a home. You also need to understand the department's vision. One key component of our vision includes the words, "honoring tradition and embracing inclusion, equity and diversity for all." That has become an important part of my message to architects during design and to builders during construction. We need to capture the history of the building, but we also need to include innovative ideas that embrace inclusion, equity and diversity for all the firefighters who will live there.
Another important part of this exercise is recognizing the surrounding community the individual station serves. Neighborhoods have their own vibe and feel to them, and those who live there think of the fire station as "their station." That's why it's important to find ways to "speak" to the community about the design.
An example: One of our stations sits near the University of Texas at Austin. The campus is part of the community that crew serves. In the recent renovation work there, we included burnt orange accent walls and doors, the official color of the university. When people in the area walk by, they "see" their station reflected in this detail.
In another project, the design team is embracing nature on the west side of the lot and technology on the east side during schematic design. This is being done intentionally to reflect the parts of the city it serves – a lake to the west and the new high-tech companies moving in on the east side of town. These ideas are an effort to further embrace the communities we serve and ensure they feel a greater ownership in the future of our department. After all, it is ultimately the citizens who determine many of a department's most important facets – and in some cases, its very existence.
One important component of our vision for fire stations is including training options in the structure itself. This is something we heard from our crews as they made their wish lists. There are many great affordable construction ideas that can be used in your station design. For example, in one station, we are turning the second set of stairs that code requires into a training "tower." At another station, we are fortifying the monument sign on our property and using it as a prop for throwing ladders to second- and third-story window heights. We will also have our first-ever training balcony in one of our new station bays. These concepts are being included because we are pushing our vision to the design team. These improvements are ones that our crews will see and use for decades, and that speak to our mission as public servants and firefighters.
Communicate the vision early and often
So, when is the best time to cast your vision? In my opinion, it's early and then often. Once I decided that vision-casting was an important part of the design process, I included it in my very first meeting with the architects. I communicated my expectations for what the project would feel like upon completion and then gave them creative freedom on how to best meet those expectations. That's why it is important to cast your vision often. Clarifying it frequently during the process can help the architect meet your expectations.

Remember to continue talking about your vision during the construction phase, too. At this point, change can be expensive, and decisions should be adhered to whenever possible. However, even during construction, it is important that the contractor knows and implements your vision so the building reflects it. Never stop talking about the things you've asked for in the project and why they matter.
Tell a story to your members and community
None of these ideas are new, nor will any of these concepts revolutionize how we do our jobs. They will, however, tell a story to our firefighters today and in 40, 50 and 60 years about what value their department places on serving them and the community.
Casting your vision isn't just about building fire stations. It's also about building a department that values inclusion, believes in training, listens to its members and honors the neighborhoods it lives in. So make sure you take the time to cast your vision in your station projects. It is time well spent.
[Read next: How to build a fire station (downloadable eBook)]