New station construction: Three small departments share lessons learned
Successful fire station construction or renovation requires careful planning, patience, commitment and buy-in from all involved
---
This feature is part of our new Fire Chief Digital Edition, a quarterly supplement to FireChief.com that brings a sharpened focus to some of the most challenging topics facing fire chiefs and fire service leaders everywhere. To read all of the articles included in the Summer 2017 issue, click here.
By Linda Willing, FireRescue1 Columnist
Building a new fire station is never easy. There are challenges with finding and acquiring a suitable location and decisions to be made about design and function. Then, of course, there is the money.
These challenges can test any department, but for smaller fire departments with limited staff and resources, the obstacles can seem overwhelming. Yet, as these stories from three departments demonstrate, with enough time, patience, teamwork and good information, nearly any difficulty can be overcome.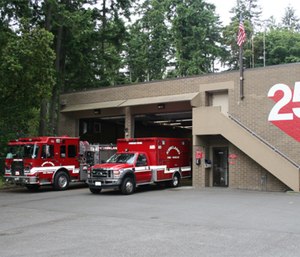 No room to move
All fire chiefs feel that there are not enough hours in any given day. But now imagine you are in the process of replacing or remodeling every fire station in your department, all at the same time.  
This is the current reality for Kirkland, Washington, a city of 83,000 just across Lake Washington from Seattle. Kirkland Fire has six stations located within 18 square miles, five of which are currently staffed full time. Two stations previously served as contract providers of fire protection to other districts.
In 2011, those areas were annexed to the city. At that point, the fire department began the difficult odyssey of matching fire stations with response needs.
Bond money to rebuild the vacant fire station had already been secured. However, officials realized the station could not be remodeled to meet their needs at its existing location. The department is now looking for another site to move the building to, which is proving to be a bigger challenge than just finding the money to do it.
The biggest problem, according to Deputy Chief Helen Ahrens-Byington, is that as an older, densely populated city, Kirkland is pretty much built out. There is no vacant land, so a location for a new fire station had to be acquired in another way. Eminent domain, a common way to provide for public services under such conditions, was initiated.
The first sites identified were ruled out due to protective covenants. The most recent location, the current site of a drugstore, looked promising at first, but now is complicated by legal issues that are headed to court.
All of this would be overwhelming for a small staff of just the chief and two deputy chiefs to handle in any organization. Now imagine doing a second such project at the same time, on the other side of the freeway.
That's right – while Kirkland Fire Department is working to relocate Station 24 on the west side, they are also struggling to find property for the relocation of Station 27 on the east side. That project, mandated by data related to response standards, will require a ballot measure, which is being prepared for the 2018 election.
In the meantime, they are also initiating a major remodel of Station 25 that will mean relocating the crew for up to a year. And beyond the Station 25 project, which has already been funded, the department is planning significant remodels for the other three stations in the city.
Not surprisingly, all of this change has created some turmoil within the department, which included union concerns about staffing standards.
"But we've put together a good team and are getting input," said Deputy Chief Ahrens-Byington. "People feel they have a voice in the process."
For any other departments considering this level of fire station multi-tasking, Ahrens-Byington has some advice:
"Partner with technical experts in your city, such as people in engineering, legal and budget. Try to share the workload as much as possible so one person is not overwhelmed. And open communication and transparency are critical. Make sure the firefighters know what's going on and get them involved."
Importance of buy-in through hard times
Gulf Shores, Alabama, calls itself the small town with a big beach. Officially it is a small town, with a permanent population of only 11,000. Gulf Shores Fire Rescue is a combination department of around 45 full-time members and 15 volunteers.
But then there is that beach. As a four-season vacation destination, the actual population of Gulf Shores is 60,000 to 80,000 on any given day and can go as high as 200,000 during holidays or special events.
In 2008, the city had two fully staffed fire stations and knew it needed more. Resources were stretched by increasing call volume and expanded service, especially when a major annexation occurred. In addition, the main station, which had been built in the 1970s, had been badly damaged during Hurricane Ivan in 2004. Patchwork repairs had been made over the years with the expectation that a new main station would ultimately be built.
Gulf Shores Fire Rescue was envisioning its future: a new main station, another new full-time station west of town and expanded staffing, training and response capability. With an ISO rating of 3, the department had dreams of improving that number as it embraced the opportunities the future could bring.
Then came the Great Recession.
With plans already in place for construction, the City of Gulf Shores suddenly found itself in dire straits. Tax revenue sources nose-dived.
The fire department found itself in the position of not being able to fulfill the terms of SAFER grant money it had been depending on for staffing. This loss of funding led to layoffs in 2009.
"The worst day of my life was when I had to lay off a guy in December, and his wife was pregnant," Chief Hartly Brokenshaw said.
However, the response needs did not diminish in proportion to the revenue base. The fire department was faced with the challenge of how to build two new stations when a 20 percent budget cut was demanded.
The city had already acquired an old house on property that was the planned location for the third fire station. At the same time, the fire department and city officials tried to figure out a way to build a new main station that would meet the department's current and future needs.
That's where collaboration kicked in. Department members and contractors worked on remodeling the old house that would become new Station 3.
"Our employees understood the position we were in. Our staff just stepped up and did it. If you were a trim person, you did the trim. If you could paint, you painted," Deputy Chief Keith Martin said.
The new station was up and running by 2011, at a cost of only around $250,000. The land had already been purchased for a cost of $200,000.
When city administrators and elected officials saw the buy-in of department members that created Station 3, they became more open to fully funding the rebuild of the main station.
But money was still tight and creative approaches were needed. Station plans were adapted from another county department at a big cost savings. By advertising online, the department found a commercial recycler that was willing to pay the department a small fee in exchange for completely tearing down and removing the existing building.
"Even the concrete slab was recycled," Martin said.
Six department members, including the chief, moved into an 800-square-foot building for the 16 months of construction. The temporary quarters  had no kitchen or showers, and rigs had to be parked outside in all weather. But the relocation was mostly cost-free.
The resulting new station #1 is over 18,000 square feet and includes state-of-the-art living and work spaces, as well as a public meeting space, dedicated triage room and ample storage for a cost of just under $2 million.
"People look at what we did and say, no way you did this for that amount of money," Brokenshaw said.
Today Gulf Shores Fire Rescue is back to full staffing and the future looks bright.
"We were as honest as we could be with people through hard times," Martin said. "For a while, there really was no money. But we had buy-in at all levels. Everyone stood up, and that made the difference."
An added bonus for the department – after the completion of the main station in 2014, the department received its new ISO rating of 1.
Data-driven decision making
In 2007, one thing was clear for the Ogden, Utah, Fire Department: They needed a new fire station. The city of around 83,000 people did a management audit that indicated that the existing Station 3 on the north side of the city no longer met standards for adequate response coverage. That station, originally built in 1946 and remodeled numerous times over the years, had no further room for expansion. In particular, the ambulance responding in that district had to be housed at a different location.
The ideal location for the new station was quickly identified, but then the process slowed down. The first site chosen became unavailable, but a second site nearby opened up. The city acquired that 2.5-acre parcel and demolished the existing house on it in 2012.
Funding was the biggest challenge, but the city council and mayor were supportive, and money was effectively raised from medical revenue and tax dollars.
"It was all pretty seamless. But it takes time," Deputy Chief Eric Bauman said.
The station design was a collaborative effort among the fire chief, city facilities employees and engineers working alongside the architect. Crew members from the existing Station 3 also had input.
The city broke ground on the new three-bay station in 2015 and celebrated its completion in July 2016. The 10,000-square-foot, two-story building houses an engine, a rescue and an ambulance. The station includes separate dorms, five restrooms, full kitchen and dining areas and a complete fitness center. It also has a community room that serves as a training room for fire crews but is available for use by the public.
In addition, the department's wish list was completely checked off with a full laundry, Magni-grip exhaust system, First Alert internal dispatch system and even a heated rear ramp to prevent ice on the north-facing side of the building.
The new station, which cost around $3.5 million, has been well received.
"The big wins were that we covered the gaps for our standards of coverage," Bauman said. "We built a state-of-the art station. And we significantly reduced our operating costs because we took two stations and combined them into one."
One reason for the success of this project, according to Bauman, was the fact that the original decision to relocate the station was made based on data from the 2007 management audit.
"A lot of people fear an audit," he said, "but this audit gave us great data, identifying where our gaps in coverage were and recommending where to build the station. The fact that the entire process was data-driven really helped us."
Another win for Ogden: The former Station 3 has since been repurposed into a day center for families in the community who are struggling with homelessness or other setbacks, providing employment and housing assistance, medical care and counseling.
New fire station construction is never easy. It requires careful planning, patience, commitment and buy-in from all involved.
About the author
Linda F. Willing worked for more than 20 years in the emergency services, including 18 as a career firefighter and fire officer. For more than 15 years, she has supported fire and emergency services and other organizations through her company, RealWorld Training and Consulting. She is the author of "On the Line: Women Firefighters Tell Their Stories." Linda is an adjunct instructor and curriculum advisor for the National Fire Academy Executive Fire Officer Program. She has a bachelor's degree in American studies, a master's degree in organization development and is a certified mediator. Linda is a member of the FireRescue1/Fire Chief Editorial Advisory Board. To contact Linda, email Linda.Willing@FireRescue1.com.