Retired battalion chief arrested for selling stolen fire museum artifacts
Paul Avery was arrested after detectives determined he had stolen a number of artifacts from the John T. Brennan Fire Museum and sold them on eBay
---
By FireRescue1 Staff
BAYONNE, N.J. —A retired battalion chief was arrested for allegedly stealing fire museum artifacts and selling them.
The New Jersey Journal reported that retired Battalion Chief Paul Avery was charged with theft after detectives determined he had stolen a number of items from the John T. Brennan Fire Museum and sold them on eBay.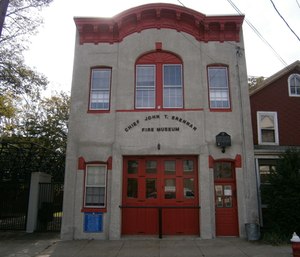 Bayonne Police Lt. Eric Amato said that while the exact value of the items, and how many Avery allegedly stole, is unknown, "it is said to be significant."
Four of the allegedly stolen items, including three helmets and a speaking trumpet, were recovered by police.
Detectives believe Avery had been selling fire memorabilia for three years, but are not sure if all of the items he sold were stolen.
Bayonne Fire Department Captain Donny Haiber Jr. oversees maintenance of the museum and believes Avery began stealing artifacts in 2016, and said Avery was apparently siphoning them from the storage collection.
Haiber added that Avery was "instrumental" in helping get the museum ready for the department's 100th anniversary, and said he refinished cabinets, built displays and catalogued old documents and photos.
"I can't speak to what they have on the investigative side, but if he were to be guilty it would be really hard for me to understand why [he would steal from the museum]," Haiber said.