Grant enables Calif. department to lease helicopters, technology for night firefighting
Southern California Edison officials approved a $4 million grant to lease two new helicopters, night vision goggles and associated technology for aerial night flying
---
By FireRescue1 Staff 
ORANGE COUNTY, Calif. — Starting this month, the Orange County Fire Authority is conducting a pilot program to test nighttime aerial firefighting equipment. 
According to the  Orange County Register, Southern California Edison officials approved a $4 million grant to the fire authority to lease two new helicopters, night-vision goggles and associated technology for aerial night flying. One helicopter will be designated to do reconnaissance while the second helicopter will be "the first-ever nighttime, hover-filling tanker in the U.S.," authority spokeswoman Colleen Windsor said. Currently, existing aircraft in the U.S. aren't able to refill from open water sources, such as ponds and lakes, in the dark.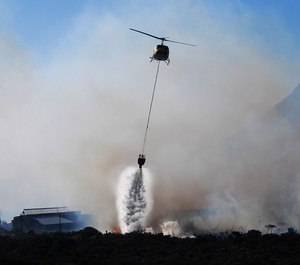 The pilot program will span five months.
Night aerial firefighting is not new in the area. The county has been responding to wildland fires through mutual-aid agreements, but this program gives the county its own equipment and makes it possible to refill from open water sources in the dark.
"Edison is making significant investments to assist firefighting capabilities across our service area to protect our customers and communities from the ongoing threat of wildfires," said Chris Thompson, vice president of local public affairs.