Former firefighter sues department over termination
A former Horry County Fire and Rescue firefighter is suing the department on the basis that he was fired for his disabilities and filing for workers' compensation
---
By FireRescue1 News
HORRY COUNTY, S.C — A former firefighter is suing the department after he claims he was fired for participating in a county-sponsored 5K race.
WMBF News reported that Russell Brent Normal filed a lawsuit against Horry County Fire and Rescue and is requesting a jury trial and damages.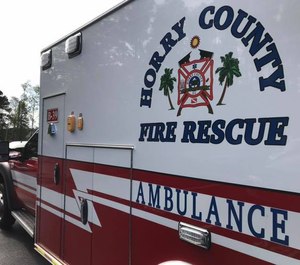 The suit alleges that Norman, a 14-year veteran of the department, suffered an on-the-job injury on April 6, 2018, for which he submitted workers' compensation paperwork the next day.
His request was denied.
On April 10, according to the lawsuit, Norman was placed on light duty restrictions, and three days later, on April 13, was released to light work duty, but with a "no running" restriction.
At a doctor's appointment on April 23, Norman was diagnosed with a torn ACL and lateral and medical meniscus tears. Norman's doctor said he was allowed to do "any physical activity that he could handle," according to WMBF News.
The lawsuit contends that as of April 23, Norman's work restrictions were only for light duty, without any running exclusions.
Norman ran in the county-sponsored charity 5K marathon on April 29, and the lawsuit states that he was jogging and did not overly exert himself.
On May 2, Norman contested his workers' compensation denial, and was out of work from May 4 to May 7 for a hernia repair surgery. After returning to work on May 8, he was fired on the basis that he "exceeded his work restrictions when he ran in the 5K," according to the lawsuit.
A spokesperson for Horry County said the county does not comment on pending litigation.