'Shouldering the burden': Sandy Hook firefighters' unique role amid tragedy
"For person after person, it was the firefighters over and over again trying to be helpful in some way," Second Assistant Chief Rob Sibley recalls of members' support for the community
---
The shift from rescue to recovery at Sandy Hook Elementary School felt like an instant to some, hours to others, as first responders, parents and loved ones, in their own time, processed the horror of the situation inside.
The reality of this transition was closer to 60 minutes between the initial 911 calls reporting a shooter at the school and Sandy Hook Rescue 444 pulling away from the scene, nothing its crew could do there. This was a crime scene. Other agencies would take the lead, trying to make sense of 20 children and six adults murdered within the walls of an elementary school of all places.
For the Sandy Hook volunteer firefighters converging at their station on Riverside Road, just 300 feet from the school, this day, Dec. 14, 2012, marked a new, previously inconceivable mission, at least in scale.
"They had shifted from an emergency response to a community recovery center – and that's what the station became," explains Rob Sibley, second assistant chief with the Sandy Hook Volunteer Fire & Rescue Company. And it stayed that way for 72 hours – a central meeting point for the community and later an impromptu memorial where people left cards and flowers, anything to express their shared heartbreak.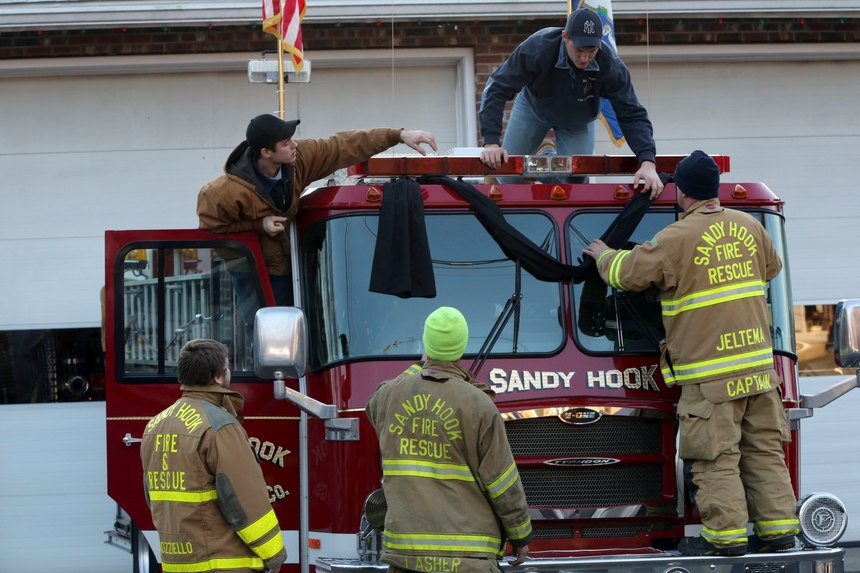 Fire station designation
How the fire station came to play such a pivotal role in community gathering, mourning and support began just two months prior – October, Fire Prevention Month.
Sibley loved visiting the school to run fire prevention activities for the kids, plus his son, Daniel, was a third-grader there. So that October, Sibley, an engineer with the fire department at the time, set aside a day to bring fire gear to the school and show off the fire engine to the kids. During that visit, Sibley and the school's principal, Dawn Hochsprung, began discussing what to do in the case of an emergency where students and teachers could not stay on school grounds.
That initial conversation started a plan in motion, and within a month, Hochsprung made the announcement designating the fire station as the primary destination for such emergencies. No one could have known then the impact of that single, simple decision just weeks later when Hochsprung faced a 20-year-old man who had shot his way into the school.
In that moment, Hochsprung, along with school psychologist Mary Sherlach and teacher Natalie Hammond, reportedly confronted the shooter in the hallway, yelling, "Shooter. Stay put!" – shouts that were broadcast to individual classrooms via the school's public address system, giving colleagues time to hide or protect students however possible. This action likely saved many lives, even as Hochsprung and Sherlach were killed.
Calls began pouring into 911.
A bleak message
Sibley, who worked as Newtown's deputy director of Planning, Land Use and Emergency Management, had just arrived at work, a typical Friday on a "beautiful, cold, clear day," he recalls. As Sibley chatted with a few employees in his office – a large office shared with other town agencies – another colleague walked to his office holding a radio, a concerned look on her face. Sibley turned on his radio and could hear the dispatch of the ambulance, of everything, to the school. Amid the crosstalk, he could decipher that someone had a gun.
"That was all we knew," he says. "But when Barb called, the conversation was much more bleak."
Sibley remembers the cell phone call from his wife going something like, "I love you. There's someone with a gun. I may not make it. Tell the children I love them," and she hung up.
In what could be considered either terrible or miraculous timing, perhaps both, Barbara had popped over to the school to deliver something Daniel had forgotten. Based on what she later reported seeing upon her arrival, a car parked in the drop-off area with doors open, Barbara likely arrived just a minute or two after the shooter. Having heard gunshots, Barbara was now hiding with another parent.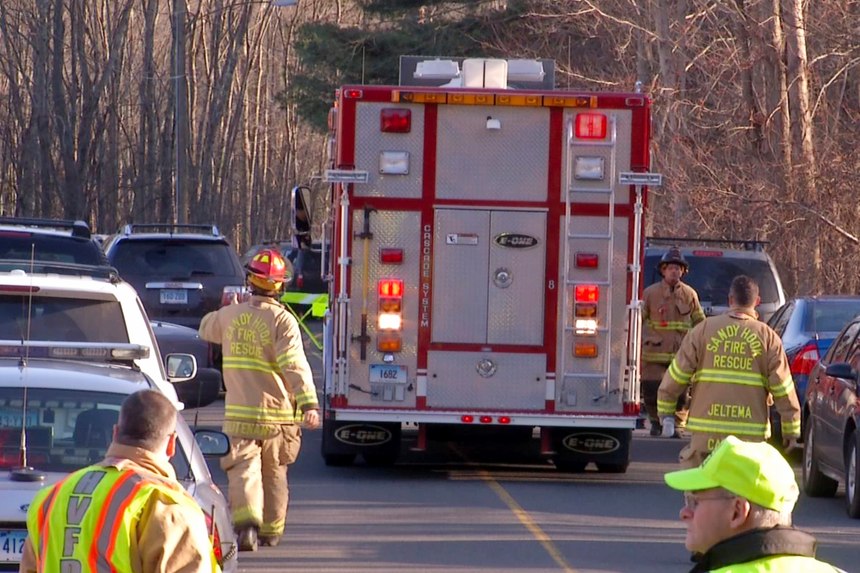 Compartmentalizing the moment
"It was surreal," Sibley recalls of that moment, hearing the near-simultaneous sounds of the radio crosstalk and his wife's dire message. "But having, as a nation, lived through 9/11 and the surrealness of a lot of different moments in our lives, as a first responder, you compartmentalize a lot. You sort of put the situation where it needs to be. You set your reaction time, you try not to get tunnel vision, and it's a lot about making sure that you are a part of the solution and not more of a detriment to the situation. So my thought process was, dear God, I hope the kids are OK. I hope she's OK. But the only way I'll find out is if I get there. And that means I have to be able to get there in a serviceable way. I can't lose myself."
Sibley means this literally, as he recalls stories of people racing to the scene in such disarray that they got into car accidents or became disoriented. He had to remain calm to successfully navigate the six-minute drive, which he did, arriving on scene alongside Sandy Hook Rescue 444.
A family reunited
As chaotic as the scene could have been, it was surprisingly organized, Sibley remembers: "I have been on chaotic scenes where the building is coming down and nobody knows what to do other than put water on it. This was not one of those scenes."
It was still a highly dynamic situation, though – no confirmation if the shooter was dead or whether there were other suspects. There were a dozen or so officers on scene, securing the area, plus six or seven firefighters, including Fire Chief Bill Halstead, but other responders had been blocked from entering the scene.
"There were people in cuffs because [police] just didn't know who they were, whether it was a parent who had come on scene and just wanted to be there," Sibley explains. "It's a big school grounds and there's helicopters above and people walking around trying to get pictures. They were trying to secure to the best of their ability."
Sibley was soon reunited with Barbara, and together the pair eagerly watched as children began emerging from the school.
"The infamous pictures of the teachers leading the kids out, heads down, arms on their shoulders kind of thing, was exactly what happened," Sibley recalls of the moment he saw Daniel. "He came out and broke ranks and ran into my and Barb's arms."
The subsequent recovery effort was methodical, Sibley says, acknowledging the uniqueness of his experience that morning: "All of us who had to witness what we witnessed, still to this day, I can't understand how some of the officers still have the capacity to do what they can do. Obviously, something like this can be a career-ending incident. And maybe one of the reasons that I had protection from that difficulty is that I had some moments of joy right there and just that relief; even though we still were extremely involved, we still had a relief. … I had the happy tale to tell that, yes, I'm one of the few that was reunited with my family that morning."
A new role for Sandy Hook firefighters
While Rescue 444 was released from the scene, Sibley – a member of the town's emergency management team – was asked to stay on site to help coordinate the town's responses for the next few hours. Simultaneously, the nearby fire station began filling with people.
The station bay is a large space that can hold seven pieces of apparatus, Sibley describes, plus a large hall in the back, with the two areas connected by a kitchen and supporting offices.
"The parking lot size, the distance [from the school] and the structure itself made it the absolute most amazing gift that we had for the reuniting of people with their kids," Sibley says. "But what it turned into as the night went on is a sort of ground zero for the difficulty of informing those whose children and teachers were not joining us again."

And so began this painful notification process, sometimes feet away from joyous reunion moments.
"The systems for emotional support were completely tapped at that moment," Sibley recalls. "Whether it was a communication process or just a physical person who had to be with someone, you had 26-plus people learning about injuries or fatalities and you needed to have someone with them. And was it their whole family or was it just the mom, or was it just the dad? And did they have kids in tow?"
This is where the 50-70 fire department members, plus the Ladies Auxiliary, played an invaluable role for their fellow citizens, "whether it was just holding their hand, walking with them, providing something, letting them kind of deal with the surreal moment," Sibley describes through tears, grateful for how the membership stepped up in such painful circumstances.
By the time Sibley arrived back at the firehouse, most of the kids had been reunited with their parents, and the scene was less chaotic. The loved ones who remained or continued to arrive at the station faced unimaginable conversations, not with the firefighters themselves but rather the police and state agency officials.
Sibley recalls his neighbor Tom Murphy arriving at the station looking for his wife, a special education teacher: "Tom grabbed me in one of the bays and said, Rob, 'I can't find Anne Marie. Can you tell me where she is?' And I said, 'Tom, I need you to come back here.' I mean, he was looking at me, and I just hugged him and said, 'I'm gonna bring you here and they're gonna have a conversation with you.'"
And that's how it went for hours.
"For person after person, it was the firefighters over and over again trying to be helpful in some way," Sibley shares. "And this was their house. They were here at the firehouse, and we had to help in some way. Whether that moment lasted 30 seconds or 30 minutes, we were the ones that were immediately receiving them and dealing with the situation."
Sibley played this role many times that day. Years later, Sibley says, Murphy expressed to him the importance of that moment – a supportive voice, a friendly face in those final moments before learning that his wife had not survived.
Processing the pain
None of the Sandy Hook firefighters lost a child or family member in the shooting, but that didn't mean they had not experienced their own trauma – a fact that Chief Halstead recognized early in the aftermath.
"He allowed the firefighters in the Sandy Hook family to accept how they were feeling and what was going on, and he gave everybody the freedom to express that sadness," Sibley explains. "If you couldn't be at the firehouse, it was understandable." Many covering agencies had come to Newtown to support the fire department.
Further, within 24 hours, countless teams of state and federal agencies arrived in Newtown, offering counseling and other support services. Sibley recalls one conversation where a member of the U.S. Army Trauma Unit introduced herself, saying she was there to be an asset and resource for him.
"I had hundreds of those conversations," he said of all the people offering assistance.
Everyone just wanted to help, whether with food, money, anything and everything.
In those first couple days, "we were all sort of wandering around in this dream that had just happened – the nightmare," Sibley reflects. But the Sunday night vigil was a turning point – the moment when the community came together and understood the gravity of the situation, now part of an international spotlight.
"For the Sandy Hook Volunteer Fire Company, when Sunday night came around, they had kind of circled around as a family and realized that they could only get through this together," Sibley describes. "So we banded together to really help support each other. That night was the largest transfer of grief, and everybody kind of let it go to the next spot so that we weren't just holding it as a single company."
This was a shared experience, one understood by too many other firefighters across the country.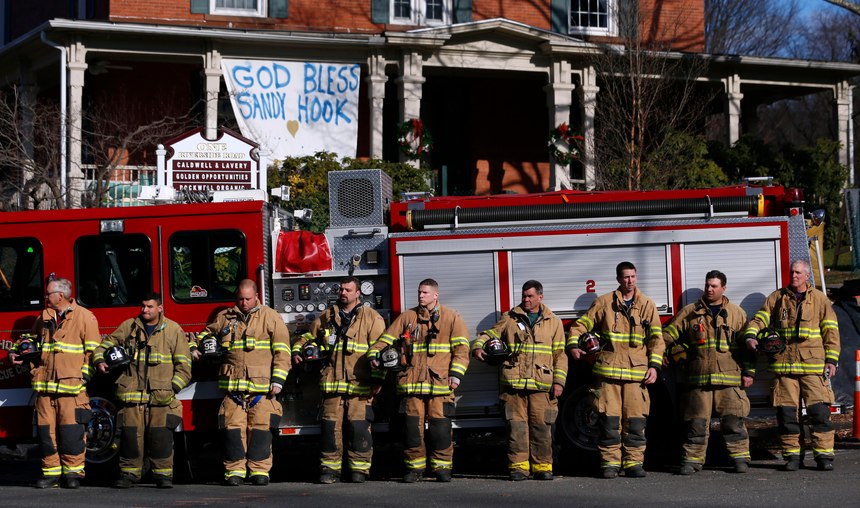 Fire officials wait for a procession at the main intersection in the Sandy Hook village of Newtown, Conn., as they pay respects for Daniel Gerard Barden, one of the students killed during the Sandy Hook Elementary shooting, Wednesday, Dec. 19, 2012. (AP Photo/Julio Cortez)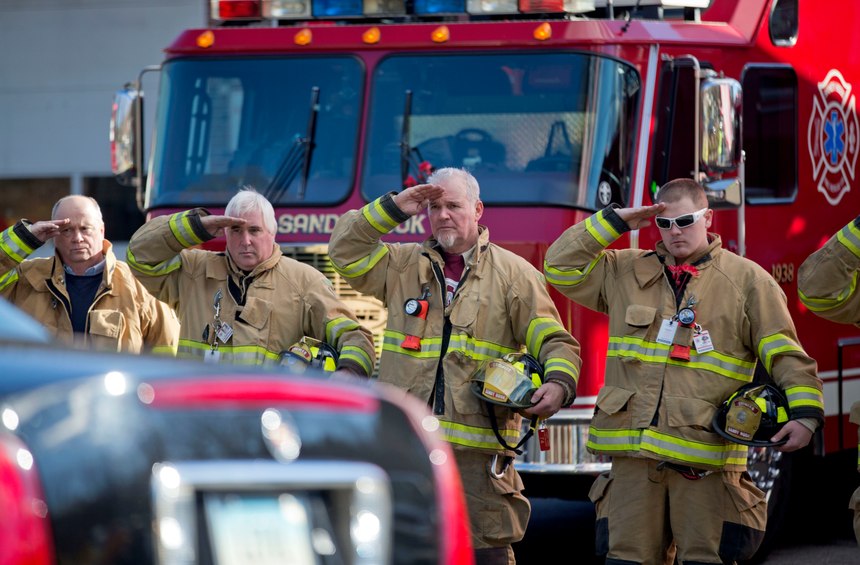 Firefighters salute as the funeral procession passes of 7-year-old Sandy Hook Elementary School shooting victim Daniel Gerard Barden, Wednesday, Dec. 19, 2012, in Newtown, Conn. (AP Photo/David Goldman)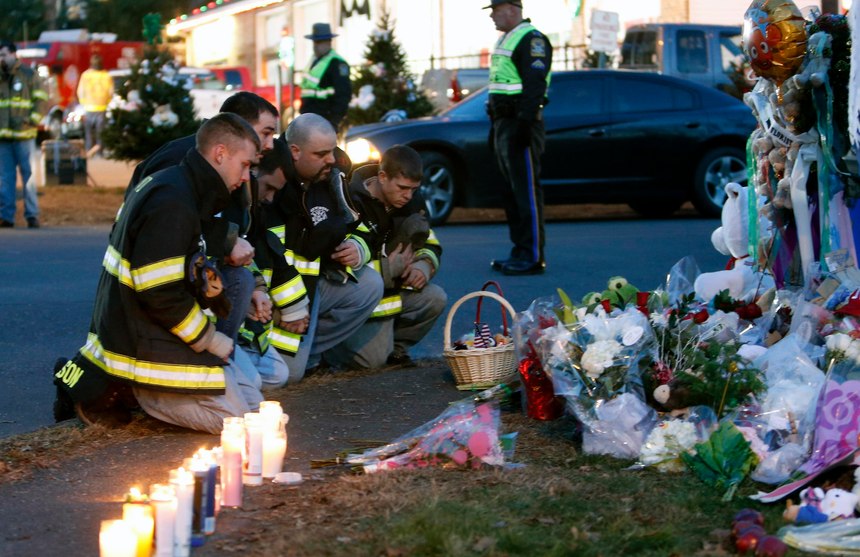 Firefighters pay their respects at a memorial for shooting victims near Sandy Hook Elementary School, Saturday, Dec. 15, 2012 in Newtown, Conn. (AP Photo/Jason DeCrow)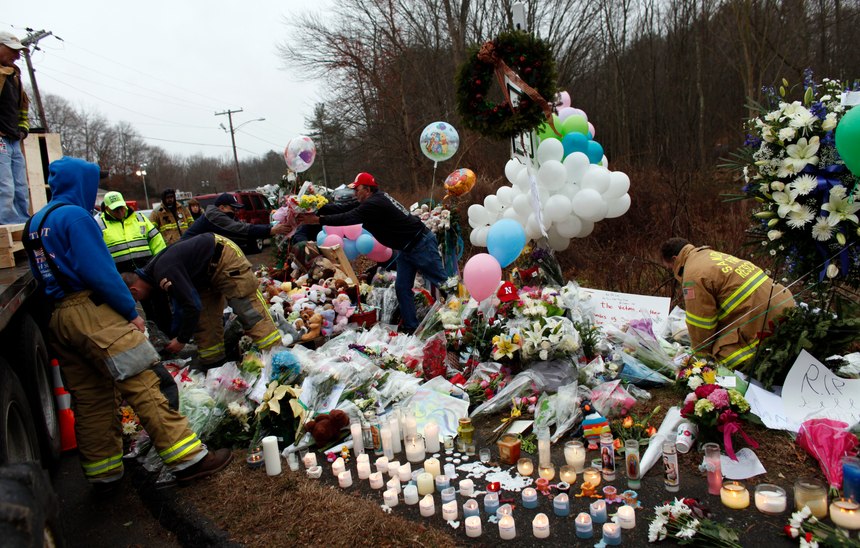 Firefighters and other volunteers reorganize a memorial for shooting victims near Sandy Hook Elementary School before erecting a shelter over it, Sunday, Dec. 16, 2012 in Newtown, Conn. (AP Photo/Jason DeCrow)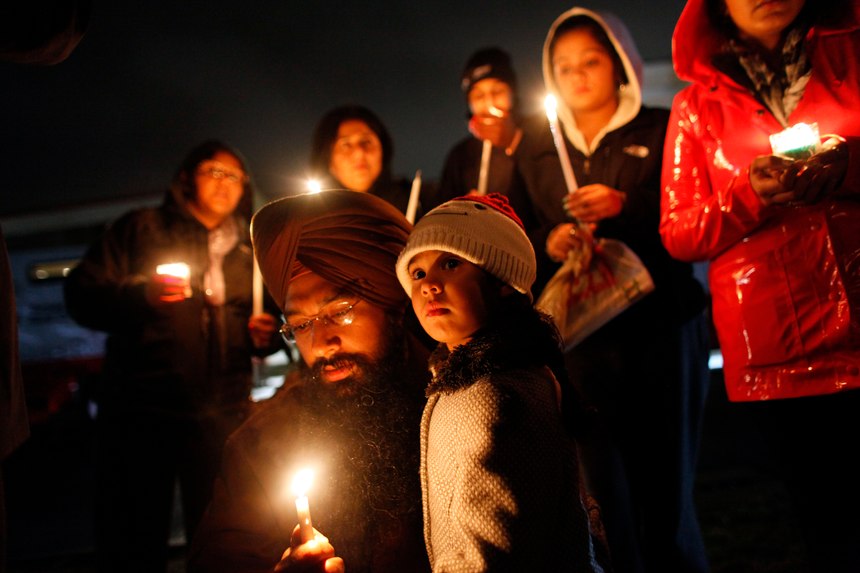 Eknoor Kaur, 3, stands with her father, Guramril Singh, during a candlelight vigil outside Newtown High School before an interfaith vigil with President Barack Obama, Sunday, Dec. 16, 2012, in Newtown, Conn. (AP Photo/Jason DeCrow)





---
Finding a path forward
Shortly after the shooting, Sibley recalls, he received a call from a firefighter in New York stationed near Ground Zero: "He said, 'I'm letting you know we're here, but I'm not gonna offer you help right now. When you'll hear from me again is in five or seven or 10 years, because that's when you're gonna need it the most.'"
And he was right. Years later, the pain is still present, close to the surface, particularly when news breaks about another mass shooting.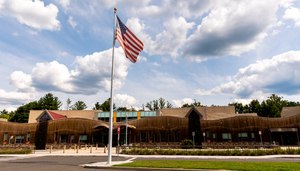 "It is extremely reactivating," Sibley says. "I really hoped that I could go through the rest of my life without realizing that other communities could be touched by this. But what I have since spent time learning, and of course as a first responder, we realize that life and death happens all the time. It is something that first responders have to deal with on a daily basis. … And that's why a lot of times first responders find ways to turn things off because the psyche and the body and the mind are not prepared to emotionally deal with retraumatizing at this level constantly. It's not possible to live that way, so you have to find ways to let it go and not to hold it in, as we all know."
For Sibley, that means channeling the pain of that day toward something positive for the community. In his role with the town of Newtown, Sibley served as a project manager on the redesign and relocation of the elementary school, and he was involved in the Sandy Hook Permanent Memorial, which was dedicated in November.
"The memorial hopefully will bring some ability to have a peaceful reflection on that day and remember those who were killed," he notes.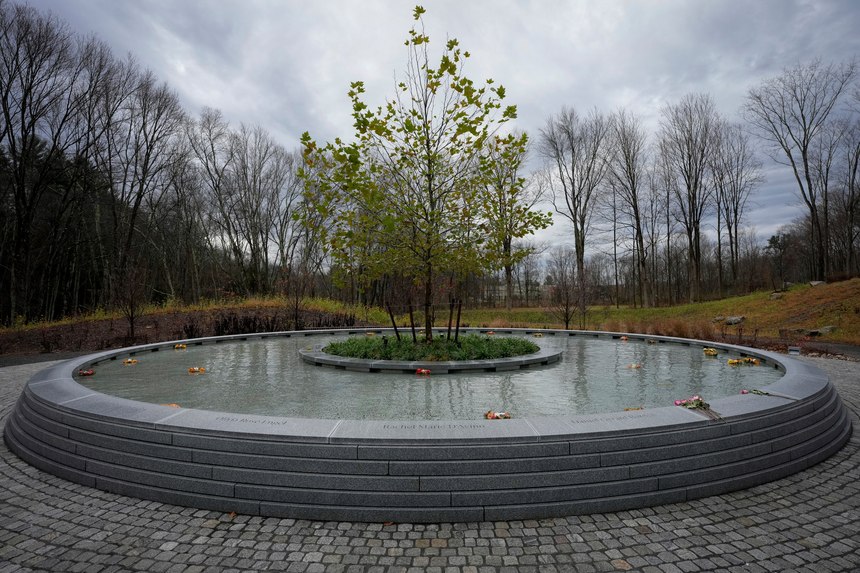 Adding to the weight of this year's milestone anniversary is the recent passing of Chief Halstead, who had served as a focal point for the department in the aftermath of the shooting.
Halstead's message to members at the time was to not let 12/14 define the department: "We have careers that span decades, and the firehouse has been here for almost 90 years," Sibley recalls him emphasizing to members. Halstead wanted the firehouse to be more than a place of remembrance – a living, active place where people are helped every day.
A shared experience
There is certainly no doubt in Sibley's mind of the pivotal role Sandy Hook Fire Department members have played in the community over the years and, most notably, that darkest of days in 2012. In fact, at the recent memorial dedication, a family member of one of the victim's noted to Sibley that the pain and anguish of loss is not quelled by building the memorial or even remembering that day, but that it does help to share the experience.
"Whether their moment lasted five minutes or if they became lifetime partners in this tragedy with that parent or that family, you don't know because it becomes so fractured over the years," Sibley reflects. "But there are hundreds if not thousands of compassionate stories that happened that day. I give all the credit in the world to Sandy Hook volunteer fire for their help shouldering the burden of such a tragic day."