How a therapy dog organization is giving back to veterans, first responders
Hero Pups, a nonprofit, volunteer-based organization, places therapy dogs with veterans, firefighters, police officers and EMS providers
---
Hope: a simple four-letter word.
But for Laura Barker, it's the motivation behind helping veterans and first responders.
Hero Pups, a nonprofit, volunteer-based organization in New Hampshire, places therapy dogs with veterans, firefighters, police officers and EMS providers. The organization has 30 active volunteers and they aim to keep their services roughly within a 100-mile radius of Stratham, N.H. Barker – yes, you read that right – is the founder and president of the organization.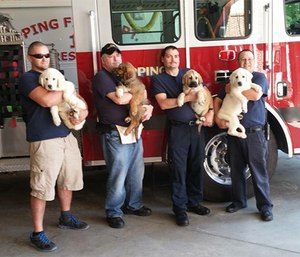 The idea for the organization occurred in 2011 after Barker's son was shot while in Afghanistan.
"When he came back, he was going through all these surgeries and you get to know all these other service members with combat injuries," she said. "One day, someone walked into the hospital with a therapy dog and I watched how some of these guys reacted."
It was an easy decision for Barker, who has a background in rescuing dogs.
"It was that perfect marriage. It was something I was passionate about – saving dogs – and then I saw these service members and how they reacted," she said.
Hero Pups started placing dogs in 2012 and the rest, as they say, is history.
Helping veterans and first responders
During a ride along with a police officer, Barker realized that veterans and the nation's first responders were facing similar issues.
"I didn't want to just limit this to our veterans," she said. "How they get to where they are might be a different path, but if they're getting to that same space of anxiety, stress and depression then we have to include them."
Barker didn't have to think twice about adding first responders into the mix. 
"Why not? It makes so much sense. They're our heroes and we rely on them every single day. When they get off shift and go home, we don't always know all the struggles they're dealing with. There are a lot of difficult things that come with the job."
By rescuing and saving a dog, Barker said they're also saving and helping a hero.
"It's just the perfect combination," she said.
Right now, about 50 percent of the dogs that Hero Pups places go to first responders.
"There's actually a lot of overlap," Barker explained. "There's a firefighter, who's also a veteran, and some of his challenges may have started in the military, but they carried over to his firefighting job."
Hero pups mainly trains rescues – with the rare dog from a breeder. The screening and profiling process is extensive, with intense aptitude testing. Barker already knows what she's looking for in a dog and which dogs will make good candidates for her heroes.
"It's not a guarantee, but we work with as many as we can and place as many as we can," she said. "We always have a flunky or one that just doesn't want to go into service work and is meant to be a pet. And that's fine – it will be adopted by a family."

Barker said she has a list of people – almost as long as those waiting for a fully trained therapy dog – that are just waiting for a flunky.
"We still saved the dog and somebody is going to get a great pet. And that's awesome."
And while some are thrilled with receiving a flunky, Barker's main focus is training as many dogs as possible for every hero in need.
The training process
The answer to how long it takes to train a therapy dog is not cut-and-dry.
The training process depends on what the veteran or first responder needs from the dog. For example, training an emotional support dog, which does not perform a task, generally doesn't take as long.
"We work specifically for that hero. We meet the hero, there's a questionnaire and we find out what exact areas that they're trying to address with a dog. From there, we get the dog that we think is going to meet those qualifications and we work with it and train it."
If Barker receives a puppy for training, it takes about six months before she can introduce the dog to the veteran or first responder.
"You don't want them to get attached and bonded and find out that the dog isn't going to make it all the way through the program," Barker said.
Therapy dogs, according to Billie Smith, executive director of volunteer-based Alliance of Therapy Dogs, are in constant learning mode.
"We are looking for dogs with good basic obedience skills, good manners, no jumping, pawing, licking and no dog aggression," Smith said.
Some therapy dogs, Smith noted, are trained to stand or sit calmly while being petted. They must remain calm under all circumstances and need to be willing to be petted by more than one person at a time.
"Some dogs just have their own natural talent, such as laying their head in a lap or a hand to get more petting. There are many venues open to therapy teams today: hospitals, detention centers, prisons, courtrooms and many others."
Regardless of what a therapy dog does for a veteran or first responder, Smith says they all reduce stress and anxiety which lowers blood pressure.
"They can distract the person from the pain they are feeling or the depression they are in, if only for a little while," Smith said. "Therapy dogs help them 'paws' for a break and let go of their stress and frustration in dealing with their jobs."
Smith and Barker have one main goal in common: To bring happiness and joy back into people's lives with the help of therapy dogs.
In fact, Hero Pups does not place a dog on somebody's ability to pay.
Not in it for the money
When Barker heard of another organization asking people for $30,000 in order to acquire a therapy dog, she was beside herself.
"Who has that kind of money sitting around? It shouldn't cost that much. It shouldn't take two years to train, and people who say it does generally aren't in it for the right reasons," Barker said.
Barker recommends that those interested in acquiring a therapy dog – before getting their heart broken and falling in love with a dog – do their research. She recommends to ask an organization:
What a therapy dog will cost
What you have to do in order to get a therapy dog
Barker's goal is to help people and help dogs – not to make money.
At the end of the day, Barker says it's just about the people and the dogs.
First responder community feedback
Countless examples flood Barker's memories when she thinks about how she's helped both heroes and their dogs over the years.
However, two heartwarming stories stand out among the sea of comfort and relief.
In 2013, she placed a service dog with a firefighter. Shortly after the firefighter received the dog, Barker says she had an unusual – or so she thought – request from the firefighter.
"The firefighter calls me and he's like, 'I really want to get a puppy,'" Barker said. "And I'm like, 'I already gave you one. You can't get two.'"
She didn't expect to hear what the firefighter said next.
"He said, 'no, no, no. I want to get a puppy so I can train it for someone else.' He said he got a puppy that was trained and wanted to pay it back by training someone else's dog. That's a win."
The second story is both heartwarming and heart-wrenching.
A hero in need reached out to Barker and was unsure who else to talk to.
"I'm not sure if he wanted a dog, but he reached out and he started talking to me. He was not in the right place. In order to receive a dog, we require that you get some type of service – whether that's peer-to-peer or if you go the VA or local veterans' center – anywhere that allows you to talk to somebody," Barker said.
Barker talked to the man on the phone for 30 minutes. When they were getting ready to hang up, all he could do was thank her.
"I said, 'well I didn't really do anything and I don't have a dog to give you right now.' I told him he had some things to do and that so did I. And he said, 'no, thank you. You gave me hope.'"
Barker, struggling to hold back the tears, said the phone call reminded her why she continues to push forward.
"When it's hot and I really don't feel like walking a half mile with each of the dogs, I think of that phone call. We don't want people to think that a dog is going to change everything. It will help, but you still have to address the issue at hand."
The man is still going through the process, but Barker says she expects that he will be ready for a dog soon and that he will be the first to give back.
"I hope this helps and reaches somebody who's not sure what to do next. It will give them some hope."
And hope – that simple four-letter word – is what it's all about. As a matter of fact, Barker says it's going to be the name of the next puppy they place.