Mass. firefighters keep responding despite not having contract since 2021
The Westwood fire union has been without a contract for more than 660 days — the longest such battle in the Boston area
---
By Lance Reynolds
Boston Herald
BOSTON — Contract disputes between town officials and fire unions are becoming increasingly common across the Bay State, but an attorney says she finds an ongoing dilemma in Westwood particularly unique.
The fire union in the suburban town has been without a contract for more than 660 days, the longest such battle across Greater Boston, said attorney Leah Barrault, managing partner of Milton-based Barrault and Associates.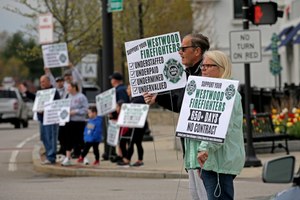 "This is very unusual and very personal," said Barrault, whose firm represents fire unions across Massachusetts and New England. Very few other unions in the state are over 500 days without a contract, she added.
Barrault and other supporters joined members of the Westwood fire union on the picket line Saturday, the third straight day firefighters have held signs describing how the department is "understaffed," "underpaid," "undermined" and "undervalued." Other messages of support can be seen throughout town.
Saturday marked day 667 since the union has been without a contract, after the last one ended June 30, 2021.
Union President Anthony Burke said he and his members are looking for what he called a "fair and equitable" salary increase. He did not detail the specific requests besides saying the ideal pay bump would be similar to what the town has agreed to with the teachers and police unions over the past several months.
"They are saying all of the right things when they're in front of people, 'We'd like to negotiate with the union,'" Burke said of town officials. "But when the cameras are off, and it's just us and them, they say 'We've got nothing for you.'"
The Westwood Select Board did not immediately respond to a Herald request for comment on Saturday.
Residents on Monday will vote on the town budget for next fiscal year at an annual town meeting. The requested budget includes a 3.4% increase for the fire department to $5.4 million, while the proposed school budget carries a 5.8% raise over the current year, according to town documents.
Officials in their budget request highlight how the increased fire budget is due to salary contractual obligations and necessary promotions "to ensure adequate levels of staffing and seniority during all shifts."
The fire department is staffed with 42 firefighters, a number Burke said is not enough to appropriately handle an increasing call volume in the growing town. Studies on staffing levels in the past have recommended 11 firefighters for each of the department's four crews, but that number is at nine currently, he said.
"It's just more people, more calls. We need more firefighters, we need more public safety employees," Burke said. "This is a black eye for the town of Westwood."
The fire union in December filed for assistance with the state Joint Labor-Management Committee, which helps resolve collective bargaining disputes involving municipalities and police and fire departments.
State Rep. Paul McMurtry, a Norfolk County Democrat, said he's hopeful the contract dispute will come to an end soon.
"It's an unfortunate situation that they find themselves in," he said. "Common sense has to prevail, and this contract needs to get signed. This certainly affects morale, and when you don't feel supported it sends the wrong message."
©2023 MediaNews Group, Inc.
Visit at bostonherald.com.
Distributed by Tribune Content Agency, LLC.
McClatchy-Tribune News Service