2.3K FFs work 26K-acre Apple Fire sparked by car malfunction
The fire was 5% contained as of Monday morning after nearly 8,000 residents from 2,500 households were evacuated
---
By Luke Money and Louis Sahagun
Los Angeles Times
BANNING, Calif. — A massive vegetation fire that was sparked Friday afternoon by a malfunctioning vehicle has now charred more than 26,000 acres in California's Inland Empire region, officials said Monday.
The Apple fire was ignited by "a diesel-fueled vehicle emitting burning carbon from the exhaust system," according to a statement from the California Department of Forestry and Fire Protection and the Riverside County Fire Department.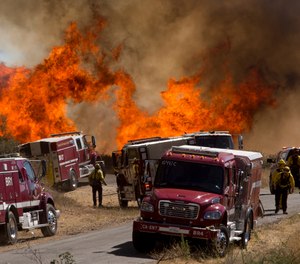 Crews battling the blaze, which is burning north of Cherry Valley in Riverside County, have had to contend with challenging weather conditions, with warm temperatures and strengthening afternoon winds expected.
The fire has burned 26,450 acres and was 5% contained as of Monday morning, Cal Fire said.
"Much of the fire activity is being driven by the record-low moisture content of the vegetation in the area combined with high temperatures and low relative humidity," officials wrote in an incident update. "These conditions are contributing to active fire behavior both day and night."
Officials added that the blaze — which was first reported at 4:55 p.m. Friday in the 9000 block of Oak Glen Road — is "burning in an area with no recent fire history."
Roughly 2,300 fire personnel are working to douse the flames.
Multiple evacuation orders and warnings were put in place Sunday in Riverside and San Bernardino counties. Roughly 7,800 residents in more than 2,500 households have been ordered to evacuate, officials said. The blaze has destroyed one home.
A persistent challenge for firefighters this week will be the wind, forecasters said.
Northwest winds are expected Monday, with gusts occasionally hitting 15 mph to 20 mph in the fire area, said Matt Moreland, a meteorologist with the National Weather Service in San Diego.
"Winds are going to be the main concern, obviously," he said.
Gusts were to be most potent in Monday afternoon and evening, but calmer late at night and Tuesday morning.
Although gusty conditions are expected, Moreland said fire crews should benefit from cooling temperatures later in the week, which will see highs drop by about 10 degrees from Monday to Wednesday in the burn area.
"The bad news is some gusty winds in the afternoon and evening. The good news is temperatures are going to trend cooler," he said.
The Apple fire is continuing to produce a massive amount of smoke, prompting the South Coast Air Quality Management District to issue a health advisory for nearby communities.
Officials said Sunday that the fire created a plume of smoke so massive that it generated its own winds.
Satellite imagery released by the National Weather Service that day showed smoke swirling across a swath of Arizona — even reaching Phoenix, about 300 miles away.
Dr. Cameron Kaiser, Riverside County's public health officer, recommended that residents in areas affected by smoke and ash stay indoors as much as possible with their widows and doors closed, as well as avoid strenuous outdoor activities.
"Residents throughout portions of the San Gorgonio Pass, particularly those living or working near the fire, need to be aware of the risks of breathing unhealthy air and take steps to keep safe," he said Monday.
The fire also is affecting coronavirus testing in the area.
Riverside County officials announced Monday that the state-operated testing site at the Noble Creek Community Center in Beaumont will relocate to the Beaumont Women's Club because of the blaze.
As the fire continued to spread through the rugged canyonlands of the western San Bernardino Mountains on Monday, environmentalists feared for the safety of what is believed to be the largest canyon oak in existence, perhaps the largest oak of any species in the country.
The Champion oak is roughly 499 inches in circumference and 97 feet tall. It towers over a stream-fed canyon on U.S. Forest Service land sandwiched between private holdings above Yucaipa.
Cal Fire is seeking information about the blaze from anyone who may have seen a vehicle that appeared to have mechanical problems or unusual smoke emitting from it, specifically in the area of Oak Glen Road when the fire first started, officials said Monday.
———
(Times staff writers Louis Sahagun, Alex Wigglesworth and Laura Newberry contributed to this report.)
———
©2020 Los Angeles Times
McClatchy-Tribune News Service