IAFC releases Wildland-Urban Interface Chief's Guide
The comprehensive guide covers preparation, mitigation, response and recovery guidelines for department operation planning
---
By FireRescue1 Staff
CHANTILLY, Va. — The International Association of Fire Chiefs released the Wildland-Urban Interface (WUI) Chief's Guide, which provides tools and guidelines for department operation planning.
The comprehensive guide covers preparation, mitigation, response and recovery, using knowledge gleaned from industry experts.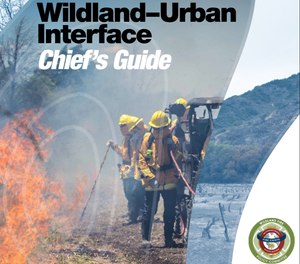 "The IAFC's Wildland Fire Policy Committee (WFPC) identified a need for a complete resource for local chiefs and fire department leadership," Erik Litzenberg, WFPC chair and city manager of Santa Fe, New Mexico, said. "The WUI Chief's Guide provides a step-by-step, comprehensive approach, providing tips for chiefs of all experience levels to prepare their departments and communities for success against the threat of wildland fire and recovery."
The guide was compiled by the WFPC and encourages community involvement.
"The WUI Chief's Guide is a great resource for WUI planning and implementation efforts," Litzenberg said. "These efforts must be part of an on-going and continually evolving process to make sure they become sustainable for leaders, responders and community members alike."
Click here to view the interactive version of the WUI Chief's Guide.