New competition offers $11M in prizes for ways to detect, extinguish wildfires
XPRIZE Wildfire aims to spur innovation to better protect communities and ecosystems
---
By Leila Merrill
FireRescue1
WASHINGTON — XPRIZE recently opened the XPRIZE Wildfire competition, offering a total of $11 million in prize funding. The goal of the competition is to develop and demonstrate fully autonomous capabilities to detect and extinguish wildfires.
Wildfires are becoming increasingly severe and costly around the world, causing over $350 billion in damages in the United States alone each year. Current fire management technologies have not kept up with the problem.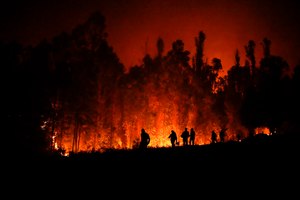 XPRIZE Wildfire aims to spur innovation in detection and rapid response to better protect communities and ecosystems.
"In recent years, we've weathered some of the largest and most destructive wildfires in the history of our planet," said Dr. Lori Moore-Merrell, U.S. Fire Administrator, in a news release. "It's crucial that our federal agencies collaborate with the private sector to spur technology innovation to better support communities and address wildfire more holistically and to provide the firefighters on the frontlines a fighting chance to make a difference."
The competition is offered in partnership with Pacific Gas and Electric Company, Gordon and Betty Moore Foundation, Minderoo Foundation, Lockheed Martin, Conrad N. Hilton Foundation, Nichola Eliovits and Michael Antonov, and global collaborators from the U.S. Fire Administration/FEMA, the Aspen Institute, NASA, New South Wales Rural Fire Service, the Australian Space Agency, USDA Forest Service, CAL FIRE, the XPRIZE Biodiversity and Conservation Brain Trust and XPRIZE Wildfire Advisory Board.
The competition consists of two tracks designed to transform how fires are detected, managed, and fought.
In the Space-Based Wildfire Detection & Intelligence track, teams have one minute to accurately detect all fires across a landscape larger than entire states or countries, and 10 minutes to precisely characterize and report data with the least false positives to fire managers on the ground.
The Autonomous Wildfire Response track requires teams to monitor at least 1,000 km2, and autonomously suppress a wildfire within 10 minutes of detection.
The $1M Lockheed Martin Accurate Detection Intelligence Bonus Prize will be awarded for innovations in accurate and precise detection of wildfires.
Palmer Luckey, founder of Oculus VR and Anduril Industries, has already announced his intent to compete in XPRIZE Wildfire, making him the first to register.
The winners will be announced in April 2025.
Learn more and register at xprize.org/wildfire.