N.M. fires have burned nearly 200,000 acres
The more than 1,700 firefighters working the Hermits Peak and Calf Canyon fires have managed to achieve 44% containment despite wind gusts up to 60 mph
---
Scott Wyland
The Santa Fe New Mexican
SANTA FE, N.M. — Surging winds coupled with dry debris on a drought-parched landscape drove the nation's largest wildfire north in the Mora area, increasing concerns about residents still defying evacuation orders.
The Hermits Peak and Calf Canyon Fire still proved to be a monstrous beast that an ever-growing legion battled to tame Monday, prompting managers to implore people to evacuate when told to do so. And yet, on the same day, in other parts of the fire zone, some who'd been away from their homes for days or weeks, got a chance to return.
The ravenous fire had burned 197,371 acres by Monday, covering an expansive area overlapping parts of San Miguel and Mora counties. Crews, which have swelled to 1,759 personnel, managed to achieve 44 percent containment despite grappling with gusts up to 60 mph.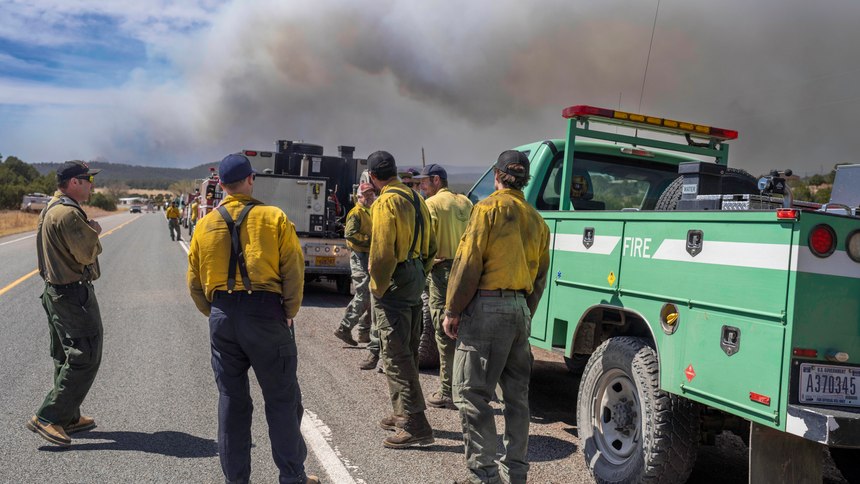 The fire made another run east Monday, spotting as far as two miles away, fire officials said. The area near El Turquillo and Guadalupita remains endangered, with the fire now setting its sights on the Rincon Mountains.
"It's getting into country that continues to be inaccessible, unsafe for us to put folks in — steep, rugged terrain," said incident commander Dave Bales on Monday afternoon. "You see that's in the wilderness, moving further north, into some of that type of country. So it will continue to grow to the north."
A 50-hour red flag warning that began over the weekend went until Monday night. But a fierce wind event was forecast to blow through Wednesday — with the fire hazards compounded by low humidity — before letting up Thursday and Friday.
Still, many residents have made clear they would rather hunker down or fight to save their homes than heed calls to evacuate, even as the wind-driven fire turns more active, erratic and dangerous.
No one knows exactly how many are ignoring "go" orders and hoping for the best. A rough tally last week estimated a few hundred, but the number could be higher.
"It's time to leave," said Andy Lyon, spokesman for the incident management team overseeing the fire. "You don't have to do much research about wildfires to read about people who waited too long."
If people who opted to stay behind suddenly find themselves in peril and dial 911, firefighters must be diverted from combating the blaze, said Joy Ansley, San Miguel County manager.
"We're not only putting our first responders and our law enforcement in jeopardy, but we're also reallocating resources that we should be using somewhere else," Ansley said.
Lyon agreed.
If a crew finds people in an evacuated area and a wildfire is bearing down on them, they will try to rescue them, when otherwise they might have decided it was too dangerous to stick around and try to save structures, he said.
Ansley said a lot of planning between fire managers, law enforcement and county officials goes into determining evacuations.
"These decisions are not made haphazardly," Ansley said. "If we sit down and put our heads together ... and we deem the area is not safe, then it's not safe. And we need people to take that seriously and to evacuate."
But for some residents, leaving their homes poses as great of a risk as staying, a local advocate for low-income families told The New Mexican last week.
"It's easy to say, 'Get out,' but for some people, if they got out and they lost their home, they lose everything," said Joseph Griego, a Mora native and director of the Mora/Colfax Head Start.
"When you have two cows or three cows at home and goats and chickens and animals to feed and that's your livelihood, to lose that, you'd lose everything," Griego added.
People expressing such hesitance prompted law enforcement officials to push more urgently for adherence to evacuation orders.
A house can be replaced but a person cannot, Mora County Undersheriff Americk Padilla said.
"Yes, I understand, that's our livelihood, that's our home. ... I understand you guys want to protect it to the end," Padilla said. "But safety is our No. 1 priority. We will rebuild as a community. I will be alongside you guys helping to rebuild."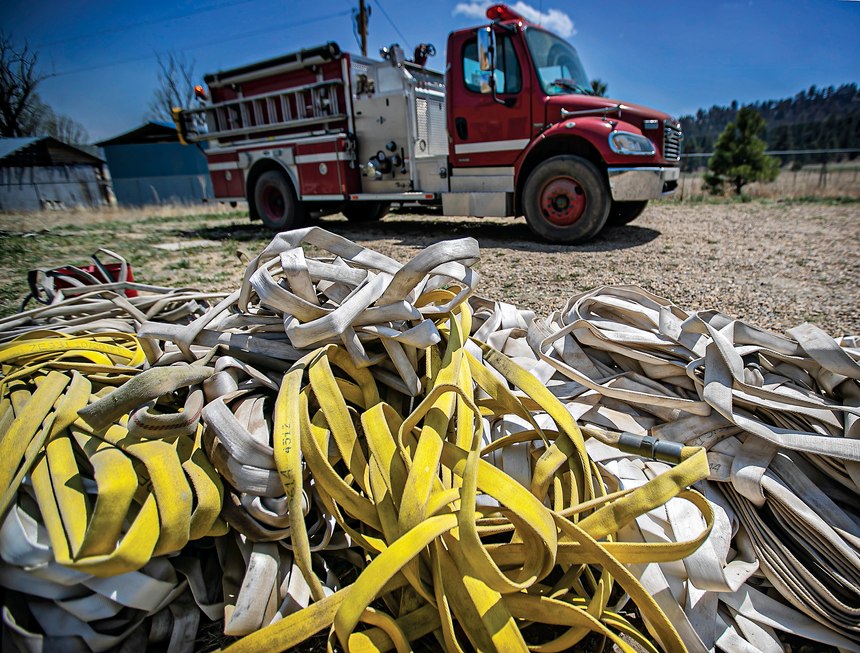 Padilla expressed frustration about deputies having to risk themselves going door-to-door multiple times to notify people about evacuations, saying everyone must work as a team to get through this crisis.
"When we get out there, house to house, and tell you to evacuate, please do so," Padilla said.
San Miguel County Sheriff Chris Lopez warned the fire, pushed by high winds, is extremely fast-moving, especially around Mineral Hill, and can come up on a person suddenly.
"Take the advantage that you have to get out," Lopez said. "It's just too extreme when you're dealing with winds and the conditions that we're seeing. You've got to stay healthy for your family, and you've got to stay healthy to recover after this."
Lyon said he can understand people's reluctance to leave a home that could be destroyed, but it's better than risking death or severe injury.
But as has been the case through much of the monthlong fire, strange dichotomies emerge. Though officials were imploring people on the northern end of the fire, those who'd been evacuated in the eastern and central areas for days or weeks were told they could go home.
In a news conference Monday night, Lopez those in tiny villages near — Montezuma, Storrie Lake, Las Dispensas, Pendaries Village, Sapello, Las Tusas, Manuelitas, to name a few — could begin making their way back as part of a "repopulation" effort.
"We were able to repopulate pretty much the whole east side of the fire that we had been dealing with for quite some time now," said Lopez. "And that's because of the hard work on the ground by fire crews, the hard work on the ground by utilities, the hard work on the ground by law enforcement. And also, the time that we've had to test the fire lines and all those unburned islands in there to ensure that your safety is [good] ... that you're good and that we don't have to worry about you."
This fire also has become difficult to suppress on the south end, even though the winds are blowing to the south, Lyon said. The flames spread fairly fast across a hillside, even though they were moving against a 40 mph wind, he said, attributing it to how ample the dry, flammable fuels on the ground were.
One of the biggest threats, with this blaze and the Cerro Pelado Fire in the Los Alamos area, are the winds blowing embers that spark spot fires.
The Cerro Pelado Fire, which has charred almost 41,000 acres, is still just 11 percent contained, even as personnel on scene have grown to 869.
Small spot fires were identified about 3.5 miles from Los Alamos National Laboratory and 7 miles from Los Alamos but are no cause for alarm, lab officials said in a news release.
The county is on "set," the alert status signifying residents and lab employees should be ready to evacuate on a moment's notice. Los Alamos Public Schools are closed through the week.
Meanwhile, the city of Santa Fe and the American Red Cross have partially converted the Genoveva Chavez Community Center into a temporary evacuation shelter.
Most of the recreational facilities will remain open during regular hours. But the gym will be used to receive evacuees, putting it off limits to activities, and the indoor track will closed to offer privacy to evacuees.
___
(c)2022 The Santa Fe New Mexican (Santa Fe, N.M.)
McClatchy-Tribune News Service