Q&A: WUI fire expert shares best practices for prevention, mitigation
Colorado WUI expert examines what fire chiefs in urban and suburban areas need to know to cut the risk and severity of WUI fires
---
It's with a heavy heart that we pass along that Christina Randall died unexpectedly at IAFC's WUI conference. She gave us an insightful interview for this edition.
This feature is part of our new Fire Chief Digital Edition, a quarterly supplement to FireChief.com that brings a sharpened focus to some of the most challenging topics facing fire chiefs and fire service leaders everywhere. To read all of the articles included in the Spring 2017 issue, click here.
By Rick Markley
Christina Randall is an expert on mitigating wildland and WUI fires. She has spent the past 14 years as the wildfire mitigation administrator for the Colorado Springs Fire Department after 19 years with the U.S. Forest Service, and she holds a bachelor's degree in natural resources management.
Randall serves on the International Association of Fire Chiefs Wildland Fire Policy Committee and the Wildland Urban Interface Mitigation Committee of the National Wildfire Coordinating Group. She oversees the Colorado Springs wildfire mitigation program, including risk assessment, fuels and grant management, community education and outreach, business outreach and development review.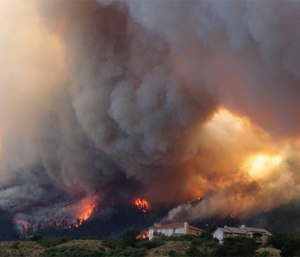 Randall sat down to talk with Fire Chief about what urban and suburban fire department leaders need to understand about the WUI fire threat and how to keep it at bay.
Fire Chief: Looking at the big picture, what needs to happen to reduce the number and severity of WUI fires?
Christina Randall: Acknowledging that you have a risk is the first step – addressing it in terms of where the risk is and what you define as a risk. That starts your target area. People tend to think of WUI fires as a forest health problem or a fire department problem, and it really is a community problem. That's who we have to engage as a fire department.
What needs to happen at the national level?
Everybody asks for more funding all the time. But where the battle is being fought is at the local fire department and community level, and we have to make sure funding reaches those levels. Grants have to reach the local level.
What can chiefs do in their communities at little or no cost to reduce those risks?
It ties back to risk assessment and identifying what areas have wildfire risks. It means before you run out and buy a chipper or a dump truck, engage the community. Educate the homeowners about what they can do and what resources the fire department can bring to help them.
That takes some expertise?
Correct. When I talk to other fire departments, I remind them that they already have that level of credibility. They are the subject matter experts in their community. They know the community. They know what kind of fuels are out there. They can communicate that and capitalize on the credibility they already have and reinforce that relationship.
What are the keys to getting mitigation and prevention tactics to work?
Prevention is messaging, whereas mitigation is involving the fire department with the community. It is more of a systematic approach in terms of development review, fuel management, education outreach, grants – all those resources you can bring to the community. You can ratchet it up or down as your community needs. Starting with one community and demonstration area is key. Once you engage those homeowners, they will start to work on their own.
But before you send a message to your community, you have to know what the political environment is, what they are willing to engage or not engage in, and customize it for your community. There's no one answer for every community in this country.
How do you get them to buy into the plan?
Put that decision-making on them as a community, whether it is a homeowners association or a neighborhood. Put everything out there, tell them how the cow eats the cabbage and let them decide what level of risk is acceptable. Do you want to mitigate your common area, do you want to mitigate around your home, or is it more important to you that you have trees and brush around you so you have screening?
Here in Colorado Springs, we do stewardship work with the 112 homeowners associations, and we get that level of participation with just education and outreach. Besides development review, there's no enforcement posture here in Colorado Springs. We don't make people do mitigation work around their homes.
We do have enforcement on the front end of new construction, and we were able to tighten that up after the Waldo Canyon Fire. When they are building, they have to have a Class A roof, double-paned windows and hardened structures. Other than that, we don't inspect homes, measure 30 feet and make them clear cut.
How do you get people to prepare for things like an evacuation?
That's part of our outreach program. We raffle off an evacuation kit to get them thinking about what they should put into their kits. We have a packet with information on tax benefits, tree service providers, evacuation planning, emergency planning and outdoor burning. Everything a homeowner would have a question about is in that packet.
We learned from Waldo Canyon that people were out of the house, shopping or running errands, and couldn't get back to get their pets — just trying to relate it to their own lives as much as possible.
They take away that messaging and do something about it. In addition to that, we have worked with our office of emergency management on conducting neighborhood drills. It helps us work out bugs with our automatic notification system and shows them how we're going to respond as they are trying to get out of the neighborhood.
What communication vehicles are you using?
The main one is the automatic notification system. Our PIOs do use Twitter and Facebook. People have relied on each other to do the messaging. We saw that in the Waldo Canyon Fire, where people were contacted by friends and family.
We have an E-911 notification system where you can register your cellphone if you don't have a landline. We did have two civilian fatalities who notified their families that they were leaving. We don't know what was going on with them other than that they didn't have a landline. We're really pushing that E-911 cellphone registration.
What are the common misconceptions about WUI fires?
A WUI fire is a landscape-scale event, so chasing individual structure fires may or may not work, depending on the scale of that fire. That's going to be determined the day of the event by the winds, fire behavior and the population and housing density. Those are all things to consider during a fire event.
What do chiefs and officers need to know about wildland fire behavior?
That's an important issue for me in getting people to understand wildland urban interface fires. When people hear that term they think of a log cabin surrounded by pine trees. That's not the case across the country. Look at areas like Oklahoma or Texas where you have light, flashy fuels in grass and brush. I describe WUI fires as "where the built environment meets the natural environment." It doesn't necessarily mean forest fires.
In terms of what happens when a forest fire hits a community and it turns into a WUI fire, then it becomes a conflagration and it is no different than the Chicago Fire or any other fire where you have structure-to-structure ignition. The dynamics change from a forest or grass fire into a conflagration. Structure firefighters tend to focus on individual structures, but dialing in that conflagration mindset is really key to fighting WUI fires.
What do you learn from fire analysis that you can apply back to prevention and mitigation?
People tried to get an understanding of what a WUI fire would do in their community. They think of it terms of a curtain of flame, but you look at the vegetation on your property and the flame heights can be one and a half to three times the height of the fuels. If you've got a 10-foot juniper in your backyard, you can get 30-foot flame lengths. We did see that; we had 30-foot pines and 100-foot flame lengths.
People tend to underestimate what that event is going to be like. Trying to communicate that and educate homeowners is really important so they understand what their true risk is. They are coming out now with sand tables that demonstrate how a fire will move through the community. We're still learning how fires move through a community and what fire behavior can do.
How much training should urban/suburban departments do, and what's the best way to get it?
Working cooperatively with federal agencies and getting National Wildfire Coordinating Group courses gives you a sense of how to fight those fires in terms of prioritizing and making tactical decisions.
For those officers just starting to develop a wildfire mitigation program for their community, there are national initiatives out there to help. IAFC has Ready, Set, Go! that provides information for residents to help themselves with emergency planning, and NFPA has Firewise USA that provides educational material for communities. Both programs are a good source of information for fire departments and residents dealing with wildland risk.
It is key for local fire departments to work with their state forestry department to understand what you can and cannot do in terms of vegetation management. Building those relationships with your local agencies is a great place to start. They can help you put together a community wildfire protection plan. They can help you with public process, and they can help with land management.
Land management is a big factor. We found during the Waldo Canyon Fire that the biggest impact on the survivability of the structures was the first 30 feet around the home. That, in conjunction with some mitigation work we'd done in some open spaces, really influenced the fire behavior. It's not one or the other – you're going to have to do both. Structural firefighters have a lot of expertise in that area and a lot of the needed skills are going to overlap. Start with a basic understanding of wildland fire behavior.
What are the most essential pieces of equipment or gear fire departments should have to combat WUI fires?
It is important to have wildland firefighting gear. You are not going to be able to pull a 12- or 16-hour shift wearing turnout gear. Investing in Nomex wildland pants and shirts and a helmet is where I would start. 
Editor's Note: It's with a heavy heart that we pass along that Christina Randall died unexpectedly at IAFC's WUI conference. She gave us an insightful interview for this edition.
This feature is part of our new Fire Chief Digital Edition, a quarterly supplement to FireChief.com that brings a sharpened focus to some of the most challenging topics facing fire chiefs and fire service leaders everywhere. To read all of the articles included in the Spring 2017 issue, click here.