'I am your local volunteer firefighter'
A volunteer firefighter from North Carolina shares the ups and downs of a day in the life of a volunteer
---
FireRescue1 Voices is a place where firefighters across the country can speak up, tell their stories about difficult calls and voice their opinions. If you want to share your story with the FireRescue1 community, please review our submission guidelines and email editor@firerescue1.com.
Today was one of the worst work days I have had in a while.
I clocked in just in time because my dog threw up on the stairs and my kids were arguing over who was wearing whose socks. Seems as though I need to label them or just tell the school they need to wear flip flops. We had an increase in filing and processing of claims, some of which lacked all the required documentation to begin. Then trying to track everything down made it even worse. I received a phone call from my mortgage company saying they hadn't received my annual tax re-computation from the county, so I had to run home and send them a copy. All in all, I couldn't wait to just get home and relax.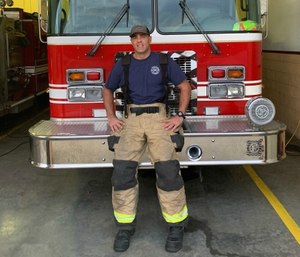 I got home, cooked dinner, kids doing homework, dog walked – and then began homework myself. I had been procrastinating for a few days. Since we still have some property damage from Hurricane Florence, we have been doing some repairs to the house, and it's just taken so long. Trying to find someone who would reliably show up has been difficult. And two nights out of the week, I am at the firehouse training or helping out, one kid has sports and the other is in Girl Scouts. I will finish my homework one day.
I decided it was one of those nights to go to bed early. I needed to get some rest because the weekend was coming, and I promised the kids we were going to the beach – thank god for this North Carolina weather.
I got into bed and watched an episode of Law & Order; somehow Jack McCoy relieves my stress.
I turned it off and slowly began getting comfortably sleepy. A few minutes in and stress-free, my tones pager goes off and I nearly had a heart attack.
As I was listening, I started getting dressed and headed downstairs to get my keys and wallet, then my shoes. Slipped them on really quick and headed out the door.
The dispatcher relayed that we had a structure fire and that the caller stated everyone was out but there were heavy flames showing. I didn't hear the address, but at this point, it didn't really matter. Everyone was out safely, thank God.
As I drove to the firehouse, I began running scenarios through my head. I have had some of the greatest training available by some of the most professional firefighters in the state of North Carolina. I had trained with everyone in the department on so many occasions. But wait, did I shut the door to my house? I know I did. I always do. But did I?
I approached the firehouse and saw comfort in the men and women who responded. All professionals, all volunteers, all great people who work together as a team. We grabbed our protective equipment and got on the trucks.
As we were heading to the house fire, radio traffic kept us informed of the situation on the ground. The firefighter in the captain's seat handed out assignments and we responded with confirmation. We donned our SCBA and checked each other over to ensure we didn't miss anything.
As we pulled up to the house, my heart sank, thinking of the people who used to call this home. The fire was so intense, I could feel the heat from over 20 feet away through my turnout gear.
We proceeded to pull the hose off the truck and make it so there were no kinks in the line. The last thing you want is to deny yourself water because you didn't take the extra second to do it right the first time.
While we were pulling the hose and making our way to a good vantage point outside the house in order to attack the fire, our driver/operator had the truck ready to flow water to us. We asked for our water and within 2 minutes of getting off the truck, we had water cooling down the fire and maneuvering ourselves to completely extinguish it. The volume of fire was too much for one line, and with the close proximity of the other trailers, a second line was deployed.
In concert with each other, we attacked the fire safely and with such good communication. We didn't fight against each other. We were able to read each other's movements from working together for so long. We knew each other's strengths and weaknesses. We knew each other's families, life goals and dreams.
Neighboring departments had responded as well. Through lessons learned and just the dynamics of the district, there are specific moments to which our brothers and sisters from other towns are automatically paged to respond. I felt comfort knowing they were responding. We complement each other on so many occasions, it seems like our family is bigger than what I originally thought I was signing up for.
The fire was knocked down relatively quickly given the circumstances, due to the training and discipline of those involved.
As we were starting to transition to overhaul, I heard something strange. I knew this noise. It was a kitten! Where is it? I knew from command and initial caller reports that there were no humans inside, and from the immense heat and volume of fire, I couldn't understand how in the world a kitten could be anywhere near this place!
I grabbed my flashlight and there she was, under the house. She was the tiniest thing I had ever seen. Wet, covered in soot, determined to live but scared out of her mind. I bent down and she came into my hands quickly, and my heart melted quicker than the siding on this once raging inferno. She was safe now, her eyes told me so.
A neighbor was ready and willing to take her in. Handing her over was difficult but the right thing to do. This area was her home. She had a mommy who we began looking for and, to my surprise, we found her later. We also found a few of the kitten's brothers and sisters as well.
I was overwhelmed with emotions. I was tired from work, my kids can't differentiate between whose socks are whose, did I leave the front door open, I have homework to do myself, these people just lost their house, their belongings, their comfort, and here's a kitten, only weeks old, surviving and telling me everything will be OK.
After everything was under complete control, we broke down all the hoses, said goodbye to our neighboring departments, packed the trucks, accounted for all the equipment and each other, and went back to the firehouse.
When we got back, we filled the trucks with water, swapped out all the SCBA with full bottles, made arrangements to get them filled and put everything back where it belonged. Looking at the time, I realized that I had to be to work in three hours.
I couldn't stop thinking about that family on my ride home. How did it happen? How would I react if that happened to me? Are the kittens getting fed? I bet they're sleeping right now.
I pulled up to my house and thought that I must have been splashed with water or something because there were drops of water pouring out of my eyes.
I sat in the car starring at my house thinking about how lucky I am and feeling a little bit of guilt. It took everything I had to not go to Wal-Mart and buy that family blankets, shoes, shorts and some food. They have nothing and I know I could do more. But I was just so tired.
I walked into the house and was greeted with smiles and kisses from my dog. It was worth it, even though he threw up this morning. I put my keys down, kicked off my shoes, took a shower, labeled some socks, and put my pager back in its charger with the volume turned up.
I am a mechanic, a banker, a retail store employee. I am in real estate, car sales and the fast-food industry. I build houses and drive trucks. If you need a shirt embroidered, I can do that. I am a student. I am an educator. I work on the beach selling necklaces. I am married and divorced. My family does this with me. I am active-duty military, a paid firefighter in the county, in a neighboring department, in a big city. I have been doing this for as long as 30 years and as short as 3 months. I am a son, daughter, brother, sister, mommy and daddy. I am a grandfather, grandmother, aunt, uncle and cousin. I am a stranger and a friend.
I do this because I care.
I am your local volunteer firefighter.