'Amazing outpouring of support': Neb. firefighter welcomed home after 3-month hospital stay
Crete volunteer firefighter and college professor Brad Elder tied to hold back tears as he went from a burn unit to his home
---
By Lauren Penington
Lincoln Journal Star
CRETE, Neb. — Thursday evening, Doane University's IT staff removed biology professor and volunteer firefighter Brad Elder from the email lists, then sent out a secret announcement to those on campus that Elder was coming home.
Three months ago, while helping battle a wildfire in southwestern Lancaster County, Elder was caught in the flames, badly burning 20% of his lower body, the back of both legs and his left hand. He's been at Madonna Rehabilitation Hospital since being released from the CHI St. Elizabeth burn unit.
Students gathered Thursday night to make signs for Elder and maintenance staff spray-painted his name on snow shovels to wave.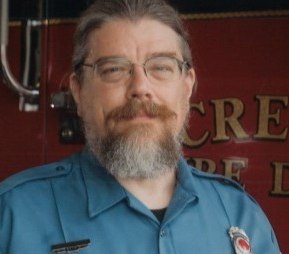 Then Friday morning, Crete residents and Doane students and faculty lined the streets to welcome Elder home.
At about 10:30 a.m. Friday, Elder arrived at the edge of Crete to see firetrucks lined up and fellow firefighters waiting for him.
They put him in the passenger seat of the first firetruck for the last part of his journey.
"I was doing my best not to cry through the whole thing," Elder said. "This amazing outpouring of support from the community, it's been overwhelming."
The procession wound through downtown Crete before turning to go through the Doane campus.
"I expected to see one, maybe two firetrucks," said Patty Lavelle, Doane's manager of event services. "I think they brought all five or six and the police joined in their cruisers with the sirens on, people were cheering — it was just a very exciting atmosphere."
When Elder finally reached his house, down the hill from Doane, he found more than 50 people waiting outside.
"I don't know that anyone thinks they're worth that kind of effort," he said, beginning to cry. "That's my crew and they kept me alive, I wouldn't be here without them. It's just overwhelming to come back and see them all out there, all there waiting for me."
Elder said he looks forward to returning to Doane this semester.
"I had to fight to get a class on the schedule," he said. "I begged and fought until they gave me one — my senior research students."
For now, his future as a firefighter remains unclear. Elder said the skin grafts make it difficult to fight fire safely, since they can't detect temperature or thermoregulate with sweat.
"At some point, you kind of have to stop running into burning buildings," the 54-year-old said. "I'd planned to stop around turning 60, but now it'll just be six years earlier."
Doane is hosting a benefit event for Elder on Feb. 4.
"It's been amazing to see the college and the community coming together to support one of our own," Lavelle said. "He's a friend, he's a colleague and he means a lot to the community. Everyone's been really worried about him and I think we're all glad to contribute in any way we can."
___
(c)2023 Lincoln Journal Star, Neb.
Visit Lincoln Journal Star, Neb. at www.journalstar.com
Distributed by Tribune Content Agency, LLC.
McClatchy-Tribune News Service