Family of 4 fights fires together in Pennsylvania
Mark and Candi Krause, and their daughters, McKenah Wehr and Aubree Romig, serve as volunteers for Upper Macungie Fire Station 56
---
By Jessie Forand
BREINIGSVILLE, Pa. — Mark Krause, his wife, Candi, and their daughters, McKenah Wehr, 19, and Aubree Romig, 15, may be separated by age, but they share a common passion – firefighting.
As reported by The Daily Review, all four family members volunteer at the Upper Macungie Fire Station 56 near their Pennsylvania home.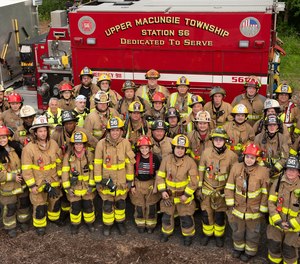 "Usually you see like a father and son or father and daughter," Station 56 chief Matt Sadrovitz said. "I have never in my experience seen all the family in its entirety."
When Mark Krouse joined his first station, he was a senior in high school, more than 20 years ago.
Candi, previously married to a firefighter, joked, "You know how they say every girl has a type? I definitely fell in that category."
After a hiatus to raise their daughters, Mark joined the force again last year. Then Candi became a fire police volunteer. When testing to become a firefighter, she threw up in her mask and decided to switch gears.
The girls came next. Though Aubree isn't old enough yet for the station's junior firefighter program, The Daily Review reported, she was allowed to volunteer to meet the need because of low levels of engagement. Currently, she photographs fire scenes, events and more for the department's social media and works on special projects.  
"Since the Commonwealth is so reliant on the volunteer fire service, age isn't the limiting factor many would think," said Paul Vezzetti, spokesperson for the Office of the State Fire Commissioner. "There are many ways to serve."
Her older sister was last, joining the fire police with her mother.
The family is involved with community events, too, driving around in the fire truck for holidays, handing out candy and helping Santa make the rounds.