How involving families can help recruit volunteer firefighters
After one volunteer fire department adopted a family-oriented approach to recruiting firefighters, it made a huge impact
---
By Dr. Shana Nicholson, American Military University 
Volunteer firefighters are essential for serving and protecting their communities, but they are especially important in rural areas with smaller departments. However, fire departments across the country have been struggling to recruit and retain volunteer firefighters. As a firefighter with the Shinnston Volunteer Fire Department in West Virginia, I have seen these struggles firsthand.
In recent years, our department has adopted a family-oriented approach to recruiting volunteer firefighters and we've seen it make a huge impact. Creating a legacy of service that extends through multiple generations of firefighters allows parents to pass their knowledge, dedication, and passion for the fire service to their children. As a result, there has been a much lower turnover of personnel compared to the average volunteer department and there is a strong camaraderie within "The Ten House."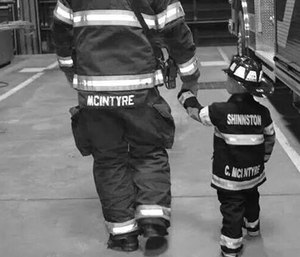 HOW DOES 'THE TEN HOUSE' MAKE IT WORK?
The Shinnston Volunteer Fire Department is a small, rural department that serves about 10,000 residents for initial response and mutual aid. In 2014, we responded to 642 alarms, ranging from structure fires and medical calls to vehicle accidents with injuries and entrapments. We are fortunate to have more than 40 volunteer firefighters, many of whom are legacy firefighters.
Full story: How involving families can help recruit volunteer firefighters