Pa. fire company to disband after 122 years of service
The closure announcement comes three months after the Liberty Fire Co.'s former chief was charged with emblezzling more than $16,000 from the organization
---
Tina Locurto
The York Dispatch, Pa.
NORTH YORK, Pa. — Liberty Fire Co. is disbanding after serving North York borough for 122 years, officials announced Tuesday night.
The volunteer department announced it would continue the service in the borough until Feb. 11, when it will shut its doors permanently, according to a letter read during Tuesday's North York Borough Council meeting.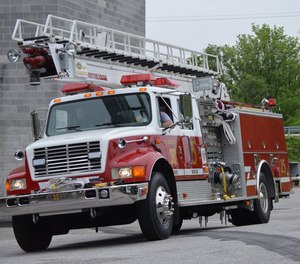 The closure comes three months after its former chief Stephen Miller was charged with embezzling more than $16,000 from the organization between 2015 and 2019.
"We just can't survive anymore," said Deputy Chief Kerry Herman during the meeting. "It's not safe to the residents of North York borough to not have a fire department that's gonna respond. We had to give up. It's all we can do."
In response to the imminent closure, York City Fire Chief Chad Deardorff and York Area United Fire and Rescue Chief Daniel Hoff presented proposals under which their agencies would provide fire service in North York.
Each proposal contained several price options. Residents can view each proposal by visiting the borough office, at 350 E. 6th Ave.
York City Fire's cheapest proposal asked for $70,000 in its first year with an annual 2% increase.
York Area sought $85,000, with a 5% increase in the second year of a two-year contract.
North York paid $62,507 for fire services to Liberty Fire Co. in 2020, according to the borough's budget.
York City's fire department has worked closely with Liberty Fire Co. for a number of years. It has regularly provided aid through personnel and equipment to Liberty Fire Co., Deardorff said.
York City Fire handled nearly 40 emergency calls in North York borough in 2020, he added.
Council members voted unanimously to reconvene at a special meeting scheduled for 7 p.m. Jan. 21 to select a new fire service provider.
Though no council members indicated a preference, Herman said he favored York City Fire.
"They already provide us mutual aid," he said. "Better response time as well."
Both Hoff and Deardorff encouraged volunteer firefighters with Liberty Fire Co. to join their respective companies.
"We can tailor their volunteer experience to a group that is in their interest," Hoff said.
Liberty Fire Co. Chief DJ Abbott said during Tuesday's meeting that the dissolving of the organization is not any particular person's fault.
He said the company suffered ongoing internal issues and received little input or help from others.
In 2019, 10 members resigned from the Liberty Fire Co. The exodus was due to "conflict within members," according to ex-Chief Miller in March.
Liberty Fire Co. officials did not return calls Wednesday seeking comment.
Miller, 58, of the 2700 block of Clearview Road in Springettsbury Township, is now facing trial in York County Court.
He remains free on unsecured bail, charged with the third-degree felonies of theft by unlawful taking, theft by failure to make required disposition of funds and receiving stolen property.
Miller's defense attorney Jeremy Williams did not return calls Wednesday seeking comment.
___
(c)2021 The York Dispatch (York, Pa.)
McClatchy-Tribune News Service