Pa. volunteer firefighters tell state they need money, training
A town hall audience of about three dozen fire company representatives opened up with questions, gripes and suggestions in a wide-ranging, two-hour exchange
---
Randy Griffith
The Tribune-Democrat, Johnstown, Pa.
CRESSON, Pa. — Money and training were the hot topics Thursday during town hall meeting for area volunteer fire companies with the state fire commissioner.
"I want to know what I can do to help," Fire Commissioner Bruce Trego said after his opening remarks.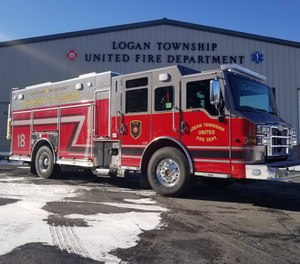 He heard plenty, as the audience of about three dozen fire company representatives opened up with questions, gripes and suggestions in a wide-ranging, two-hour exchange.
Although Trego noted that the state does not officially require designated levels of training for active firefighters, the State Fire Academy in Lewistown provides a series of classes that prepare volunteers for different conditions in fire and rescue work. Statewide, fire departments are working toward certifying more volunteer members, he said.
Funding from a tax on expanded fireworks sales will be used to develop more online training, and his office is developing an apprentice-style program where new firefighters are mentored by experienced volunteers.
Trego said he first became a volunteer firefighter in the 1970s, and later became a paid firefighter. He went on to take a leadership role in training for the fire service.
"I went through the same things that you folks are going through," he said. "I came from the operations side."
In the 1970s there were more than 300,000 volunteer firefighters in the state. With that number down to about 38,000, volunteers are being worn out, he said.
"Everybody in here is wearing more than one hat," Trego said. "Some of the problem is: We are trying to do too much."
Travis Lunglhofer of Logan Township United Fire Department in Blair County said the time and travel required for training at the Lewistown academy makes it difficult to retain new members. Sometimes they wait for months until a class is available, he said.
Lunglhofer was encouraged by the promise of online training, but said there should be also be more hands-on opportunities in the region to engage new members as much as possible.
"If they are engaged when they walk in the door, the interest starts to build," he said.
Larry Kline, president of Hastings Volunteer Fire Company, said training has come a long way since he became a firefighter in the 1970s, but the focus should be local because volunteers don't have time to travel for skills training.
"I'm a big fan of the online stuff," Kline said. "Then you can prove your skills in the firehouse or the county fire schools."
Lilly Fire Chief Ed Myers said funding is key to help volunteer fire companies in rural areas.
"We can't get the people," he said. "They don't stay. Fundraising is killing a lot of our volunteers, but you can't keep the station open without money."
Several suggested including video poker in nonprofit small games of chance licensing.
Reade Township Fire Chief R.J. Wilson asked Trego to push for legislation requiring insurance companies to pay for emergency response to fires and traffic crashes. While some insurance companies pay when settling claims, others do not, he said.
Trego pledged to move forward with online training and other measures to improve access, and to take the fire company leaders' concerns about insurance claims and small games of chance expansion to Gov. Tom Wolf's staff.
The town hall was organized by state Rep. Frank Burns, D-East Taylor Township, who introduced Trego on Thursday.
———
©2019 The Tribune-Democrat (Johnstown, Pa.)
McClatchy-Tribune News Service