Volunteer firefighting: Responding to common excuses, criticisms
It's true – the volunteer fire service isn't for everyone
---
By FireRescue1 Staff
Fire departments around the U.S. are struggling to recruit and retain volunteer firefighters. In Pennsylvania, the number of volunteer firefighters has dropped from 300,000 in the 1970s to about 50,000 today, according to a report about how volunteerism is dying.
It's true – the volunteer fire service isn't for everyone. Our Facebook fans joined the conversation, sounding off on common excuses to not become a volunteer firefighter. Read their responses below, and let us know what you think in the comment section below.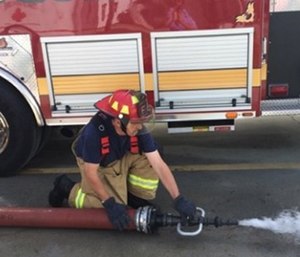 You don't get paid.
It's not about the pay when you volunteer to protect your neighbor, according to Facebook fan Jarrett Bowen. "Being a firefighter is not just something you do, it's someone you are. Selfless, caring, compassionate, stable, driven and so much more," Bowen said.
You're not a "real" firefighter.
Facebook fans Jorge Biggs and Greg Tomas said they have been asked why they don't want to be a career firefighter. "Being a volunteer firefighter doesn't make me less professional," Biggs said. Tomas agreed, saying he has love for the job and is proud to be a volunteer. Tomas added that he's heard that he needs to "get a real job, stop being a volunteer, get paid for the job, stop doing it for free, you're wasting your time, you're just playing around."
It takes up too much time.
This excuse was the most cited. Facebook fan Marj Skoropadyk said it's the biggest challenge he hears. "That and 'I have to work,'" he said. "I guess they forget that we all have to work. I work three jobs, teach first aid and still volunteer to serve my community. It's not a matter of time, it's a matter of what takes priority."
You're too old.
Facebook fan Carla Miner Brown said she's heard the "I'm too old" excuse many times. "I'm a 51-year-old grandmother and I love it," she said. "I work two jobs and volunteer twice weekly." Lorie Setterberg, who's now 64, said she started volunteering at 57 years old. "I'm in the best shape of my life, because I want to be the best I can be on calls," she said.

You have to work out and train more.
Facebook fan Tiffany Lamb said she has been told that she doesn't have the right build to be a firefighter. "I'm a small build female," she said. Michael Rahlfs said his 5'10" and 300-pound frame has been questioned. "I spent 13 years as a volunteer and would still be doing it if we hadn't moved to an area where they actually have waiting lists to join."