Firefighter-paramedic wins $1M in Va. lottery
Duane McFarland didn't believe he had won until he had his wife confirm the ticket
---
Alison Cutler
The Charlotte Observer
A winning lottery ticket caught paramedic Duane McFarland off guard — so much that he didn't quite believe it was real.
He had won $1 million in the Virginia Lottery, lottery officials said in an Aug. 8 news release.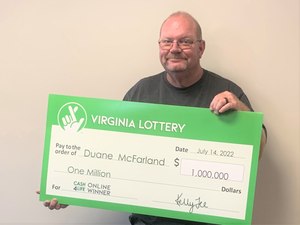 "I'm just in amazement that I won!" McFarland told lottery officials. "I had to call my wife into the room to confirm that I was seeing what I was seeing."
McFarland works as a paramedic and a second-generation firefighter, according to lottery officials. He also runs a small business.
The Gloucester County man bought a Virginia Lottery Cash4Life ticket online for the July 13 drawing and matched the five numbers in the drawing, only missing the extra Cash Ball number.
McFarland had to choose whether to cash out the entire $1 million or receive $1,000 every week for the rest of his life, according to lottery officials. He decided to cash out the full amount.
He told lottery officials he "hopes to save his winnings towards retirement in a few years."
Gloucester County is about 60 miles east of Richmond.
If you or a loved one shows signs of gambling addiction, you can seek help by calling the national gambling hotline at 1-800-522-4700 or visiting the National Council on Problem Gambling website.
-----
©2022 The Charlotte Observer
McClatchy-Tribune News Service