Officials: Car plummets 9 stories from parking garage, bursts into flames
Parking attendants told fire officials that the car struck the metal grate door of the elevator and fell down the shaft before bursting into flames
---
By Carli Teproff
Miami Herald
MIAMI — A car plummeted nine stories from a downtown Miami parking garage Tuesday night after it was left in gear and burst into flames, according to Miami Fire Rescue.
The fiery scene happened inside the elevator shaft of the garage at 130 Biscayne Blvd.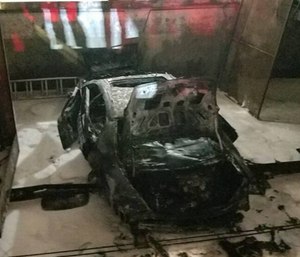 Miami Fire Capt. Ignatius Carroll said the incident happened after the car's owner went to retrieve his Acura sedan from the parking attendant around 6 p.m. Only parking attendants can park the cars in the garage, which uses elevators to bring the cars to the various floors. There are no ramps.
Carroll said the car was parked on the ninth floor. The attendant went up to the ninth floor and tried to start the car using the key fob. The car jerked forward.
"Somehow the car was in gear," Carroll said.
The attendants told fire officials that the car struck the metal grate door of the elevator and fell down the shaft, before bursting into flames. Several parking attendants and a Miami police officer used the building's fire hose to douse the flames until firefighters arrived.
Carroll said the fire was out in 10 minutes. No one was injured and no other cars were damaged, but the garage was shut down for the night and was expected to be surveyed in the morning.
The car's owner Mike Olechnowicz told Miami Herald partner CBS4 that he has spent a lot of time and money personalizing the car and adding special touches including LED lights.
"You can't replace something you've had forever," he said. "It's almost like I am saying my goodbyes right now to my car."
Copyright 2019 Miami Herald 
McClatchy-Tribune News Service