4 ways the government shutdown could impact wildfires in 2019
As the government shutdown continues with no end in sight, the halt is creating a ripple effect on the industry's ability to prepare for the upcoming fire season
---
While it seems like each wildfire season rolls straight into the next one, fire professionals spend hundreds and thousands of hours in training and prepping the land in the most vulnerable areas to prevent catastrophic blazes.
However, during a government shutdown, many federal firefighters are unable to perform these vital steps to minimize the loss of life and property during what has become in many areas a year-long season of wildfires.
Here's how the government shutdown could impact the year ahead.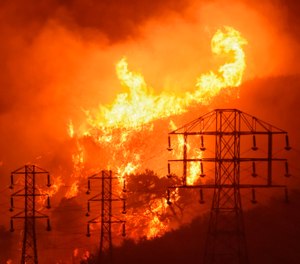 1. Crucial fire training courses and academies are being canceled
During the time between one major wildfire season and the next, federal fire professionals and recruits usually attend training sessions to learn the latest technology and firefighting techniques. The government shutdown has prevented funds from being appropriated to federal agencies, forcing many organizations to cancel upcoming classes.
The Tennessee-Kentucky Wildland Fire Academy canceled a course that was set to run from Jan. 7 to Jan. 19, and the Washington State Department of Natural Resources canceled firefighting training courses. Officials at agencies in Oregon and Colorado have reported they may have to do the same.
Strategic planning meetings involving government officials have also been postponed, putting industry leaders behind when it comes to preparing for the upcoming fire season, according to Michael DeGrosky, chief of the Fire Protection Bureau for the Montana Department of Natural Resources and Conservation.
"I think a lot of people don't understand that, while there's not fire going on out there right now, there's a lot of really critical work going on for the fire season – and that's not getting done," he said in an interview with the Associated Press.
In a letter to President Trump, senators from eight states warned that the government shutdown will begin to impact critical firefighter elements, including classes needed for fire incident managers, smokejumpers and hotshot crews.
"Even if the shutdown ends and we start hiring people, we will have missed the cream of the crop," DeGrosky said.
2. Firefighter vacancies are not being filled
Though a U.S. Forest Service shutdown contingency plan includes language that indicates firefighter hiring should not be prohibited during a shutdown, the lack of funds and uncertainty around training courses worries fire officials.
"If you don't do the hiring on time, then you can't do the training on time, then you are not ready for the next fire season," Nick Goulette, executive director of the Watershed Center, a forestry nonprofit, said in an interview with NBC News. "And, with fire season expanding in California and across the West, you better be ready. Spring does not last as long as it used to."
3. Land clearning and preparation is not being completed
Plans to clear flammable underbrush in California's federal forests have been put on hold due to the government shutdown. A proposal to clear trees in the state's Stanislaus National Forest is in limbo, as information needed for a grant application was unavailable from the U.S. Forest Service.
In Colorado, a planned burn on private property was canceled at the end of December due to federal firefighters being furloughed. 
4. Low morale during a time when firefighters should be recharging
Coming off a particularly grueling 2018 fire season, now is the time many firefighters regroup, recharge their batteries and begin preparing for the coming year. However, a Senate Appropriations Committee report reveals that an estimated 5,000 U.S. Forest Service firefighters are working without pay under a government shutdown.
The stress of delayed forest management and scheduled land burns, a lack of hiring urgency, canceled training courses and delayed equipment ordering all add to the anxiety across the industry.
A U.S. Forest Service firefighter in Texas was photographed panhandling on the sidewalk to raise awareness for the shutdown, holding a sign that said, "Can't pay bills!! #furloughedfirefighter."
As the days continue to add up, it's unclear as to when the government will reopen, but meanwhile, the delay could have a long-lasting impact on the country.