Dozens accused of lighting Australia wildfires, including firefighter
Nearly 200 people have been accused of contributing to the crisis, with 24 charged with deliberately starting fires
---
By Laura French
AUSTRALIA — Authorities say dozens of people have contributed to the current wildfire crisis in Australia, including a volunteer firefighter and 23 others charged with deliberately igniting blazes.
More than 200 people have contributed to the crisis, police say, with action taken against several dozens for reportedly failing to comply with a fire ban and improperly disposing of cigarettes and matches, USA TODAY reported.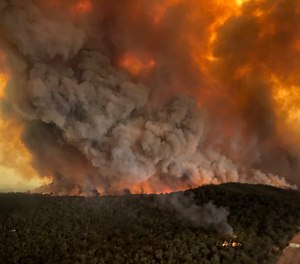 A total of 24 have been charged with arson and related crimes for deliberately lighting bushfires, including 19-year-old Blake Banner, a New South Wales Rural Fire Service volunteer firefighter.
Authorities say Blake Banner set seven fires in October and November, some of which he later responded to. Banner was arrested in November and charged with arson and has since stepped down from the fire service.
"Our members will be rightly angry that the alleged actions of one individual can tarnish the reputation and hard work of so many," New South Wales Fire Commissioner Shane Fitzsimmons said.
Officials has taken a zero-tolerance approach to fire activity during the crisis which has claimed at least 25 lives, including three line-of-duty deaths of Australian volunteer firefighters, according to Deputy New South Wales Police Commissioner Gary Worboys.
"I know a lot of them were doing things like using fireworks or lighting fires to camp or cook food," Worboys said. "We make no apologies for being so vigilant."
Record-breaking heat, droughts and high winds have also contributed to the wildfires authorities say. In addition to the loss of human life, the fires have caused the destruction of 2,000 homes and the deaths of about 500 million animals.