Fortified by family, N.M. volunteer FD offers a light in the dark
With a backup generator at the station, members of the Cleveland, Holman, Encinal, Tramperos department work through the Hermits Peak/Calf Canyon Fire
---
Matt Dahlseid
The Santa Fe New Mexican
CLEVELAND, N.M. — Spending weeks chasing a ruthless wildfire that's been torching land holding a lifetime of memories, Max J. Pacheco has felt moments of helplessness.
Pacheco, 42, has family and friends all over the mountains, canyons and valleys surrounding Mora. Like many residents in the region, he can't go for a drive without bumping into someone he's known for decades, which has made it all the more heartbreaking to see the blackened path of devastation the Hermits Peak/Calf Canyon Fire has left in its wake.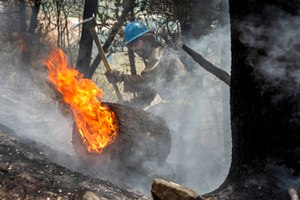 "I was raised in Chacon. Seeing that burn, it's a pain in the butt," Pacheco said. "One of my uncle's houses burned. I went to fight that; I ran out of water. The hardest thing to do was walk away from the house."
Amid the sorrow and loss, Pacheco has found hope at his side.
His wife, Elizabeth, and their four children all stayed despite evacuation orders to support the community through the CHET (Cleveland, Holman, Encinal, Tramperos) Volunteer Fire Department — a small but impactful outfit fortified by family.
Pacheco's teenage daughters, Pearl and Crystal, have worked at the station with their mother from morning to night distributing donated supplies, water and meals to community members, Hotshot crews and other emergency personnel who have flooded the area.
His son Jade, 20, and daughter Amber, 19, have joined him on the front line in the struggle to save locals' homes from what has grown into the largest wildfire in New Mexico history at more than 490 square miles.
While Jade Pacheco has been with the department for three years, this is the first fire Amber Pacheco has ever faced. Her father and the other veteran volunteers she's stood alongside say they've never seen a fire so fierce, so unpredictable and so destructive.
"It makes you proud to see they can step up and take the emotional stress, the physical stress, and do what's needed," said Max Pacheco, who has been with the CHET department for 18 years. "It's good to know your kids can do that, to see the younger generation step up and want to carry that on."
About eight CHET volunteer firefighters recently finished a grueling stint of 21 straight days battling the blaze before a mandatory two-day break. Most spent their days off at the station, ready to respond at a moment's notice to defend more homes.
"It's just straight up sad, just seeing people's houses go along with some of our high country," Amber Pacheco said. "[This fire] is a big part of our history. I'm just happy to be able to help."
A light in the dark
For weeks, longtime CHET Fire Chief Jack Vigil showered by flashlight as he washed the soot from his hands and face after confronting fiery hillsides with his team.
Cleveland and other small, nearby communities lost power from late April to mid-May, which spurred many people to evacuate as the fire bore down and refrigerators gave out.
Members of the CHET Volunteer Fire Department in Cleveland, N.M., recently finished a 21-day stint on the fire. Their station has also served as a hub for community members and emergency personnel for food, supplies and support. https://t.co/MGVlIR0R49

— Santa Fe New Mexican (@thenewmexican) May 31, 2022
With its backup generator, the CHET fire station became a hub for those who stayed. There were days, Vigil said, when every power outlet in the building was occupied by someone charging their phone so they could provide updates on conditions to concerned family and friends.
Vigil's wife, Linda, has organized an effort to provide whatever people have needed to get them through the day.
Snacks are laid out on a pool table in a common area, and there are places to sit and eat a hot meal furnished by World Central Kitchen, an organization that brings food to communities in crisis.
Members of Hotshot crews have stopped in and asked for things like socks, underwear, deodorant, lip balm and foot powder.
Pretty much whatever has been requested, whether a necessity or creature comfort, has been quickly delivered.
"We had one guy that was looking for milk, so the next day someone brought milk," Linda Vigil said. "He would come here in the evenings and sit here and have his cookies and milk."
Conversation is also a key offering.
The mental toll wears on volunteers and Hotshot firefighters alike while they take on the fire for weeks on end. The helpers in the station try to give them someone to talk to and provide a distraction from the devastation.
"They come in and realize they can just sit and relax, and that makes a big difference," Linda Vigil said.
Prior to the fire, the station served as a weekend hangout for children of the volunteer firefighters, where they'd spend time playing pool or listening to music. It's one of the reasons CHET has had success in recruiting young people while many other departments have struggled.
Along with the Pacheco children, the Vigils' kids have also been active volunteers.
Jackie Vigil is a nurse in Taos and Albuquerque, while Derrick Vigil works at Los Alamos National Laboratory. The two have returned on weekends to bolster CHET's firefighting efforts. Derrick Vigil even used vacation time so he could take off eight straight days to stay on the line.
'It's fight or flight'
Jack Vigil said he's baptized 10 kids, and each godchild has given him a medallion with a symbol on one side and prayer inscribed on the other. Most were blessed at El Santuario de Chimayó and are meant to keep him from harm.
He reaches into his pockets in the morning, pulling them out to read the prayers in the quiet moments before he meets the challenges of the day.
"These have been in my pockets for 15 to 20 years. They're getting worn out," said Vigil, 61, flashing an ever-present smile below his gray mustache.
In his 23 years as fire chief, he said he's never seen anything that's compared to the Hermits Peak/Calf Canyon Fire. Powerful springtime winds, sometimes with gusts in excess of 60 mph, have caused havoc in the canyons that cradle small communities like Chacon.
"One day, in half an hour, we saw the wind shift in four different directions," he said. "On a normal day, you go fight a fire and you just have to watch the wind from one direction. Now, you have to have someone watching to make sure nothing attacks us from the back."
The movement of the fire in such conditions has been startling.
Max Pacheco said in one valley south of Cleveland, he saw the fire travel eight miles in 47 minutes.
In a place called Tomas Canyon near Ledoux, the CHET crew was working with Hotshot firefighters to protect structures when they were forced to make a harrowing escape as the fire pushed over their Type 6 truck.
"It flared up pretty good and we could hear kind of like a helicopter above our head, and we looked at each other and we questioned it," Max Pacheco said. "Then the trees and the ground started to vibrate, and our next decision was to run. We took off running for our trucks, and the minute I opened my door, it was like a microwave on my back. We jumped in, and we got the heck out of town."
Speaking of the fire as a living being, Jade Pacheco said it's important to keep your nerve under any circumstance and be able to adapt in seconds.
"When the temperatures start rising and everything starts changing up, she gets a little furious; she starts cranking out some heat, and she torches," he said.
"It's fight or flight during this fire," he added. "There are people that are meant for it and a lot of people that aren't. It takes a lot to stay on the frontline."
CHET is one of about 10 local volunteer departments that have joined forces on the line under the coordination of Mora County Fire Administrator David Montoya. In each unit, there are family members working alongside one another to protect their communities and watch each other's back.
"You don't want anything to happen to your family members, so you do go above and beyond to make sure everyone is safe," Max Pacheco said.
There have been significant losses in terms of property but no reported loss of human life.
In the face of the unrelenting fire, the CHET volunteers have seen their efforts make a difference. Jack Vigil estimated his crew has been responsible for saving more than 100 homes.
Facing the future
Favorable weather conditions limited the growth of the wildfire last week, offering a needed opportunity for locals to breathe.
On calm mornings when the smoke from the high country has yet to spread over the valleys, the fresh scars on the land and in the communities are the most visible.
Entire mountainsides are ghostly black and lifeless. Stone chimneys are all that's left of burned-out homes.
The way of life for people who make a living off the land — nearly everyone in Mora County — will be drastically altered for those who find it feasible to stay. For those who lost everything in the fire in the only place they've known as home, where can they go?
Augustine Romero, 54, is a medically retired Marine who has been a CHET volunteer for two decades. He said witnessing the anguish of residents has been more difficult to deal with than anything he's faced on the line.
"The Marine Corps beats the hell out of you, so you're used to that aspect," Romero said, "but the mental aspect is something I've never seen on this scale.
"You see the anger, you see the despair, you see every aspect. All you have to do is to be there for them to unleash."
Through the heartache, there have been countless moments of compassion and inspiration as communities have rallied around each other to provide support. It's that spirit and resilience that makes Jack Vigil hopeful for recovery.
"Things will be better; just give it time," he said. "We know that we will be blessed again."
With the head of the fire now mostly north of their region and roads to the majority of local communities reopened, the CHET volunteers will settle into a new normal.
In the weeks they dedicated to battling the blaze, they sacrificed the income from their jobs. Most are self-employed, and it's time to get back to work.
Jack Vigil is a general contractor in Cleveland. The Pacheco family runs a landscaping business and nursery out of Angel Fire.
They'll spend the coming weeks ramping up their projects at work while remaining ready to jump to the aid of those in need.
"Even if we're off, we have the radio by our side," Jack Vigil said. "If something breaks out, we're going to go."
___
(c)2022 The Santa Fe New Mexican (Santa Fe, N.M.)
McClatchy-Tribune News Service