Mann Gulch revisited: A world turned upside-down
Reflecting on a 70-year-old tragedy that took the lives of 13 firefighters
---
Novelists and screenwriters get it right. In disaster stories, drama builds from the extreme danger of complex threats that are beyond the realm of everyday experience. It is here that individuals face a world turned upside-down, a pivotal point where everything they know (rationality) is replaced by chaos (irrationality).
Survival (escape) from the clutch of chaos depends on wisdom and resilience. Sometimes only cool, focused thinking, coupled with clever, ingenious ideas, saves the day. Those wise enough to recognize a situation for what it really is, not what they wish it to be, and who possess resiliency, have the best odds of survival.   
Fire at Mann Gulch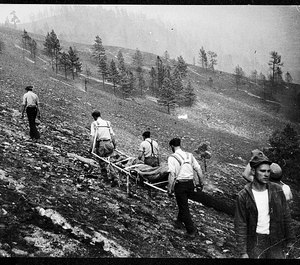 The Aug. 5, 1949, fire at Mann Gulch took the lives of 13 U.S. Forest Service (USFS) smokejumpers in Montana's Helena National Forest. The deadly fire has been the subject of official inquiry, academic study, at least one well researched book ("Young Men and Fire," 1992) and a movie ("Red Skies of Montana," 1952).
Exhaustive studies of the Mann Gulch Fire show that the deaths may have had more to do with a breakdown in group dynamics than extreme fire conditions or simple misfortune. This idea comes from later research into the fire – research that is more complete than the initial official inquiry.
In "Young Men and Fire," author Norman Maclean – who had some wildland firefighting experience and had visited Mann Gulch as a young man in 1949 just after the fatal fire – questions the appropriate structure of small groups when it is their mission to face danger and mitigate threats. This is where "Young Men and Fire" offers insightful analysis that goes beyond the findings of the official inquiry by the U.S. Forest Service.
In retrospect, like Maclean, we have the facts, we know the weather, the fire danger the day of the fire, and the threat it posed. We know how the participants (survivors and victims) reacted. Supported by these facts and his research, Maclean revealed the fire for what it was – an out-of-the-ordinary situation where the authority of leadership was challenged and ignored with deadly results. 
Making sense of chaos at Mann Gulch
In "The Collapse of Sensemaking in Organizations," organizational psychologist, Karl E. Weick, builds upon Maclean's work to make a theoretical case. Weick theorizes that small groups (what he calls minimal organizations) are vulnerable to "loss of meaning" when faced with extreme and unfamiliar conditions. More precisely, he theorizes that this loss of meaning results from the individual being unable to "make sense" of what is happening.  
Although the Mann Gulch Fire smokejumpers had faced danger before, because of the unusual circumstances that day, confusing orders and limited communication, they separately may each have realized that something was wrong. With the situational aspects deteriorating rapidly and the lack of strong interpersonal bonds to tie them together as a group, it became every man for himself.  
In a brief sequence, only minutes, conditions deteriorated so rapidly that making an assessment, let alone form a plan, would have been near impossible. Confused by an order to drop their tools, and then seeing their leader light a fire, directing them to get inside the burned area, was all it took for panic to set in. Disoriented and confused, they fled the lurching fire front, what Maclean called "a race they couldn't win" against 30-foot flames advancing at an estimated 660 feet per minute.
The leader survived by lying down in the small area he had purposely burned. Two others broke from the group, racing for a rock crevice atop the ridge where they found refuge and survived. Another member found a similar opening but was badly burned and later died. Thus, only three survived the day, one due to clever thinking and two who chose to cooperate with each other.
The leader recognized the threat and intuitively reacted with ingenuity. The survival technique of lighting a protective fire to make some "black" to lie in had yet to be widely known by firefighters. The two other survivors made it by working together, encouraging each other by combing their skills and knowledge to advantage.
Weick says the smokejumpers lost their sense of meaning in the chaos, with the order to drop tools running counter to what they believed about themselves, as well as the new fire the leader set in order to survive. Weick views this as a breakdown of the system of familiar roles that smokejumpers in 1949 were expected to perform.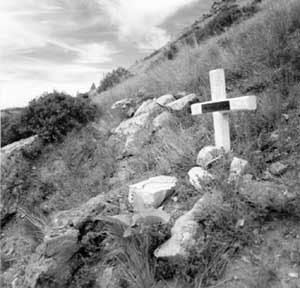 Lessons from Mann Gulch: Wisdom and resilience
Karl Weick proposes four things as critical to good leadership and group resilience in the face of dangerous threats:
Improvisation
Wisdom
Respectful interaction
Communication
When it comes to improvisation, while the leader's orders to drop tools and get into the burned area showed ingenuity, the group was confused because they were not prepared for or familiar with improvisation. Groups that train together and work together would more likely be able to improvise solutions through their shared experience and collective knowledge.
Wisdom (applied knowledge) in the face of the blow-up at Mann Gulch was lacking because the smokejumpers had little to no experience with big fires. In 1949, smokejumpers were very effective with fires they could quickly and easily control, but unprepared for extreme circumstances. Norman Maclean called this a "tragic corollary" in that the smokejumpers could not learn much about big fires by fighting small ones.
Weick proposes that ignorance and wisdom grow together; in other words, the more you learn, the more you realize that there are things you do not know. In his words, the wise avoid extreme confidence and extreme caution, thus becoming more adaptable.
To promote and foster wisdom within a group requires respectful interactions. This means listening to others and being willing to trust their opinion when it seems right. It also means being honest and communicating appropriate, helpful information in a respectful way. When honesty, trust and self-respect are fully developed and appreciated the group is stronger, more resilient, and better able to weather the storms it will face. These are the conditions from which MacGyver-moments become possible.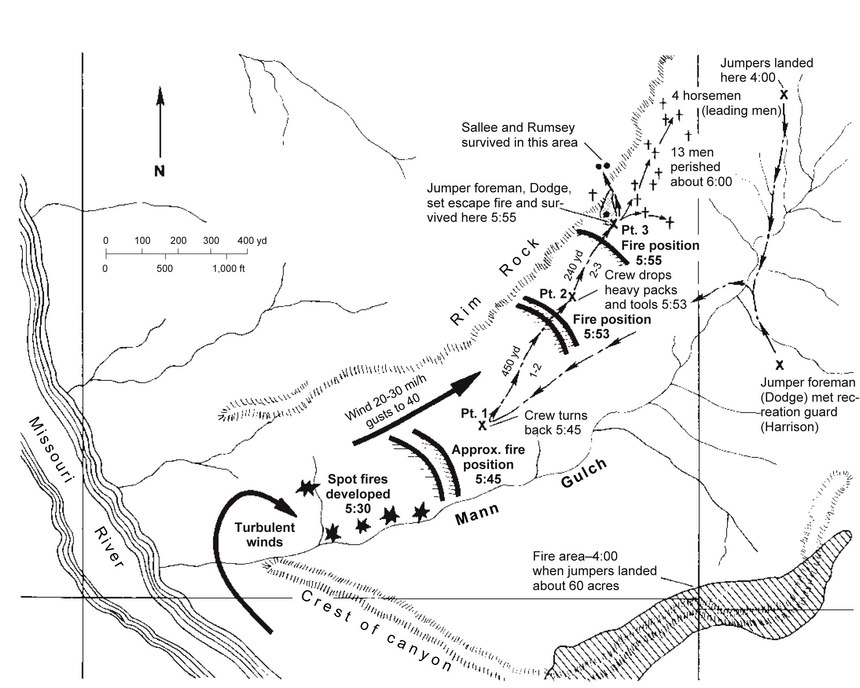 Honoring those lost at Mann Gulch
Robert J. Bennett, 22, from Paris, Tennessee
Eldon E. Diettert, 19, from Moscow, Idaho, died on his 19th birthday
James O. Harrison, Helena National Forest Fire Guard, 20, from Missoula, Montana
William J. Hellman, 24, from Kalispell, Montana
Philip R. McVey, 22, from Babb, Montana
David R. Navon, 28, from Modesto, California
Leonard L. Piper, 23, from Blairsville, Pennsylvania
Stanley J. Reba, from Brooklyn, New York
Marvin L. Sherman, 21, from Missoula, Montana
Joseph B. Sylvia, 24, from Plymouth, Massachusetts
Henry J. Thol, Jr., 19, from Kalispell, Montana
Newton R. Thompson, 23, from Alhambra, California
Silas R. Thompson, 21, from Charlotte, North Carolina
Mann Gulch: Resources and reading