Northern Calif. wildfire death toll grows to 48
Butte County Sheriff Kory Honea said he has requested 100 National Guard troops to help with the search for human remains
---
By Kurtis Alexander and J.K. Dineen
San Francisco Chronicle
CHICO, Calif. — The death toll from the Camp Fire, already the worst California has ever seen in a wildfire, grew by six to 48 on Tuesday, officials announced at an evening news conference.
Butte County Sheriff Kory Honea said he has requested 100 National Guard troops to help with the search for human remains. The sheriff said he wants to canvass the area for bodies as quickly as possible, so that when the fire area is deemed safe to lift evacuation orders, residents can re-enter.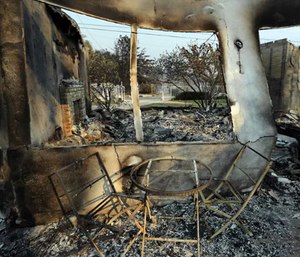 "We're going to do everything we possibly can to search for remains," Honea said, warning that there may be cases where residents are allowed to return to an area where officials may have missed remains. He said in that case, residents should alert officials immediately.
The Camp Fire grew to 130,000 acres and was 35 percent contained as of Tuesday evening.
It had destroyed a total of 8,817 structures — including 7,600 single family homes and 260 commercial buildings, officials said. Officials said 5,615 personnel were fighting the fire; 52,000 people remained evacuated in and around Paradise and 13,085 people remained sheltered.
The conditions in Butte County are extremely dry, officials said. They said 212 days have passed since it has rained in the area.
Honea did not provide updated number of people who are missing, explaining that officials are trying to clear the list of people who already have been located.
"This has been a fairly hectic day for us," Honea said.
With the cadaver dogs and search and rescue teams still scouring the obliterated structures in search for human remains, it's still uncertain when property owners will be allowed to return home.
Amid the devastation and tragedy were glimmers of good news on the firefighting front, according to Cal Fire Battalion Chief Joshua Bischof. For the first time in several days visability was good enough to allow fixed-wing aircraft to swoop in and deliver retardants around Bloomer Mountain and an area around Cherokee.
Aviva Braun, meteorologist with the National Weather Service, said that no rain is expected in the next week but it's possible that there could be some precipitation later in November.
"We're going to continue having dry conditions tonight, tomorrow and through the week," she said. "We're looking at conditions becoming more favorable for potential rain around Thanksgiving."
She said that air quality will continue to be poor as the lighter winds will allow the smoke to settle in the mornings.
While stories of personal sacrifice and neighborly heroics have been widespread in the five days since the blaze started, not all Butte County residents have risen to the occasion, according to law enforcement sources. At least six arrests have been made by Butte County sheriff's deputies in cases of suspected looting. Two intruders were arrested after officers found them holed up in someone's home with handgun police suspect was taken from a different home in Paradise. Another pair of men were found with a stolen laptop, and a man and a woman were pulled over in Chico in a motor home that was suspected to have been stolen from the evacuated area.
"Needless to say I've warned people," Honea said. "If you're in these evacuated areas when you shouldn't be and you're violating the law and taking advantage of these citizens who are displaced, we are going to stop you."
Honea also warned of price gouging, urging Butte County residents to call the district attorney if they feel that a local business or individual is exploiting the tragedy by charging higher than usual prices for goods or services.
"Price gougers are in the same category as looters," Honea said.
Lisa Almaguer, communications manager for the Butte County Health Department, said that the evacuation order is in place for a good reason — not only are firefighters still battling the blaze but the fire-ravaged territory is far from safe. There is no power or water or phone service in most of the evacuated precincts.
Well water could be contaminated; ash and soil toxic. Any food left in a refrigerator would be spoiled by now. People attempting to return to their destroyed or damaged properties could encounter collapsed septic tanks, crumbing walls, or be injured by falling limbs or chimneys. Piles of ashes or charred wood that appear to be cool could still contain burning embers.
Todd Derum, the Cal Fire incident commander, said the news was mixed on Tuesday — hardly the end of the historic ordeal but still, a rare note of optimism after five days of devastation that has forever changed Butte County.
"We feel we're making good progress under the circumstances," he said. "But we're still in a hell of a firefight."
Between putting out hot spots within the massive perimeter of the wildfire, including homes and stands of trees that are still ablaze, and preventing the fire from spreading farther into new ground, it's a lot to do, Derum added.
Copyright 2018 San Francisco Chronicle
McClatchy-Tribune News Service