Tragedies, mishaps and close calls: 20 years of preventing LODDs through The Secret List
FireRescue1 sits down with Chief Billy Goldfeder and Gordon Graham to discuss the origins, impact and future of The Secret List
---
Few things have had an impact on the fire service like The Secret List, specifically on our capacity to share information and learn from each other in unfettered and transparent communication. Read more as fire service leaders reflect on how The Secret List has impacted firefighter safety and culture.
Chief Billy Goldfeder – "Billy G" as he is affectionately referred to by his innumerable fans in the fire service – has always been focused on firefighter survival. He attributes his interest to the 1970s, when firefighter line-of-duty deaths where all too common. "It really impacted me," he says, because though, "we didn't know better back then," it was accepted as part of the job. "I used to think to myself (but never out loud) that some of these things may be preventable, while still being good, aggressive firefighters."
An open forum for firefighter safety
To commemorate 20 years of Goldfeder's hallmark email list, FireRescue1 sat down with the man behind The Secret List, to talk firefighter safety, the shifting paradigm and how it all began.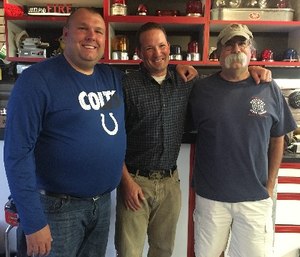 According to Goldfeder, The Secret List originated "well before there was an internet," with Goldfeder's dear friend, Chief Jack McElfish, who shared fire-related articles and clippings with about a half dozen other firefighters the old fashioned way – in a manila envelope.
When Goldfeder joined the World Wide Web, he followed Jack's lead, sharing incidents and fire articles he found interesting with friends and colleagues, eventually creating an email list. The list grew as more firefighters asked to be added – so many that a fellow firefighter with an in at AOL had to hook Goldfeder up with an unlimited account.
Goldfeder's internet prowess grew to blind copying addressees. "So I discovered that you could put parentheses around them and it would become 'Bcc;' I didn't know that," he recalls. Around the same time, someone asked him who was on the list. His response? "'It's a secret.' Just because I was busting their chops!" So, what I started doing is, after I would put in, 'Firetruck overturned, 2 firefighters hurt,' I'd put the parentheses and then 'Secret List.' Thus The Secret List was born.
Meanwhile, Gordon Graham, a California law enforcement veteran, lawyer and consultant, and friend of Goldfeder's, was lecturing at public safety conferences about the link between close calls, mishaps and tragedies.
After one of his presentations, a visibly shaken fire chief approached Graham and Goldfeder, and shared a story he had never told anyone else, a near miss, buried for several years due to fear of embarrassment. Requesting anonymity, the chief asked Graham to share his harrowing story with other firefighters. Goldfeder turned to Graham, saying, "Well that was pretty fascinating. I've got several thousand firefighters on this 'secret list'. If you write it up, I'll send it out to everybody."
That led to a conversation on the power of the internet – and the potential – and FirefighterCloseCalls.com was launched as an extension of The Secret List.
"The Secret List is an open forum where firefighters from around the world can talk about their close calls before they become mishaps, before they become tragedies," Graham notes. "So rather than waiting for the tragedy to occur, and learning from that, let's learn from the close calls."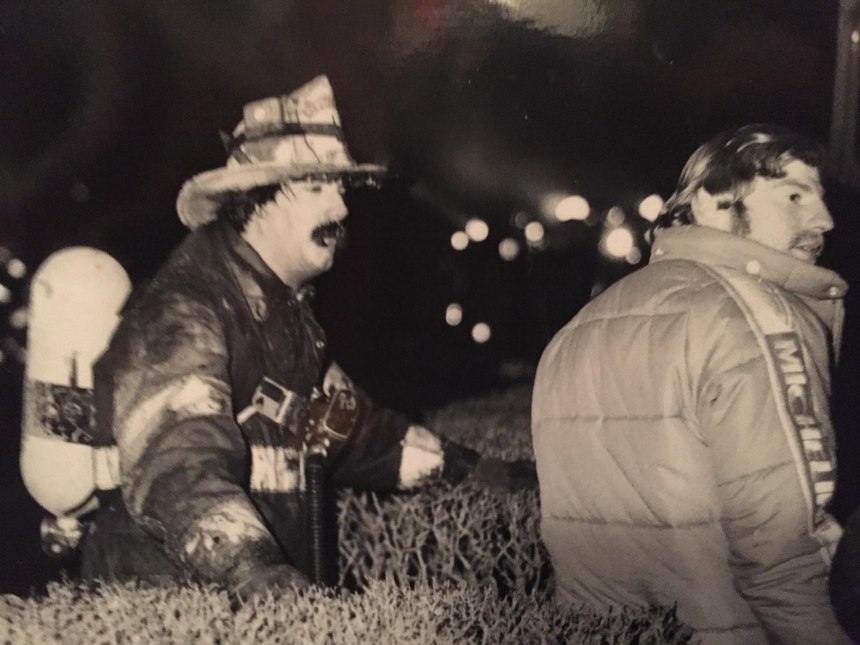 Billy G's firefighter safety commandments
I asked Chief Goldfeder to share some of the bedrock safety tips he's gleaned from 20 years of The Secret List; Billy G's commandments, so to speak. Here's what he came up with:
Avoid contaminates. "One is don't breathe that s***. Wear your mask. Wash up after – get that stuff off of you. Years ago, we would walk around with the black soot on our faces, because we didn't give any thought to it, you got to get it off you."
Drive safely. "Don't drive like a knucklehead. I'm not saying you shouldn't get there quick, but you gotta get there. The car you strike could be a family."
Train every day. "While hands on is the best, articles, classes, etc. are all of great value. You do have time, so make no excuses. The most important thing you can do to save civilians, your brother and sister firefighters, and yourself is training. This goes for chiefs too. While hands-on line stretching may not be necessary at this stage, your ability, skills and qualifications as an incident command are vital. We push the players to train, but so often, the coaches rely on their experience – and fail to continually train in their fire ground responsibilities." 
Stay fit. "Think about what you eat. Exercise. Look, I'm not Richard Simmons, I can always lose a few pounds, but I at least make an effort. I try to walk every day. I work very hard on watching what I eat. We know that food and exercise is a big way to save our own lives, so focus on that."
Get mental health support. "The mental health aspect is another one. Years ago, we were afraid to talk about mental health, now there are opportunities for you to talk to somebody. Look what the IAFF just did, they opened the nation's first firefighter-focused behavioral health center. That's huge! You wouldn't have heard about that 10 years ago."
Whether it's eating right, operational safety or firefighting tactics, Goldfeder emphasizes "you got to have the right training; and every organization owes it to their people, not only for initial training, but every day. Every day should be a training day, as my partner Gordon Graham always says." It all comes down to training, Goldfeder says, "training you, training your behavior, that's first, the self-correction of behavior, knowing how to and not how to behave."
The second step is to have systems in place, so if you veer from your training, the system is there to check your behavior. "That system is your peers who say, 'hey, slow down!' when you're driving like a lunatic, or your officer who says, 'hey get your mask on!' or somebody who says, 'that's the fifth Hershey bar you've had today, do you need 5?'" Goldfeder adds. Those checks are crucial to preventing Step 3, the final step, which is failure.  "Step 1 is the training, Step 2 is the system that keeps you focused on how you were trained, and Step 3 is you have a heart attack from eating all those Hershey bars. You get in a crash from driving like an idiot. You get caught in a collapse that should've been obvious to you that it was going to collapse. It all really reverts back to training."
Passing it on
A group of about eight fire chief officers across the country volunteer their time to scour submitted incidents, firefighter news, and cover topics from firefighter drills, to mental health in the postings; and Graham provides the funding to keep The Secret List and FirefighterCloseCalls.com coming. "That's his way of giving back," Goldfeder notes. 
Goldfeder's No. 2 is Brian Kazmierzak, "a well-known instructor and chief out in Indiana, who just stepped up one day and said 'Do you need help with this?'"
"Oh boy did I!" says Goldfeder. "I can't say enough good stuff about Brian's dedication."  
"This is a site by a firefighter, for firefighters," Graham says.
"A lot of times, it's not what we have to say, a lot of times we're passing on somebody else's message. 'Hey watch this video,' or 'listen to what she's saying about her experiences,' or 'listen to what this doctor said.' So many times, we're just the messenger, passing it on," Goldfeder expresses.
"Could this happen to your department?" It's a common signoff in TSL posts. "If it did, what would you do?" Goldfeder asks. "Apply this to your department, discuss it honestly with your members, and then look at your organization, and identify what changes you may need to make. We're not just sharing a story; we're also sharing our opinion on what you can do to avoid it."
Goldfeder notes with a chuckle that the hate mail has died down over the years. When The Secret List originated, it was not uncommon. "It wasn't considered appropriate to share, it's like people thought we were criticizing," he says. "We were never criticizing, we're asking the questions and talking about stuff few wanted to talk about – but we had to. Other than the tragic aspect, there's no difference between an actual hit and a close call. Apply this to your department, compare it to your department, and see what you can do to make it different."
Goldfeder and Graham attribute their success to the fact that The Secret List remains independent from advertising and compensation, despite endless generous offers.
In fact, FirefighterCloseCall.com's the Secret List team has raised thousands for the Ray Pfeifer Foundation, the Deputy Chief Raymond Downey Scholarship Charity Fund, the Firefighter Cancer Support Network and the National Fallen Firefighters Foundation through fundraising efforts including T-shirt sales and the proceeds of the popular Pass it On books.
For Goldfeder, it's not about the money, or the accolades, though they keep coming. "You don't start this stuff out looking for recognition," he says, "though it's wonderful when you're recognized, it affirms the work you do." So it's a little bonus, it's icing on the cake. "It's like finding an extra button in your coat. It's nice, but the coat is the focus."
What really matters is the difference The Secret List is making in firefighter safety and training. The TSL/FFCC team regularly receives emails, or is flagged down at a conference or in the airport, with stories of how The Secret List has impacted training and safety at readers' departments.
One firefighter told Graham that his crew looks at FireFighterCloseCalls.com every shift, and discusses the top two close calls, and how they would react in a similar situation.
Another firefighter shared that his crew read a posting about a building collapse just 12 hours before rolling on a similar call. Because of what they learned from The Secret List, they parked the rigs in a different location than they previously would have. When the building they were responding to collapsed, no one was injured.
"You cannot put a price on this stuff, and that is not isolated," Graham says.
Priorities and passion
Today, The Secret List has grown to far more than 300,000 subscribers, worldwide.
For Goldfeder, he's found his professional passion. "This is it," he exclaims. His life focus is balancing time between his grandchildren – two in Maryland and four in Ohio – and "doing this fire stuff."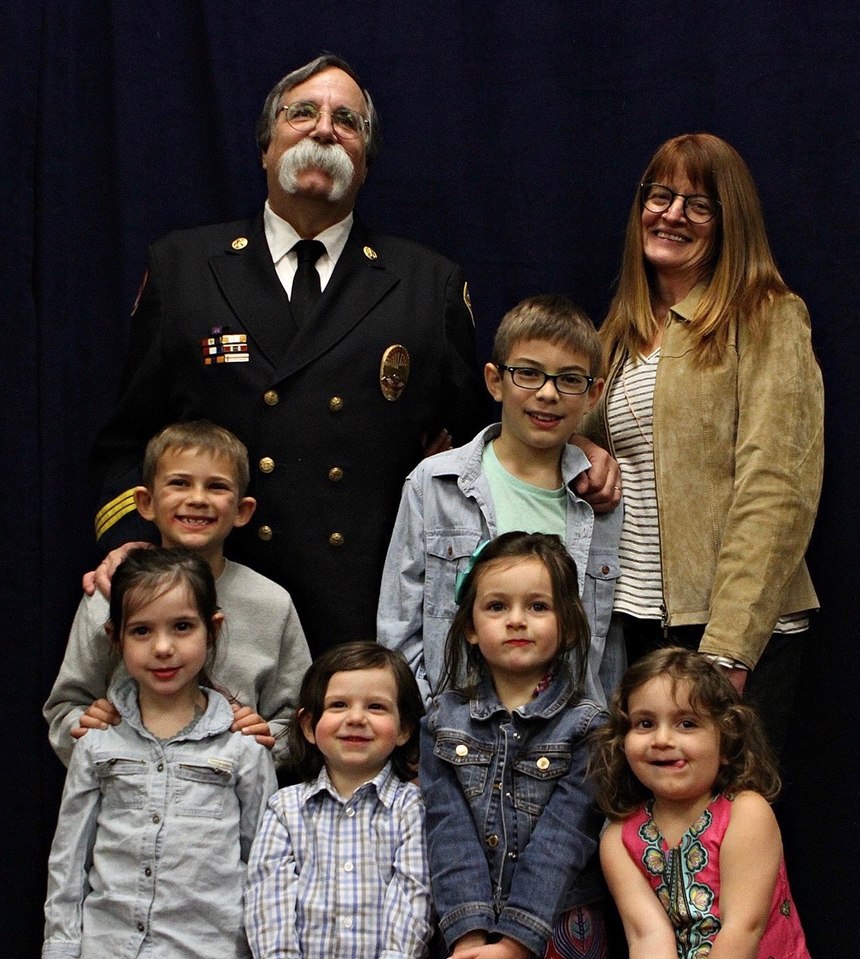 "Why would I change what I'm doing?" he asks. "It's fun, it's rewarding, it's enjoyable, it's pretty cool. If I get another 50 years out of this, I'll be happy."
"I have never met anyone who was as dedicated to a particular cause as Chief Goldfeder," Graham notes. "He spends five, six hours a day on this, without compensation. The fire services are forever grateful."
Goldfeder credits the support of his fire chief, Chief Otto Huber, and the other chiefs and firefighters he works with at the Loveland (Oh.)-Symmes Fire Department for allowing him to maintain The Secret List and interweave his separate roles into his life. "Pretty much the only time my phone is off is when I'm at one of the grandkids' events," he notes. "School plays, things like that. Nothing takes priority over that."
"We're just thankful that so many people are interested in what we have to say, and we'll keep going as long as we can, or, until the grandkids call."