Are you fit for duty?
If you love firefighting and you want to stick around, you need to make sure you're fit for duty
---
Editor's note: The 2010 Fire/EMS Safety, Health and Survival Week runs June 20-26, with a theme this year of "Fit for Duty." Fire departments are encouraged to suspend all non-emergency activity during Safety Week and instead focus entirely on safety, health and wellness-related training and education until all shifts and personnel have taken part. Visit the IAFC's website for a range of resources to help your department.
You don't need perfect eyesight to be able to figure out that the number one documented line of duty killer of firefighters is heart attacks.
The biggest issue in the fire service today is health and fitness. Clearly cancer is another big topic for us (but not yet fully recognized as a line of duty death), but the focus for Safety, Health and Survival Week 2010 is more on the heart issue.
However, if we can work on eating right, taking care of ourselves through some exercise and going for physicals, then that will help to affect the cancer numbers in the fire service as well.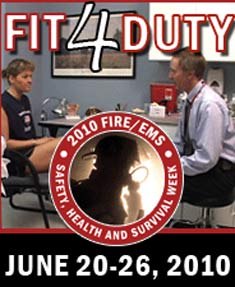 For me, the biggest fans of fitness within the fire service I know of are those firefighters who have survived a heart attack or related medical close call. Those who have had a brush like that get a dose of realism so to speak and work harder than most to make sure they are healthy.
Warning signs
One of the main things firefighters need to think about and pay attention to is the little warning signs that may be telling you there is a problem. For instance, you may find yourself easily out of breath, that's a warning sign. If you feel your uniform is a little too tight, that's a warning sign. And on a light-hearted note, if you find yourself eating more portions on more trips to the food line than everyone else, that too may be a warning sign!
In our job, we go from zero to 60 in a heartbeat when the alarm sounds so we need to be in the right shape to be able to deal with that and all the activity that will follow.
It's as much an issue for the older firefighters as it is for the youngest firefighters. If you've been on the fire department for 30 years, it means you're operating a 30-year-old vehicle — your body. There's more chance of it letting you down so it must be maintained.
However, with the younger people, while a lot look skinny, many of them eat terribly, are smokers and are setting themselves up for a terrible future of high cholesterol and related issues.
Not that hard
It's really not that hard to change things around. I'm certainly no Richard Simmons or Jack LaLanne, but I was really heavy for many years. I looked at what was most important to me — I love being a firefighter and i love my family. I have wonderful grandson and another one on the way. I want to be around for them. You can't let yourself get out of shape and expect to live forever.
I always tell people the reason you don't see a lot of fat people in nursing homes is because they are already dead. If you love firefighting and you want to stick around, you need to make sure you're fit for duty.
It's not that tough. Try having oatmeal for breakfast, a great salad for lunch and eat some lean meat and veggies for dinner. Is it the same as pigging out? Of course not-but it is worth it.
On the other hand, it's fair to say for some people it is tough. For some, eating — and eating bad stuff — becomes an addiction. If you're one of those people, you need to talk to a fitness instructor, a nutritionist, or try to arrange it through your fire department or your personal physician. Where there's a will, there's a way.
Finally, a big issue related to firefighter fitness is the fact fire departments often face criticism for spending grant money on fitness equipment. We need to better educate the public on this and put things in perspective. We spend a million bucks on a ladder truck and half a million on a pumper, but it's often not considered OK to spend a few bucks on some fitness equipment to take care of our people.
We often seem to take far more care of our apparatus than we do our own people. From a taxpayer perspective, workers comp costs for heart attacks far outweigh those of a department spending money on fitness equipment or a program to help keep firefighters fit.
It's an investment that will prove to payoff personally, for us, our families and for the community that's counting on us when they are having their worst day-and dial 9-1-1 expecting us to be ready, fit and able to try and fix their worst day.