5 fire service trends to watch in 2018
New technology, equipment and systems – from fire suppression, to the cloud, to drones – are impacting fire service delivery capabilities
---

Constant innovation and improvement – these are just a couple of buzzwords that can be used to describe what's trending in firefighting services and products.
I asked my contacts on LinkedIn what's new in the fire service that has positively impacted service delivery capabilities, and what they would like to see in the way of new products, equipment or technologies to improve service delivery.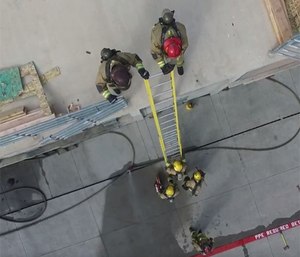 And my LinkedIn connections never fail to let me down! Here's what they identified as some of the biggest trends in the fire service, in their own words.
1. Fire suppression equipment
"Over in my little niche (industrial firefighting), TFT introduced the Hemisphere Portable Monitor. It is extremely flexible in the way it can be secured to piping, hand rails, even a receiver on a pick-up truck. It is the most stable and versatile portable master stream device I've come across in a long time." — Bill Green, retired from the chemical industry after 40 years; adjunct instructor in industrial fire and hazardous materials TEEX; consulting partner at Petrosafe Technologies 
Weighing a mere 23 pounds, it's easy to see why Bill's pick was the TFT Hemisphere Portable Monitor. It flows up to 500 gpm (2000 L/min). The monitor features a swiveling 90-degree, valved inlet and a manually adjustable rotating swiveling outlet that's angled 40-degrees from the main waterway, making it capable of sweeping 80 degrees. With its hand crank, the Hemisphere can be rotated around the main waterway a full 360 degrees.
"Hytrans mobile water supply systems are providing fire fighters with a much more efficient way of obtaining large volumes of water to put the fire out quicker when water supply is low." — Dean Simpkins, business development manager, Haines Fire & Risk Consulting Corporation
At first glance, I believe most firefighters in the U.S. and Canada are likely to think, "What the heck? That's what we have fire engines for!" But watch the video and decide if you don't see the possibilities for water supplies for longer duration incidents that need lots of water (e.g., wildfires, train derailments and industrial facility fires) or situations where the municipal water supply is out of service because of broken lines or storm damage, like we saw with Hurricane Harvey that struck the Houston area earlier this year).
With the capability of delivering 800 gpm (3,000 L/m) through 9,845 feet (3,000 m) of 6-inch LDH, the Hytrans system could be a great regional resource that's shared by a number of fire departments and municipalities. But wait, there's more to the story.
The Hytrans Flood Control Module is a supplementary component for the standard HydroSub150 High Volume Pump system. The system (using three HydroSub 150 pumps) can dewater flood-affected areas (e.g., basements, car parks, low-lying areas, areas behind breached levees and tunnels) at the rate of 10,600 gpm (40,000 L/min). That's one average backyard swimming pool every minute!
2. Firefighter training
"The biggest area where I am seeing change is in training. How do we train our fire responders to handle large scale events when the numbers of these events are down, and the number of EMS calls are up? I see virtual reality training coming to help make a big difference in the EMS, fire and police training modes." — Paul Calderwood, disaster recovery specialist at Tennessee Department of Revenue; retired deputy fire marshal, Everett (Mass.) Fire Department; and president, Calderwood International Consulting
"I echo Paul's comments about VR training. It will give us the opportunity to immerse students into real incidents, allow them to see outcomes and develop critical thinking skills. I believe it will disrupt the training model as we know it." — Dan Wright, owner, Wright Public Safety Consulting and Training
VR training is one of the fastest developing fields in technology-based training systems. VR technology can put fire officers and firefighters into fire situations with a 360-degree view of what's happening. If they look at the ceiling, they can see the fire rolling over their heads. When they look behind, they see what's happening behind them. When they put water on the fire, they see the entire reaction of their efforts on the fire.
VR training for the fire service has matured to a state where practically any activity that a firefighter does on the fireground (e.g., pulling a ceiling, breaching a wall or ventilating the fire room) can be designed into the VR training.
3. Cloud-based technology
"Technology is always a hot topic these days and I see greater use of it for organizational management and creating efficiencies with automated communications. This saves time and money, and keeps an organization efficient with the growing everyday management operations and tasks." — Brad Bihun, engineer/firefighter/paramedic, Escondido (Calif.) Fire Department; and CEO, FireAdmin
More fire departments are recognizing the need to modernize their administrative functions, particularly making the transition from paper-driven management systems to paperless technology solutions. Those paperless systems can manage the wide variety of administrative functions, such as: the supply chain for all consumable products and equipment; asset management for facilities and equipment; and personnel records management.
Increasingly, these systems are being designed by firefighters for firefighters, and are using cloud-based software which provides access to information from anywhere personnel have internet access. And that's a big deal because many fire departments have increased their use of mobile devices (e.g., laptop computers, tablets, and smartphones).
Cloud-based systems also eliminate the need for keeping software on individual machines or devices, so a department's software is always current. This also serves to keep IT costs down for fire departments, and what department on a tight budget wouldn't like that?
"Building fire safety plans are paper based throughout the country. Fire safety plans are now digital and free for the fire services in many cases. Your service can access floor plans, critical infrastructure and a list of disabled persons with their locations before your people arrive. In addition, fire department personnel can conduct safety sessions with building families [residents] from the station at any time." — Jason D. Reid, founder and senior advisor, National Life Safety Group, Canadian consultancy firm providing fire, life safety and emergency management leadership innovation to the safety, security and property operations industry. 
Pre-fire planning and building safety plans for businesses, industrial facilities and special hazard residential facilities (e.g., senior living and assisted living facilities) is another area where the trend is to migrate to digital systems. Like fire department management systems, these systems are largely cloud-based, critical to supplying information to fire officers in the field, when it's most valuable.
The other trend in this area is better integration of information that's currently residing in different places within a department. For example, getting pre-fire planning information and fire inspection history for an occupancy (done by fire inspectors), call history for the occupancy (stored on CADS in dispatch) and history of building modifications and building code violations (stored in the building inspector's office).
4. Fire department use of drones and UAS
"Drone technology and robotics seem to be taking off. It's becoming more and more affordable even for lower budget departments." — Joshua Fowler, district chief, Beaumont (TX) Fire/Rescue Services.
The use of unmanned aircraft systems, aka drones, by fire departments is rapidly increasing for departments of all sizes. Some of the challenges for fire departments as they move into the use of drones include:
5. Ultrasound in fire-based EMS
"2018 will be a big year for ultrasound and EMS. One of the agencies that I provide CE to, and quality assurance through their medical direction for, was approved to begin a three-year program to implement portable ultrasound use for paramedics in the field. Those paramedics are approved to use portable ultrasound for assessment of heart, lung, aorta, abdominal and vascular cases they treat." — Tim Nowak, founder and CEO,  Emergency Medical Solutions, LLC, Colorado Springs, Co.
The use of point-of-care devices, including portable ultrasound devices and handheld, portable blood analyzers, by pre-hospital medical personnel is a rapidly emerging use of technology as more fire departments look to telemedicine as an alternative or adjunct to their current EMS delivery system.
See, I told you my LinkedIn connections didn't let me down! Special thanks to those contributors for taking the time to respond to my inquiry. So, what do you think are some other positive developments or trends in equipment, technology or training for the fire service? Leave your comments below.